For most of the history of television, the barrier to syndication—and to profitability—has been 100 episodes. The shows that have made it to that mark are an unusual group. Many were big hits. Some found small cult audiences. Still others just hung on as best they could and never posted numbers quite low enough to be canceled. In 100 Episodes, we examine shows that made it to that number, considering both how they advanced or reflected the medium and what contributed to their popularity.
One of the most vivid and important portrayals of American life in the early 1960s saw release on DVD last year, and there was barely a peep about it in the media. If anybody remembers Route 66 today, it's because of the theme song or the car or the controversy over the exit of one of its two stars, one of the original conflicts between an actor and his producers. Route 66 ran briefly on Nick At Nite in the '80s, and it's popped up recently on some of the nostalgia-based local affiliates that buy up cheap syndicated programming and air it against the major networks (a surprisingly effective business strategy). But it's simply not as well known as many other shows of the period, despite garnering big ratings for its first couple of seasons, launching one of its two original stars to minor movie stardom, and featuring a theme song that did well on the Billboard charts. The reasons for this are many, but foremost is simply that Route 66 represents something of an evolutionary dead end for the TV drama. It was an attempt to blend the closed-off, social-issues-based storytelling of the best anthology dramas with the recurring characters of a more traditional drama series. It's an approach that still works in other countries—Doctor Who springs to mind—but has more or less died out in the U.S., which has gone all-in on serialization, even in its mildest forms on shows like NCIS.
I mentioned on Twitter that I thought the show would do well with a remake, in that it has an open-ended concept that would easily lend itself to a modern spin. The responses I got included variations on the idea that the monster-hunting series Supernatural—which follows two guys in a car who track down demons and other bumps in the night—was basically that. But that ignores what made Route 66 so special and, indeed, so unusual in television history: It wasn't just a show that purported to be about a couple of guys traveling around the country. It was a show where an entire film crew traveled around the country and filmed on location. It would be all but impossible to get something like it on the air today without an HBO-sized budget.
Route 66 was the last major success for the producer Herbert B. Leonard, one of the earliest TV moguls. Leonard made his success with The Adventures Of Rin Tin Tin, one of the earliest successful kids' shows, and one that gave Leonard all the money and Hollywood power he could want for a very brief window of time. He used some of that clout to bring another kids show named Circus Boy (which was about exactly what you'd expect) to the air, but what he actually wanted to do with the Hollywood capital he'd accrued was make artistically meaningful TV, the kind that would win critical plaudits and have him competing with the acclaimed programs of the era, which were, for the most part, anthology dramas. Anthology dramas were usually produced in New York and used stage actors to create miniature televised plays. The heavyweights of the era include names still recognizable to screen and TV-writing buffs, like Reginald Rose and Rod Serling. But, as the '50s drew to a close, the anthology dramas were expensive and not very highly rated. TV drama would have to evolve into something new.
By and large, modern network TV dramas took shape in the late '50s and early '60s, when lawyer shows and doctor shows and cop shows all saw their first significant successes. Leonard was behind one of the foremost early cop shows, Naked City, which blended the popular procedural approach of earlier programs like Dragnet with a bent for social issues that wouldn't have looked out of place on some of the acclaimed dramas of the '80s. Naked City was a great show—a distillation of film noir, classic detective stories, and newspaper headlines into a vivid pulp pastiche—and it found success with critics and the very young Emmy Awards. Leonard was on his way, and for his next trick, he was going to hook up with a young Naked City writer and make one of the most ambitious television series to date.
G/O Media may get a commission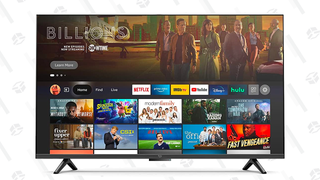 22% off
Amazon Fire TV - 50" Omni Series 4K - Early Access Deal
While Leonard was busy figuring out the business and production side of Route 66, the creative end of things came down to a writer named Stirling Silliphant. Silliphant's work on Naked City had earned him both notice and acclaim. He loved New Deal liberalism and outsiders, a combination that would eventually lead to his Academy Award win for writing In The Heat Of The Night, but would also contribute to Route 66's embrace of an American counterculture that was slowly moving into the mainstream eye. Characters on Route 66 did drugs or agitated for political positions that would have been seen as far left even a decade prior. One of the regulars in the show's later seasons had served in Vietnam, and the mentions of the conflict were among the first in all of American television. It's an old canard that what Americans think of as "the '60s" actually took place from about 1967 through 1969, but from 1960 until 1964, Route 66 was taking these concepts and making them into mass-market television. Granted, the series didn't prove especially adventurous thematically, but it's still striking to watch this low-budget depiction of a bad trip and realize it was aired in 1961.
What may have made all of this work was how the series managed to depict these outsider ideas right up against a forthrightly romantic portrait of the American working class as it existed in the early '60s. The two men who drove the car at the series' center—always a Corvette—had to take odd jobs along their circuitous route through the country's back roads. These odd jobs often brought them in contact with whatever storyline was meant to be at the center of that week's episode, and they also led the two men—at first Tod (Martin Milner) and Buz (George Maharis), and later Tod and Linc (Glenn Corbett)—into contact with many people who worked jobs that were off TV's radar, like fishermen and farmers and construction workers. The show was about their livelihoods, but it was also about the smaller, more personal stories they were hiding back home. It was, in many ways, a small-c conservative show about the value of these lives and what would be lost if they weren't preserved.
What gave all of this an even greater sense of verisimilitude was the fact that it was all shot on location across the United States. The series didn't swap out Los Angeles for Butte, Montana—it went to Butte, Montana. It was unprecedented, both for the period and even for today, but this sense of place informed the show and gave it almost the feel of a docudrama. The series was heavily scripted in highly literate, often beautifully dense scripts by Silliphant and a writing team that included two other eventual Oscar winners in Alvin Sargent and Frank Pierson; but it was also a beautiful portrait of a country that was slowly being knitted together much more tightly by the twin inventions of television and the highway system. This meant the show's production process was particularly intense, with Silliphant going ahead of the production team to scout locations and research material, then turning that information into scripts that would be passed along to the production team. It was a process that could have led to mass chaos, but this description of it by longtime TV director Ralph Senensky suggests it operated about as efficiently as it possibly could have, while being completely chaotic. But the whole of that process added up to something that wasn't happening on other TV shows, a sense of the country at large getting boiled down into an hour of TV every week and an epic sweep that stuck out in a young medium, as seen in this scene from the end of a second season episode.
That's Suzanne Pleshette in the above clip, and she speaks to something else the series excelled at: guest casting. The series' casting was done by Marion Dougherty, one of the most influential casting agents of all time and someone who propelled many an off-Broadway actor of the '50s and '60s to nationwide stardom by featuring said actor in a particularly vital part. She cast both of Leonard's big artistic successes, and her influence can be felt throughout the series, which gave a vital spotlight to actors as diverse as Robert Redford and Robert Duvall, as well as several dozen others. The series even featured future stars in smaller parts, as when Ed Asner played a young Jewish boy's father, who later died and kicked off a crisis of faith in the boy. (For a fuller profile of Dougherty, a fascinating figure in her own right, turn to Stephen Bowie's essential blog, Classic TV History.)
Alas, Route 66 simply could not last. Maharis came down with hepatitis midway through the series' second season, and he left to deal with his health problems. When he finally returned, the show immediately tossed him back into a full workload, and he left, claiming a recurrence of his illness. Leonard grouched that Maharis simply wanted to go off and find fame in the movies. It turned into one of the first major public feuds between a TV producer and his star, and once Maharis left the show fulltime midway through the third season, it began to sink in the ratings. Corbett was a fine enough actor, but he didn't have Maharis' raw sex appeal, and the show lost that element of that appeal. While researching a (sadly still unpublished) book on the show in the '80s, author Karen Funk Blocher interviewed both Maharis (who is still alive) and Leonard (who has died) and learned that Maharis' claims of the workload causing his illness were more than plausible—after all, there are a handful of episodes after Maharis' return during which he was forced to work in cold water, take after take, which would certainly have contributed to a flare-up of Maharis' illness—but she also learned from Leonard that he feared Maharis' homosexuality would come up in the press and cause a scandal, contributing to bad blood all around. It would be unfortunate if one of the contributing factors to the death of such a progressive show was such an unprogressive stance, but such a stance wasn't uncommon in the pre-Stonewall era.
When Route 66 and Naked City were canceled within a year of each other, Leonard very suddenly lost all of the power he'd had, and spent the last decade of his life living off the largesse of friends and family. None of the series' stars achieved true movie stardom, though Maharis was in a handful of good roles throughout the decade. Silliphant went on to greater things, as did some of the other writers and Dougherty, but the overall legacy of Route 66 is that a legacy simply doesn't exist. It was a weird, beautiful little dream of a country caught between its regional ways and the giant monoculture that was beginning to swallow it whole. This is a time when Florida was a sun-drenched mirage, when Rust Belt cities were beginning to fall on hard times, when New York was still a jazzy nightmare. It's a place that feels right but also feels wrong.
Although the DVD release of the series by Shout! Factory last year mostly passed without comment, to watch the show today is to see, in vivid black and white, a world that isn't so far from the one we still have today yet feels light-years away from it. There's a whole blog dedicated to collecting information on the locations in which every episode of the show was shot, and it's slowly piecing together a record of these places, a then-and-now where quaintness is often slowly being rubbed away. To see Route 66 now is to remember a time when getting to an out-of-the-way burg like Butte, Montana, took some doing, a time when television was a still-new curiosity that could provide a window into other worlds that were just a few states over.
Next time: Rhoda