Ending years of speculation and kicking off years of speculation, Warner Bros. has finally, officially announced a slate of DC comic-book movies that will take the studio and its audience all the way up to 2020—a far-off year when the demand for superhero movies and potable water will have become so great, we'll be recycling both our urine and Green Lantern. Here are all of the pertinent dates, so you can go ahead and imagine having petty debates over costumes and the like, as a person six years older than you are now.
Batman V.Superman: Dawn Of Justice directed by Zack Snyder (2016)
Suicide Squad directed by David Ayer (2016)
Wonder Woman starring Gal Gadot (2017)
Justice League Part One directed by Snyder, with Ben Affleck, Henry Cavill and Amy Adams reprising their roles (2017)
The Flash starring Ezra Miller (2018)
Aquaman starring Jason Momoa (2018)
Shazam (2019)
Justice League Part Two directed by Zack Snyder (2019)
Cyborg starring Ray Fisher (2020)
Green Lantern (2020)
Among the big reveals that we sort of already knew: Jason Momoa is playing Aquaman, both in the upcoming Batman V. Superman: Dawn Of Justice and in his own standalone movie in 2018; Dwayne Johnson's Shazam movie is coming—though surprisingly, not before David Ayer's Suicide Squad; and Gal Gadot will get her own Wonder Woman film, and it will come out in 2017—presumably angling to beat Sony and Spider-Man to have the first female superhero film. And as long promised, 2017 will see the debut of a movie confidently titled Justice League Part One, with Zack Snyder delivering his longest slow-motion payoff ever by waiting two years for the sequel. Presumably Momoa and Gadot will also be a part of those Justice League films, but as of now, only Ben Affleck, Henry Cavill, and Amy Adams are attached to star in the first one. (So, perhaps this "Justice League" is less a coalition of superheroes and more of an uncomfortable date.)

Among those things we didn't know for certain, but sort of suspected: All of the main Justice League characters will get their own standalone films, including Ray Fisher's Cyborg and The Flash. Among the things no one really suspected before this: The Flash will be played by Ezra Miller, known for his roles in The Perks Of Being A Wallflower and as the titular creepy kid in We Need To Talk About Kevin. And the 2018 movie version will thus have no connection to the TV version of The Flash, charitably giving fans of that series four years in which to vent about it.
Warner Bros. also confirmed that J.K. Rowling's Harry Potter spinoff Fantastic Beasts And Where To Find Them will similarly attempt to dominate these intervening years with movies in 2016, 2018, and 2020. And then there's The Lego Movie franchise, which will see the release of the previously announced Ninjago in 2016, The Lego Batman Movie in 2017, and The Lego Movie 2 in 2018. And in between this and the aggressive release schedules of the Marvel, X-Men, and Star Wars franchises, perhaps you'll also find some time to live and/or love.
G/O Media may get a commission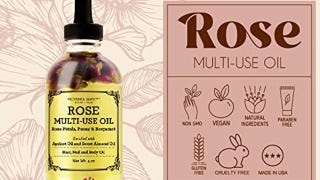 Provence Beauty Rose Multi-Use Oil