With so many new series popping up on streaming services and DVD every day, it gets harder and harder to keep up with new shows, much less the all-time classics. With TV Club 10, we point you toward the 10 episodes that best represent a TV series, classic or modern. If you watch these 10, you'll have a better idea of what that series was about, without having to watch the whole thing. These are not meant to be the 10 best episodes, but rather the 10 most representative episodes.

Match Game was the best afterschool show of the 1970s. The humor was juvenile, and everything about it was cheap and tacky, but it made adulthood look like one long cocktail party—maybe even a "swingers" party. It may not have appealed to the jocks or the Star Trek geeks, but during its glorious late-afternoon run, there were enough teen viewers to help make Match Game a monster hit for CBS. It had a special appeal for high school students of a "theatrical" bent, but given the attitudes of the time, it could also be quite homophobic.
The premise of the best-known version of the show is simple, if difficult to get just right. The host reads a phrase or a joke with a missing piece, and contestants try to guess what the celebrity panelists will put in the "blank." For example: "The big bad wolf said, 'I just came from a house where this old lady had the biggest blanks I ever saw.'" At least half the time, there's an invitation to answer with something raunchy, with variants of "boobs" ("buzzums" is a match, "pillows" and "berries" are not) and other body parts showing up frequently on the celebrities' handwritten answer cards. Sometimes they're genuinely clever and witty, but more often the Match Game panel resembles US Weekly's feature "Stars–They're Just Like Us!" (They laugh at the same things we do!)
The first, less-remembered version of Match Game—with the unflappable, Guy Smiley-like Gene Rayburn already installed as host—had competing teams with both celebrities and civilians, and ran on NBC from 1962 to 1969. It was revived by CBS in 1973 with a six-celebrity panel and "big money" (thousands rather than hundreds) and ran in daytime and/or nighttime syndication until 1982. The trivia-oriented Hollywood Squares is the other big celebrity game show of the 1970s, resembling the Academy Awards in its tight scripting (with pre-written joke answers) and monumental set design. Match Game is more like the Golden Globes, with a format that demands spontaneity and a strong impression that the stars are being helped by some liquid courage. In contrast to the Squares, contestants are in on the action, hugging and kissing the stars who help them win money. (Richard Dawson gets most of the action.) Possibly the show's most notable contestant, a pre-Cheers Kirstie Alley, reacts to winning the game's final round by running onto the upper tier of the celebrity panel as if it's a train leaving a station.
Best of all, home viewers can pretend they're at the party, with Rayburn as the assured host, making sure everyone got a moment in the spotlight. Wheel Of Fortune is dumb, and playing along with Jeopardy! is a tedious chore that turns everyone into Cliff Clavin. Most Match Game questions have one or two "correct" answers, but the fun is in trying to go beyond them. For instance, when the Godfather runs a car wash, he sprays cars with blank. Most of the celebrities automatically say, "bullets," but come on—if you remember the movie, a better answer is "olive oil."
G/O Media may get a commission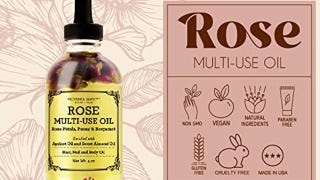 Provence Beauty Rose Multi-Use Oil
Being a celebrity on Match Game was a tough gig. You had to earn your keep by interjecting jokes, but too many interruptions made you look obnoxious. (The show went through a lot of men in the top left seat who tried too hard.) You had to strike a balance between "serious" (matchable) answers and wild ones that get laughs, but cost the contestants money. Here's a good example, from Rayburn: "The surgeon said, 'This man I'm operating on must be a magician. When I reached into pull out his appendix, I got a blank instead." The contestant gets two matches with "rabbit," but Patti Deutsch has the more original answer of "royal flush."
The ones who got it right were asked back often. Brett Somers and her big eyeglasses started appearing a few weeks into the revival, after husband Jack Klugman (who was on the pilot) touted her as a perfect panelist, and she lasted until 1982. Somers grew up outside of Portland, Maine, and her accent and crusty humor made for a nice contrast with the bland politeness of some panelists and contestants. "Jeepers crow, criminy dutch," she says in one of her many exasperated reactions to dumb answers. When she answers "the sphinx" in response to a question about an Arab insurance company offering customers a piece of the blank and the audience boos, she snaps, "It's made of rock, you idiots!" When she answers "screw" to "turn of the blank" and the audience gives a mixed reaction, she scolds them for not recognizing the Henry James novel, but in another episode, she exclaims, "Who in hell is Smokey Robinson?" She often makes catty comments toward other female panelists, especially Betty White. When there's a question about an Academy Award for best supporting performance going to blank's bra, Somers says, "I damn near said 'Betty.'" (White makes a pun of the most popular answer: "Dolly Pairton.")
Somers sat in the upper tier next to, and mock-sparred with, Charles Nelson Reilly, who also joined in 1973 and continued through a 1990-91 revival. Not concerned with being recognized as gay, Reilly was a role model for a lot of youngsters who didn't yet realize they needed one. In contrast to the misanthropic Paul Lynde on Hollywood Squares, Reilly was a "good gay" who winked at the audience and looked genuinely sorry when he didn't match contestants. When the question is about a "really weird" woman who "keeps her husband in a blank," Reilly responds with "closet." In another episode: "You know you're at a really wild party when you see a blank in every room." Reilly writes, "chains from the ceiling." Reilly frequently complains that Somers copies his answers; Somers gripes that Reilly takes too long and dresses like a slob. ("Charles Nelson Reilly isn't wearing any socks!")
The antidote to the Auntie Mame vibe of Somers and Reilly was the bottom tier, which had Dawson seated between various women for most of the show's run. Dawson, formerly best known for playing British POW Peter Newkirk on Hogan's Heroes, was arguably the biggest attraction on the show. He has the quickest if corniest quips, such as exclaiming, "You lucky stiff!" when a contestant says he's a funeral director. And he has the best chemistry with contestants—especially the women, whom he often invites over to the panel for a kiss. There may have never been a Moneyball-type analysis of Match Game, but the assumption is that Dawson was the best player, and he displays a knack for matching contestants in the final round of a game (in which the player picks one celebrity to complete a simple phrase). Dawson is also a source of the show's many gay-panic jokes, which he delivers in a voice resembling none other than Lynde. In some episodes, Dawson shares Lynde's habit of wearing a shirt unbuttoned almost down to his navel, but it's not known who did it first. (W.C. Fields, Groucho Marx, and Stan Laurel are also in Dawson's repertoire of impressions.)
After the big three, White is probably the most frequent panelist, beginning her 40-year run of subverting the wholesome image she had cultivated in her previous 20 years on television. Then there's Fannie Flagg, the Alabama-born counterpoint to Somers' crusty Yankee, who later wrote novels and screenplays including Fried Green Tomatoes. And when Dawson left, he was replaced mostly by Dick Martin and Bill Daily.
Match Game was a big hit when it ran in late afternoons after All In The Family reruns, another comic window into adulthood. CBS canceled it in 1979, at the beginning of a long, slow decline for network game shows—though the Dawson-hosted Family Feud, which got laughs from stupid rather than creative answers, lasted on ABC until 1985. The syndicated version of Match Game lasted a couple more years, and there have since been several attempts at remakes. The most successful has been running on Canada's Comedy Network since October 2012, with "some of Canada's funniest people" as panelists.
The curmudgeonly view is that the game is less fun now that people can be as crude as they want and don't have to come up with witty euphemisms for genitalia. But the real problem with the reboots (and with shows like NBC's loud, frantic Hollywood Game Night) is that they are too controlled and fast-paced. They miss the joy of shooting the breeze and wasting time with attempts at humor that don't always go anywhere—an approximation of enjoyable get-togethers in real life. Today's Jeopardy!, as well as trivia and word games on Facebook and iPhones, are more about memory skills than imagination. That's an irony that no one on the 1970s Match Game could have predicted: It was the last gasp of the smart TV game show.
Here are 10 episodes to get you in a party mood. Mix a highball and play along.
Pilot (1973): The first episode of the classic run already has Dawson and White, plus Klugman, time-capsule celebrities Bert Convy and Jo Ann Pflug, and longtime What's My Line? panelist Arlene Francis. The producers have yet to fully grasp the smut potential of the show, but there's a quintessential 1970s moment when a contestant wins a final round by matching White with "water BED." At another point, White objects because her "friend" is not a match for "boyfriend." Lesson learned: Discreet answers don't pay on Match Game.
Episode 89 (1973): Somers and Klugman sit next to each other in the upper tier, and the bantering between the married couple brings Match Game to its closest approximation of an intimate cocktail party. (There's also the blissed-out presence of "Mama" Cass Elliot on the bottom level.) Top question: "Batman said to Robin, 'Don't ever tell anyone I wear a blank." Somers and Klugman both guess lace underwear or panties, with Jack saying, "Nothing wrong with them. She bought me six lovely pair!" Rayburn hams it up when reading, "Myron said, 'I was at Lawrence Welk's house, and I actually saw bubbles coming out of his blank.'" Somers has the best response: "instrument."
Episode 165 (1974): By now, Match Game is full innuendo mode. This installment begins with Rayburn blowing on White's hand to dry her nail polish and Orson Bean saying he'll be ready to play "after a quick sniff of my marking pen." One question concerns how to get a man to propose: "Tell him you're blank." The contestant's answer is "willing"; incredibly, the judge rules this is not a match for Bean's "a nymphomaniac." When Rayburn says, "Bob and Carol and Ted and Alice took a blank together," the popular answer is "bath," but Dawson objects, "You can't fit four people in a bath." (White: "You can if you have enough soap.") The best question is: "Every Saturday night, Frank gets picked up by a blank." Bean and Somers match the contestant's "sailor," but Reilly says he's "a little different," gives his trademark laugh, and says "lady of the street." When the audience boos, he shoots back, "So he was a normal guy, is there something wrong with that?" before giving a sly look to the camera.
Episode 359 (1974): If you want to see M*A*S*H's Gary Burghoff go shirtless for a laugh, here's your chance. If you swing the other way, there's Maude's Adrienne Barbeau in a tight pink sweater, writing "bra" and "udder" for different questions. And if you like offensive Chinese accents, there's a question about "Dumb Dora" using blanks (not "udders") for chopsticks.
Episode 1, Match Game PM (1975): The debut of the weekly nighttime version goes right over the line into homophobia. In response to a question about a guy saying of his date, "…kissing her was like giving mouth-to-mouth resuscitation to a blank," Elaine Joyce offers "fellow," which gets a muted response. Dawson jumps in with a fey voice to say, "Don't knock it unless you've tried it." Joyce leaps out of her chair and says, "Oh, my God, they're all around us!" and Dawson purrs, "And we're happy." (There's no reaction shot of Reilly during any of this.) It's understandable that when a male contestant later wins a final round by matching Dawson, there's an awkward moment when he starts to initiate a hug with the panelist; it's hard to tell with the frantic camerawork, but they seem to end up in a clumsy handshake instead.
Episode 761 (1976): Pat Morita—known for his role on the sitcom Happy Days and an Oscar-nominated performance in The Karate Kid—guests in the upper right seat, and almost every comment directed at him involves his Japanese ancestry. Richard says something about "attacking Pearl Bailey" on December 7, and does a stereotypical impression of an inscrutable Asian after Morita does a subtler British accent. When Morita matches a contestant, Somers cracks, "No wonder the Japanese won the war. Oh, they didn't, did they?" No one is really malicious here, but this episode is a good illustration of easy, superficial humor that puts certain people in boxes and forces them to show they're "good sports," something that also happened with several black panelists on the show. You can see how many subgenres of comedy (anti-comedy, alternative comedy, and the direct challenging of stereotypes on something like Chappelle's Show) would eventually thrive as people got sick of this stuff. Meanwhile: Reilly has a pipe and what looks like a skimpy cravat tied around his neck and his shirt is unbuttoned halfway down.
Episode 1005 (1977): The closest thing to character development on Match Game is Dawson getting tired of his panelist duties, especially after he began also hosting Family Feud in 1976. In one of the most notorious half-hours in game show history, known as the "School Riot" episode, the judge is the target of Dawson's genuine anger. A question about Dumb Dora sending her cultured pearls to blank gets "school" from the contestant. "College" is ruled a match, but Dawson's "finishing school" gets the buzzer. You can see how frustrated he is not to be in a position to overturn the decision and how ready he is to get the hell off the show, and he gets the audience to roar in disapproval while Rayburn tries to keep order. (Dawson gets even angrier, with less effective results, in Episode 1079.) Also: Reilly wears a sailor shirt inside out, and only he knows if the mistake was intentional.
Episode 1138 (1978): Dawson finally tells Somers to "shut up." Noted animal lover White tries to stop Rayburn from swatting a fly. Questions include: "Harry said, 'I'd better move to a new house. Last night, my next-door neighbor came to visit, and I live next door to a blank." No one falls into the trap of saying anything offensive, but no one has the best answer ("burglar").
Episode 1228 ("The Biggest Fruit") (1978): The entire episode is only on DVD, but the highlights are on the YouTube clip. One question concerns the Jolly Green Giant throwing a Halloween party where guests bob for blanks in the ocean. Reilly cracks up the studio audience when he tries to explain his answer, "watermelons," by asking, "What's the biggest fruit you can get, present company [Big smile to the camera.] included?" Later, Reilly yells at Somers over copying answers ("Go ahead, look at it! Like you've done for five years!"), and Rayburn decides the only solution is to (temporarily) move Reilly to the bottom tier.
Episode 1431 (1979): Rayburn makes his entrance on roller skates, doing his part to add to the craze that brought us the NBC sitcom The Roller Girls for three weeks in 1978 and the classic film Xanadu in 1980. Panelists include the puppets Kukla and Ollie, appearing a year after they figured in perhaps the worst answer given by a contestant in Match Game—and game show—history (see "cuckoo blank") Somers says, "I've never worked with a dragon before," and Reilly shoots back, "I have, for six years." Most disturbing question: "The baby next door is really kinky. He's the only kid on the block with a leather blank." Eva Gabor has to ask what "kinky" means, and Somers says, "Just think of yourself, dear."
And if you like those, here are 10 more with notable panelists: Episode 26 (1973), with Carolyn Jones and Morey Amsterdam; Episode 175 (1974), with Nipsey Russell and Jo Anne Worley; Episode 390 (1975), with Marcia Wallace; Episode 416 (1975), with Leslie Nielsen and show announcer Johnny Olson; Episode 498 (1975), with Ethel Merman; Episode 3, Match Game PM (1975), with William Shatner; Episode 621 (1976), with Marvin Hamlisch and Isabel Sanford; Episode 1120 (1977), with Tom Poston; Episode 49, syndicated daytime version (1979), with Bob Barker and Richard Deacon; Episode 202, Match Game PM (1980), with Phyllis Diller.
Availability: There are a few "best of" sets on DVD, but they include some duplicated episodes. It's unlikely that many more episodes will be released, so the best source is YouTube, which has a lot of bootleg recordings from when Match Game was rerun on the Game Show Network. Many are described as "banned" from GSN, but it some cases the reason seems to be poor video quality rather than offensive material. Many of the show's most memorable moments seem to be on YouTube only in clips—such as Reilly taking over as host for a round.
Next time: Brandon Nowalk picks the 10 essential sketches from The State.