Although the story goes that Hüsker Dü imploded on tour in January 1988 after a disastrous show, the band's atrophy had been under way for some time before that night in Columbia, Missouri. Interpersonal tension, creative differences, and personal tragedy had fatally strained one of the great bands of the '80s. Afterward, singer-guitarist Bob Mould retreated to a farm in rural Minnesota and planned his next move. What he emerged with became Workbook, his 1989 solo debut and a career-shifting statement of purpose, which is getting a two-disc reissue for its 25th anniversary.
That shift, too, has perhaps been overstated in the 25 years since Workbook's release. The story goes that Workbook removed the bombast from Mould's sound for something quieter and more contemplative—he'd hung up his signature flying-V for a 12-string acoustic. While it's certainly true that Mould experimented with his sound considerably on Workbook, it wasn't a completely jarring change from what had preceded it. Mould had made his name with Hüsker Dü's intense punk epics, but the band that had made 1984's searing Zen Arcade was considerably different from the one that made the somber Candy Apple Grey two years later. That album's "Hardly Getting Over It" could've fit on Workbook, just as some of Workbook's more intense songs ("Whichever Way The Wind Blows," "Lonely Afternoon," the B-side "All Those People Know") could've appeared on a late-period Hüsker Dü album.
That said, Mould made sure no one missed the point. He forbade his label, Virgin Records, from mentioning Hüsker Dü in any promotional materials or packaging. The album opens with "Sunspots," a fleet instrumental that showcased his newfound fingerpicking ability. It sounded like the work of a classical guitarist, not the guy who'd made Land Speed Record. "It was so different from anything I had ever done before, and that's why it was the perfect opening track. It was a clear signal of the changes I'd made in my writing and playing style," Mould writes in his memoir, See A Little Light: The Trail Of Rage And Melody. "This new approach was like nothing I'd ever done before, and it appeared out of nowhere," he continues later. "It wasn't like I sat down and said, OK, I'm going to work with drones, alternate tunings, free poetry, and plosives as rhythm."
The rest of Workbook seemed to flow out of him. A Rolling Stone article from around the album's release mentions Mould had upwards of 40 songs when he headed into the studio. "I experienced this outpouring of work," Mould writes in See A Little Light. "It was an amazing period; I could do no wrong. I still don't know what the hell was going on. One day, 'Wishing Well,' the next day, 'Sinners And Their Repentances,' three days later, 'Brasilia Crossed With Trenton.' It just didn't stop. It was an eye-opening experience."
G/O Media may get a commission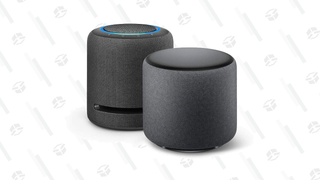 25% off - Prime Exclusive
Echo Studio + Echo Sub Bundle
Mould's work in the 25 years since Workbook has perhaps made it sound less extraordinary, in that the sounds he introduced on it have long since become part of his signature. "See A Little Light," the album's lead single and poppiest song, has not only remained a live staple for Mould, but it also provided the name for his memoir.  Tellingly, Mould hasn't remixed or remastered this edition of Workbook; remastering tends to just make everything louder while aiming for clarity. The original mix predates the loudness wars that followed in the '90s, but the album doesn't suffer from a lack of punch. Although the mix sounds from another era, it also doesn't sound compressed to within an inch of its life.
The bonus materials here include a studio version of "All Those People Know" and, on the CD version, a full set from the era, recorded in Mould's second hometown of Chicago at his frequent haunt, the Metro. (The live performance disc from the recent reissue of Sugar's Copper Blue was also recorded there.) The set features all of Workbook (played non-sequentially), a version of "All Those People Know" that sounds positively Sugar-esque, a cover of Richard and Linda Thompson's "Shoot Out The Lights," and a set-closing three-song string of Hüsker Dü tracks, which Mould plays solo acoustic: "Hardly Getting Over It," "Celebrated Summer," "Makes No Sense At All."
Unsurprisingly, those tracks earn the biggest response from the crowd as soon as Mould sings the first words of "Hardly Getting Over It." During "Makes No Sense At All," the audience sings the "makes no sense at all" lines that punctuate each verse, and it's easy to hear the smile in Mould's voice. He would struggle with the legacy of that band—and the guitar-rock sound he pioneered—down the road, but he sounds completely at ease with his past and his future in that moment. As Workbook proved, he had reason to feel confident.