Here's what's up in the world of TV for Thursday, July 4. All times are Eastern.
TOP PICK
Aerial America (Smithsonian, 12:01 a.m.): Falling short of celebrating American independence by devoting 30 hours of air time to context-free aerial photography of these United States, Smithsonian presents the next best thing: 30 hours of painstakingly curated and contextualized aerial photography of 31 American states. Not featured: a significant chunk of the Midwest, ruining your What's On Tonight correspondent's plans to mute the marathon and pair it with a 30-hour loop of Talking Heads' "The Big Country."
---
WHAT ELSE IS ON?
The Walking Dead (AMC, 1 p.m.): The grand tradition of national-holiday marathons extends to the cable network unofficially known as "Ahh! Mobile Corpses!" for the weekend, as all three seasons of The Walking Dead ravenously devour the next four days of your life.
Macy's 4th Of July Fireworks Spectacular (NBC, 8 p.m.): Mariah Carey, Tim McGraw, Taylor Swift, and more perform at real-life NBC's equivalent of 30 Rock's Rockefeller Center Salute To Fireworks, staged over the Hudson rather than Midtown, for reasons that were not immediately apparent to Jack Donaghy.
A Capitol Fourth (PBS, 8 p.m.): Not to be outdone, PBS' salute to Thomas Jefferson's most popular piece of writing (with his response to the classified ad "For sale: One giant chunk of land west of the Mississippi and east of the Rocky Mountains" coming in a close second) adds a touch of class to the holiday—in which "class" means classical music and selections from the legitimate theater with direct ties to television and/or popular music. (Still: John Williams!)
G/O Media may get a commission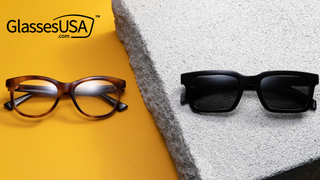 60% off frames
GlassesUSA.com Back to School Sales
Philly 4th Of July Jam (VH1, 8 p.m.): Yet neither of those televised celebrations originate from the birthplace of the American Revolution, nor do they feature a headlining performance by The Roots—so, for one night only, Philadelphia gets one up on both New York and Washington D.C.
Dead Men Don't Wear Plaid (Sundance, 7:30 p.m.): Sundance celebrates American treasure Steve Martin with back-to-back airings of The Man With Two Brains and Dead Men Don't Wear Plaid—the latter of which, with its pilfered excerpts from Hollywood's Golden Age, also acts as a crash course in the history of American cinema.
Independence Day (A&E, 8 p.m.): As Bill Pullman points out (while cribbing extensively from Henry V), the day all of Earth pulls together to fend off an intergalactic threat will be an Independence Day for the global community. In this light, Telemundo is showing Independence Day at the same time as A&E. According to TV Guide, the Spanish-language cut is one-minute shorter—probably because Jeff Goldblum does less, um, mumbling in, uh, español.
Nathan's Famous July 4th International Hot Dog Eating Contest (ESPN, 7 p.m.): If Joey Chestnut can wolf down the most franks and buns in 10 minutes, he'll best Takeru Kobayashi's previously unprecedented six-straight Nathan's Famous titles. There's never been a more appropriate occasion for the obnoxious "U!S!A! U!S!A!" chant.
---
IN CASE YOU MISSED IT
Sports Night: Donna Bowman is pleased to initiate your four-day weekend with a visit from Chuck "Cut Man" Kimmel. She's packed much more than seven seconds worth of action into this week's review.