The new season of Arrested Development on Netflix has sure seemed a long time coming, what with all the stop-and-start rumors. But Netflix has seen fit to drop one last bit of fake Arrested Development content before the new episodes actually air in the spring of 2013. The streaming service has added several of the fake movies and television shows from the series to its Watch Instantly page, giving millions of fans the opportunity to pretend they live in a world where Les Cousins Dangereux is real.
The pages just link back to the original Arrested Development page, but the cover art and synopses for each of the fake shows are pretty great. In addition to Les Cousins Dangereux, the fake pages include Girls With Low Self-Esteem: Newport Beach, Families With Low Self Esteem, Boyfights, Scandalmakers, and, of course, Wrench. Check out some of the cover art and synopses below. [via Splitsider]
Wrench:
When faced with some of the toughest cases the mean streets of Los Angeles has to offer, by-the-books detective Frank Wrench realizes he needs to loosen up, break some rules and maybe even throw out the book entirely, in order to get tough on crime.
G/O Media may get a commission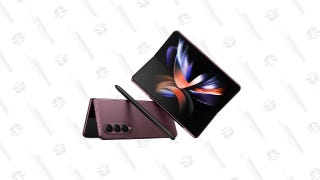 Save Up to $300
Galaxy Z Fold4
Girls With Low Self-Esteem: Newport Beach
Sunshine and self-esteem issues collide as drunken, scantily-clad co-eds with low self-worth and absolutely no shame hit Spring Break in Southern California. It's a wild, weekend adventure that you'll never forget … but they'll wish they could.
Families With Low Self Esteem:
Tobias Funke, the semi-renowned Freudian analyst/therapist and former chief resident of psychiatry at Massachusetts General Hospital, provides counseling to families deep in crisis in this deeply probing and emotionally uplifting series.
Mock Trial With J. Reinhold:
All rise for actor Judge Reinhold as he presides over this reality courtroom/variety series, featuring music by American Idol sensation William Hung and his band, Hung Jury, as they take real families and put them through mock trials.