One of the things I like about America's Best Dance Crew is that it's constantly finding what works and what doesn't work, and making tweaks without drastically changing the show. I've counted four positive developments this season in its first two episodes. Perhaps the most important of those developments is that all of the crews featured this season are both good dance crews and good fits for the show. Pole dancers and jump-rope crews are great to have in the world, but they're never going to win ABDC, realistically. Likewise, the crews seem pretty evenly matched, in a good way, unlike season three—where two crews were overwhelmingly dominant—or season four—where "consistently good" was enough to beat teams that couldn't maintain quality.
Second, the "Return Of The Superstars" acknowledges that the show does well with themed challenges. It makes it seem like the playing field is even so that the crew that gets the best song isn't also a shoo-in for the win. And if the featured artist for that challenge is big enough for "superstar" status, chances are he or she has released a number of danceable, well-produced hits. They're also more likely to have songs that people who don't listen to Top 40 radio will know (this is part of why the Missy Elliot episode from season two might be my favorite). I hope that some of the "superstars" chosen for this season can help the crews reach that season-two high—next week's Madonna challenge could get interesting. Tonight's "superstar" was Flo Rida—a stretch of the term in comparison to Britney or Madonna, although his poppy hip-hop is a perfect match for the show.
Third among this season's improvements: Lil Mama doesn't appear to be dressing like a rich/insane 9-year-old every episode.
Finally, and most important for tonight, I'm very much in favor of not eliminating crews after just one performance. It's still not entirely fair for one crew to spend a week waiting to know if they're in the elimination round while the other waits a few minutes, but at least they don't show up for a week and then have to fly home. To be honest, if I were reshuffling the show, I'd probably give each crew the chance for three or four performances, though I know that goes against the tenets of modern reality competitions. Still, I'm happy that Mix'd Elements gets a second chance, and would have been pissed off if Funkdation had been kicked off so early.
G/O Media may get a commission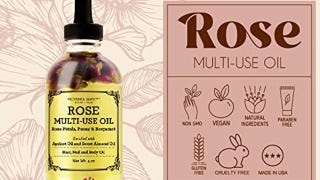 Provence Beauty Rose Multi-Use Oil
There is one trend that I think is a bit of a negative: the crews are getting larger. My partner, a dancer, noticed how frequently the stage got crowded tonight, and I definitely agree. Every ABDC group seemed to feature five to seven people before Street Kingdom brought 10 people to the show last season. It seems like most of this year's crews have eight members, where six people seems to be about ideal for the aesthetics of the stage and camera.
Each of the five new crews did well with their introductions. I was especially impressed with the last three, Collizion, Funkdation, and Mos Wanted Crew, all of whom seem good enough to compete with Fanny Pak for the title. Perhaps it's my love for OutKast, but the southern styles of Collizion made me especially happy, so they're my new favorite. Those three crews, along with Elektrolytes, also take a page from the I aM mE playbook, doing group stunts, all coming together for the camera and not necessarily for the live audience. This is a strategic, wise move, since most of the voters are watching on television, and I'm sure it still looks good to the judges.
The judges were a little bit subdued tonight, although they were joined by Flo Rida, who added enthusiasm and little else. There was a classic J.C. versus Lil Mama moment, after the high-school crew Rated Next Generation performed. She declared that, alongside 8 Flavahz and Iconic Boyz, RNG was "making history," which
is an awfully inflated perception of the show's importance, and
isn't really history anymore, since Iconic Boyz performed last year.
But that inanity was flipped by J.C., who said "one little thing… " and got directly to the heart of the performance, saying that while it was well-done and precise, it needed another dimension to be really great, a perfect summation of 8 Flavahz dance.
The episode ended with a battle between the Mexican crew Funkdation and last week's worst-judged crew, Mix'd Elements. I'm not actually certain either act deserved to be considered the weakest of their respective weeks, but Mix'd Elements paid the price for a too-simple routine last week, and Funkdation was too good for them. But I feel like this might happen every week—I could see most of these crews going deep into the competition, which means that the eliminations will be a constant source of surprises. That's a good start to the season.
ABDC Banner Rankings:
(note: These are based on who I think has the best chance of winning, based on quality of dance, judge response, and how the show has worked in the past—not necessarily my favorite performances.)
Mos Wanted Crew: I really like the idea of dance teachers fighting back by forming their own crew and looking like badasses. The judges all said they made it look easy, but perhaps it looked too easy. It'll be fun to see these guys challenged later.
Fanny Pak: Okay, it's ridiculous that one crew is back in the competition, especially one that worked for the show after competing. But Fanny Pak is looking much better than before. Theatricality combined with crisp choreography is hard to beat.
Collizion: My personal favorite so far. Love the on-stage charisma, love the athleticism, love the choreography. Not so crazy about the intro where its members are portrayed as horndogs.
8 Flavahz: Judges were high on the tween group, and lord knows the Iconic Boyz proved that youth was an advantage on this show. I thought the crew's routine was a little chaotic, though, and I'm no more thrilled about having kids on the show than I was last year.
Funkdation: Gotta say, I was surprised this crew dropped to the bottom in the first week. The competition is stiff, but I'm not sure what more the judges would want. Funkdation might want to ease off on the gymnastics a bit, though; the dancers rely on it to the point where it's getting tired.
Elektrolytes: This group reminds me of Quest Crew and I aM mE, and wasn't anywhere near my favorite of the first round. That's a sign of how much the quality of the crews has improved in the past couple of seasons.
Rated Next Generation: Good crisp performance, and while I tend to like the precision, I don't think they're likely to win against crews that can go bigger and do better. We Are Heroes did, but its season was weak. This season is not.
Irratik: And here's a case where I thought the crew was much better than the judges indicated. Yes, their criticisms of over-femininity were valid, and yes, purely choreographed crews don't always do so well on ABDC. But this crew was really good!
Stepboys: While probably the Crew That Would Be The Most Fun To Hang Out With, they have Fanny Pak's old problem of building performance first, dance second. Obviously it's a talented group, but when the flaws in your dance are so clear Lil Mama can see them, there are issues.
Stray observations:
Yeah, I'm kind of grumpy about the tweens on the show again. If they want to do ABDC Kids, I think that would be great. Grumble grumble.
Congratulations, America's Best Dance Crew fans, you've successfully convinced TV Club to give season seven week-to-week coverage! Mario Lopez's dimples are smiling at you. Emily Yoshida and I will be alternating weekly coverage.