Is America's Best Dance Crew a force for good in the universe?
At the start of this season, when people like Emily and some commenters were pitching the show for weekly coverage, this idea was mentioned. Cynic that I am, I was willing to let them say it, but I wasn't going to get behind it. The dancing is cool-to-incredible, the judging is entertaining, and there usually isn't too much crap to cut through. That's enough for me.
When Emily went to go see the show, she found something more, though—joy during the commercial breaks. That doesn't come through when we watch the show, though. Instead, all we see are platitudes. Every crew comes on the show to represent something, every crew follows its dreams, every crew leaves its heart on the stage. It's all so very very predictably and conventionally uplifting that I can't really believe it's real.
In tonight's live finale, both crews waited on stage for the results of the championship vote. Mario Lopez reads the result—Elektrolytes wins—and the crew members celebrate. And immediately, the runner-up crew, 8 Flavahz, goes and hugs them. And they keep hugging. And eventually, they break away for Elektrolytes to pose and be interviewed alone, followed by an 8 Flavahz interview where they call the winners "our brothers," and some of them do their rivals' pose. Then Elektrolytes does a celebratory dance, the credits roll, and 8 Flavahz comes back for more hugging and celebration. This is the sort of thing that doesn't get shown in the tightly edited weekly episodes—apparently Emily saw it when she saw it live, but we don't. And, to be honest, it was uplifting, even for this critical cynic. This was genuine. Maybe these kids really meant all those platitudes the whole time!
G/O Media may get a commission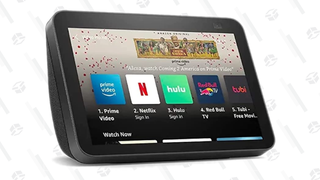 Don't get me wrong, there are still issues with America's Best Dance Crew. Primarily black crews, primarily female crews, and foreign crews all seem to regularly end up ill-treated in the voting. The experiences of Vogue Evolution and, to a lesser extent, Fanny Pak, show that queer crews can add judge's treatment to their complaints. Most of these are representative of the show taking place in America, and using American votes to make its most important decisions, to be fair.
Yet, given the context that it's in, the television landscape, the fact that its chief dance show competition is produced by a perverted homophobe, given the channel it's on showing 16 And Pregnant and Jersey Shore, given how multi-ethnic and joyous America's Best Dance Crew can be…yeah, it's special.
Still, there's cool dancing, and that's the important thing. While this season has been good, it's been decidedly lacking in excellence, something hammered home when the finale brought I aM mE back for a final performance as reigning champion. Sure, they had a longer, less stressful period of time to work on it than most of the crews, but, well, holy shit. It was just insane visual after insane visual, much like what they did last season, only without any filter.
On the downside, having 8 Flavahz dance with We Are Heroes may have seemed like a good idea at the time, but in practice it was just a mess. First, having 13-year-old girls dance to a song glorifying getting blackout drunk and having not-terribly-consensual sex isn't exactly ideal, and Lil Mama talking about how "sexy" the kids were didn't help the situation. Second, We Are Heroes was great at precise, tight movements, where 8 Flavahz has been about going big all season, rendering it quite awkward—Quest Crew would have been far more appropriate for 8 Flavahz, while We Are Heroes would have been great to pair up with Mos Wanted.
Elektrolytes' performance alongside Poreotix was far more fitting, and better. If there's a reason that they deserved the title, it's that they were consistently had one of the best performances of each episode. Despite that, I thought that both times they were in the bottom two—against Fanny Pak and Mos Wanted—they were outclassed, but the "expert" judges or whatever disagree with me. Despite that, Elektrolytes were worthy winners.