American Idol contestants cheat the system all the time when it comes to genre nights, often opting for covers in lieu of actually tackling a theme. I adore the drama and the fun of '80's music and was afraid that tonight we'd hear stuff like "The California Raisins' version of 'I Heard It Through the Grapevine'!" but I was very pleased with the musical selections. Not only were actual '80's hits covered, but it seems like they were chosen with the spirit of the era in mind. So, I liked the songs—but how about the performances?
I find DeAndre so likable, yet his singing so whateverable. When I think of where I'd most likely hear his voice if he made it on the radio, all I can think of is: dentist's office. DeAndre turns out a charming, slightly-more-confident-than-usual version of DeBarge's "I Like It" that's quite good for him, but unspecial in general in terms of the big picture of the show. The judges love it, though.
I got fed up early with the judges tonight. Elise originally wants to sing "Hallelujah" by Leonard Cohen, but mentors Gwen Stefani and Tony Kanal convince her to sing "I Wanna Know What Love Is" by Foreigner instead. I'm happy with this choice because "Hallelujah" has been done to death on the show, and the Foreigner tune is much more in the spirit of the drama of '80's music.  I enjoy the slow build of the song but feel just slightly disappointed, not so much due to Elise's voice but because the production seems untrue to her spirit: her matronly outfit, the choir (on top of the backup choir), the dumb clock screensaver. It's just overstuffed for a singer who doesn't need it. For Elise, it's not an overwhelmingly awesome performance, but it's still quite fine. However, the judges decide to get hard on her. Steven says it's the wrong song choice, Jennifer praises her outfit (code for "you stink"), and Randy claims the whole song was out of tune, which I don't think is true. I worry that tonight spells trouble for Elise.
"I enjoyed that! I actually enjoyed that!" is Randy's reaction to Colton and Skylar's duet of "Islands In The Stream," and I don't disagree at all. Colton looks and sounds comfortable doing country without slipping into caricature, and Skylar looks and sounds lovely as she delivers a slightly more toned-down but still strong performance. I'm a sucker for good harmonies, so I loved this duet. I guess it's no surprise that anything that has had Dolly Parton's name on it is awesome.
G/O Media may get a commission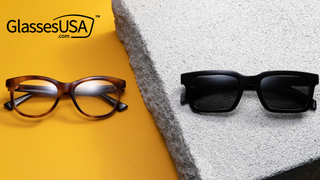 60% off frames
GlassesUSA.com Back to School Sales
To hell with these judges. I can't believe they call Elise out for being pitchy but don't say a thing to Phillip about "That's All." It's a great song choice for him (I've been going through a Genesis thing lately), and it's sweet that he's got his brother-in-law playing guitar with him, but the performance is imprecise and out of tune, especially on the high and low notes. It's a song that demands punctuation and definition, but Phillip just looks a bit unwell, and even after he finishes performing, he has that "that kinda sucked" face on. Only Jennifer points out that perhaps he was a bit out of his element at the beginning of the song, but otherwise, the judges just kiss his ass like they do all the time. I'll bet Jimmy criticizes this performance tomorrow.
Next, Hollie and DeAndre duet on Jessie Spano's "I'm So Excited," which turns out to be a cute, youthful duet. I got a Grease flashback from it, thanks to Hollie's shiny pants and red shoes and DeAndre's letterman's jacket. Both lack a tiny bit of confidence and duet rapport to make it a complete home run, but it's a fun little performance, and it's especially nice to see Hollie acting youthful (once she wiped the terrified look off her face as she descended the stairs.)
Joshua takes on "If You Don't Know Me By Now" by Simply Red (i.e., he cheats and picks a cover.) Even though Jimmy and Gwen advise him to take it down a notch, in the end it's Josh at his Joshiest, churchy and screamy.  Joshua does the same thing every week: The judges and the crowd love him, but I'm bored of him being constantly over-the-top and annoyed that he didn't pick an '80's original.
I wish Jessica Sanchez would stop trying to sell us on her alter ego, "Baby Chez" (or B.B. Cheez? I don't know.) The whole concept of an alter ego is such a ridiculous diva-type concept that it's barely tolerable at best with a Mariah or Beyonce, plus it makes no sense when you barely know the primary ego. Anyway, Jessica sings "How Will I Know," which is a fun choice for her, but like when she sang Gloria Estefan earlier in the season, I sensed a bit of strain in her performance, a little yelliness. It certainly didn't make me forget Whitney Houston's version. I do like Jessica's candy-colored plastic spike bracelet, though. The judges have nothing bad to say, however. So, just to stack things up so far, Jessica, Joshua, and Phillip were all perfect, but Elise stunk. The judges are idiots.
Phillip and Elise duet on Tom Petty and Stevie Nicks' "Stop Draggin' My Heart Around," another great choice. They sound good, especially Elise, who could use the second chance although they lack a little chemistry onstage together, perhaps because they're both singing at full-blast without a ton of time for the little looks that you need to give your partner for proper stage duets.
Hollie takes on "What A Feeling," which is a great choice for a girl who's been too staid and serious so far in the competition. Gwen advises her to sing with defiance, and Hollie definitely seems to be trying to emit "I'm fun! I'm young!" as she twirls in her fringed dress and fraternizes with the backup singers and keytarist. It's not quite all there: I think the singing would have benefited had she not worked so hard on moving around the stage (she didn't quite seem to have her breath, and some notes sounded cut off), plus Hollie looks stressed once the song is over.  I think she needed this type of performance, but unfortunately, she just can't get truly comfortable onstage, and the judges pick up on this.
I figured that Joshua and Jessica together would be a two-headed monster of oversinging, but they are a great couple on Aretha Franklin and George Michael's "I Knew You Were Waiting" (a song I had forgotten but was happy to remember). It's a great song for the both of them, and they have great chemistry onstage, not just dancing together but giving each other space to sing big. I liked it much more than either of their actual performances not just tonight but of late.
I have mixed feelings about Colton's "Time After Time." First, I love that song so hard it makes me cry, so I am happy he chose it, and his singing is solid. However, the uptempo version of it sucks all the bittersweetness from the song, and while I'm glad that Colton seems to have dropped the whine somewhat, on this performance, he picked up a strange adenoidal affection. So it was good, but I'm so attached to the sentimental version of the song, for me it was a bit of a disappointment.
Skylar waffles between "Wind Beneath My Wings" and "Nine To Five," and the mentors originally advise her to pick Dolly, but then switch when they hear her sing Bette. Make no mistake, "Wings" is schmaltz covered in chicken fat, but J.Lo wasn't the only one who got a little choked up there. (I'm pregnant, okay? I have special feelings.) Personally I prefer fun Skylar to this Skylar, but what's most important is that tonight she proved that she's got a big old amazing voice and can switch things up, which I wish all the contestants would try to do more.
It looks like Hollie and Elise are locked for the bottom three tomorrow night, as the only singers who the judges criticized at all. Who will join them is the real question. I'm thinking DeAndre or Joshua.
Stray observations:
I liked the semi-sarcastic way Gwen told Tony that goosebumps are called goosies.
Gwen and Tony>>>Gwen and Gavin.
I want the number for Gwen's dermatologist or nutritionist or plastic surgeon or whatever her secret is.
So You Think You Can Dance crossover: NappyTabs shout-out!
"You gotta have it" is the new "Someone's in it to win it" in terms of nonsensical Randy phrasings.
The Randy of today mocking the style of the Randy of '80's is like the Lindsay Bluth of today mocking the style of Lindsay Bluth of the '80's.