Yes, Justice Smith played D&D with "Dungeons & Dragons" castmates
Jay Z and Beyoncé announced their joint On The Run Tour in April, back when there was only one type of Jay Z and Beyoncé fan. Since the May release of surveillance video showing Beyoncé's outré sister Solange mollywhopping Jay in an elevator, there are two types of Jay Z and Beyoncé fans, and only one of them is likely to walk away from HBO's concert event completely satisfied.
The elevator incident bifurcated the Carters' massive audience into the Romantics and the Realists. The Romantics are so enamored of the ideas of a world-eating hip-hop power couple and a woman of Beyoncé's prodigious talent and unrelenting work ethic "having it all"; they weep at the thought of decay under the pristine surface. The Realists prefer to think of Jay and Bey's marriage less as an organic love story than as the story of two pop zeniths strategically combining their resources into an embarrassment of riches.
Beyoncé Jay Z: On The Run, then, is aimed at the Realists, in glorious tribute to the Carters' romantic fantasy and solely interested in burnishing Jay and Bey's crowns. And in a pre-ElevatorCam world, a straightforward Jay Z and Beyoncé concert film would have been enough to appease everyone, especially when said film features the Carters breathlessly cranking through 44 songs and nearly as many costume changes.

G/O Media may get a commission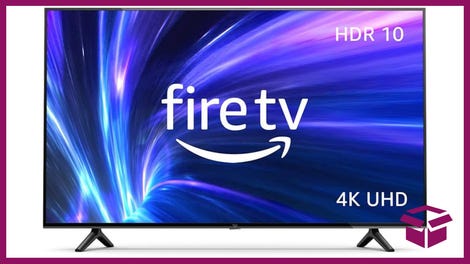 42% Off
Amazon Fire TV 50" 4K Smart TV
But with the story of Jay and Bey's maybe-troubled-maybe-not marriage controlling the pop-culture news cycle for the better part of the summer, On The Run's wall-to-wall performance format feels like a missed opportunity and makes the film feel incomplete. It should be harder to find fault with an essentially free Jay Z and Beyoncé concert, but at a runtime of over two-and-a-half hours and featuring none of the tabloid sizzle that fueled ticket sales, On The Run can't help but feel equally generous and miserly.

That said, On The Run is a compelling version of what it is: a handsomely shot concert film offering the next best thing to being there for anyone who couldn't get a line of credit approved in time to buy the exorbitant tickets. Director Jonas Akerlund shot footage from the Carters' Sept. 12 and 13 Paris shows at the Stade de France and spent the past week cobbling it into a kinetic, captivating sequence. With so little lag time, On The Run feels live even as it takes full advantage of post-production flash.

The concert itself is fantastic, but makes a case that Jay Z and Beyoncé only seemed evenly matched because they'd never been combined on stage this way. Beyoncé towers over her husband, making the decision to employ a round-robin style alternating setlist seem like a logistically unavoidable choice more than a shrewd one. Hip-hop isn't particularly scaleable, so even in front of the Stade de France's audience of 75,000, Jay's segments are what hip-hop shows are, a dude with a mic on a stage telling stories. Beyoncé clearly has home field advantage in a stadium show that makes a better vessel for her more visual, heavily choreographed performances, and the audience grants her the lion's share of its enthusiasm.

But On The Run's finest moments come when the Carters join forces, as when they open the show with his "'03 Bonnie And Clyde" and her "Upgrade U" and "Crazy In Love." A particularly charming musical moment comes when Beyoncé performs her "Ring The Alarm" over the beat from his "The Takeover," a mash-up so fun it's a wonder they didn't deploy the technique more often. The two have undeniable chemistry on stage, though it's never entirely clear when they gaze at each other if they're making goo-goo eyes or game faces.

Of course, it would help if On The Run captured any of what went into creating the onstage experience, but none of that is to be found. It's not mandatory for a concert film to peer behind the curtain, but for this particular tour, which fortified itself with a narrative about the pressures of life under a microscope, a sole focus on the stagecraft feels underdocumented. The Romantics will be more than satisfied with On The Run, which crests toward a video montage of Bey, Jay and Blue Ivy as the perfect family. But for anyone who's more interested in the Carters the less pristine they appear to be, On The Run is like being served a 60-pound steak after you've already filled up on sizzle.