The PR department for sports bar/chicken chain Buffalo Wild Wings is facing one of those Fridays you never want to deal with in the online world, i.e., the kind where you've had to delete a bunch of racist hacked tweets from your account, and also one that suggested that your Signature Dipping Sauces (Blazin'™, Spicy Garlic™, and Caribbean Jerk™, plus many more) had all been made from some guy named Tommy's cum™.
The hacker—who posted "Our secret ingredient is Tommy's cum. That's what makes our wings so good.;)" alongside a bunch of racial slurs and general internet assholery that doesn't bear repeating—had control of the account for about 10 minutes before the BWW team managed to get back into the account and start deleting the tweets. But that was enough time for the aberration—and the mysterious Tommy—to catch people's attention, and the collected residents of Twitter were as sensitive to the company's plight as you'd probably expect:
G/O Media may get a commission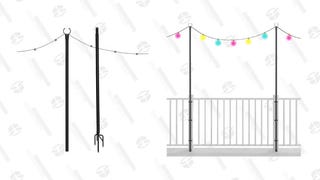 Up To 49% Off
Holiday Styling String Light Poles
So far, Buffalo Wild Wings—a perfectly fine chain, even if their breaded tenders are sometimes a little on the scrawny side for our personal tastes—has yet to publicly comment on or apologize for the presumed hack, or on whether it'll ask any of its waiters to maybe keep things formal and just go by "Thomas" when serving its sauces tonight.