In an effort to both serve our readers and help support The A.V. Club, we are going to post daily links to deals and interesting items that we find over on Amazon. If you use these links to click through and buy something—not just the thing you clicked—on Amazon, we will see a portion of that income. You don't have to do that if you don't want to, but if you do, know that we appreciate it.
Chuck Taylors are a classic, and Amazon is offering them at a price that makes them insanely affordable. Act now before your size sells out.
G/O Media may get a commission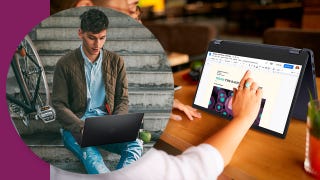 Ends August 15
Best Buy Anniversary Sale 2022
Ends August 15
Best Buy has a number of different promotions happening all for its Anniversary Sales Event. Laptops, tablets, TVs, you names it. Whether you're heading back to school or just trying to fill your home with some new tech, there is something here on sale that you've likely been waiting for.
Amazon's running a deal on a bunch of epic movies, including films like The Chronicles Of Narnia: The Voyage Of The Dawn Treader.
Stop blowing your money on La Croix and make it yourself at home.
To quote this item's product description, "Exploding Kittens is a card game for people who are into kittens and explosions and laser beams and sometimes goats." The NSFW version is also for sale, if you want to go that route.
If you're not that into Obi-Wan, Amazon's also got deals on Lego corner stores and police interceptors.
Stop carrying your work shit in that ratty old backpack. Pick up a Timbuk2 and look professional.
He's so cute.
Hey, if you're going to buy pork rinds, you might as well get a deal on them.
If you're buying these individually, you're going to be paying way more than this.
To paraphrase the Beastie Boys, dogs love these because they're crazy sniffable.