If such a thing as the socially conscious exploitation movie exists outside of Samuel Fuller's filmography, writer-director Wayne Kramer may yet master it. In 2006's frantic Running Scared, Kramer offered up a healthy dose of red-state paranoia, with self-sufficient New Jersey types discussing the virtues of hamburgers and John Wayne while disdaining the wealthy. (They're all child molesters, it seems.) Crossing Over, an expansion of a 35-minute short Kramer made in 1996, is another tack on what it means to be American, offering a cross-section of people involved with immigration and deportation.
While the film contains enough stories for a 10-hour miniseries, it doesn't spend equal time with everyone. There's a weary immigration policeman (Harrison Ford) and his partner (Cliff Curtis), whose Iranian family is about to be naturalized; an Aussie couple (Jim Sturgess and Alice Eve) trying to find their own shady ways into permanent citizenship; and a teenager (Summer Bishil) who brings the wrath of the FBI on her family after reading an essay in school arguing that the 9/11 bombers were misunderstood. And that's just for starters.
At heart, Kramer is arguing something pretty simple: There are serious problems and heartbreaks in the business of becoming—or failing to become—an American. Kramer's plotting is mostly rudimentary and predictable, but he has some serious verve: an opening-reel raid on a sweatshop gets dynamic with abrupt zooms and a sense of real chaos, and it tops that shortly thereafter when Bishil's classmates call her a "camel-humper." (The second reel opens with a crocodile attack on TV, which pretty much sums up Kramer's aesthetic.) It's arguably irresponsible—or at least unrepresentative—to suggest that the Iranian immigrant next door is probably fixated on sharia honor killings; still, better offensive than dull.
G/O Media may get a commission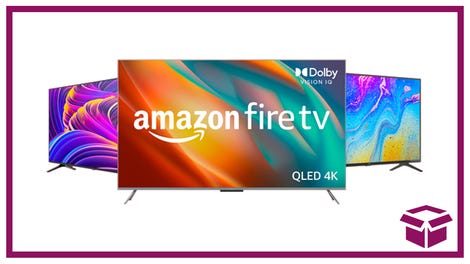 Ooh. stunning.
New Amazon Fire TVs
Tied together with endless, flattening shots of L.A.'s cloverleaf freeways, Crossing Over is often simplistic and occasionally lugubrious, but it's rarely boring. It comes truly alive in two scenes: a short one of Sturgess faking his way through the mourner's Kaddish with the help of a friendly rabbi (in a rare moment of levity), and a convenience-store robbery where thief and cop are unexpectedly connected by their awareness of the value of citizenship. It's to Kramer's credit that for all his contrivances, when the big swearing-in finally comes, it briefly prompts a true twinge of patriotism.