While annoyingly controversial at the time, Paul Feig's 2016 Ghostbusters movie didn't make a huge impact due to the fact that it wasn't significantly better or worse than the original. It was an entertaining film and a solid showcase for its many funny stars, but after seeing it/refusing to see it out of some stupid principle, most of us moved on with our lives. Original Ghostbusters star Dan Aykroyd can't do that, though, because something about the movie has apparently been bothering him since last summer: it was just too darn expensive.
Speaking with Channel 4 in England today, Aykroyd mentioned that it's "economically not fesaible" to do another Ghostbusters movie, because Feig's reboot didn't make enough money. The movie made over $229 million worldwide on a $140 million budget, which means it did make money, but Aykroyd blames Feig himself for the fact that it didn't make more money. He says he (and presumably the other executive producers) repeatedly suggested that Feig add certain scenes while filming, but he refused to listen to them and had to go back and reshoot those scenes after test audiences weren't crazy about the film. Because of this, Aykroyd believes the budget went up by $40 million, and it's all because Feig wouldn't listen to him.
Aykroyd expects that Feig "will not be back on the Sony lot any time soon," but that being said, he had nothing but nice things to say about the cast—depending on how generously you interpret this quote:
The girls are great in it. Kate McKinnon, Melissa McCarthy, Kristen Wiig—what wonderful, wonderful players they are—and Leslie Jones.
You can see a video of Aykroyd's interview below.
G/O Media may get a commission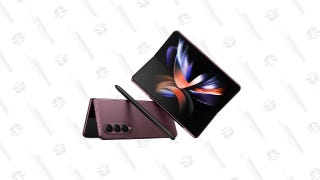 Save Up to $300
Galaxy Z Fold4