Dirty Projectors bassist Nat Baldwin has struck out on his own a couple of times, including on 2011's People Changes. His latest album, In The Hollows, hits stores April 29. The titular track is propulsive and arty, as is the accompanying clip The A.V. Club is premiering below. Created by Holler Presents, the clip merges found footage, past lives, and movement, creating something Baldwin says nails his aesthetic and conveys "all the fears, hopes, dreams, and dread" that the song holds.
Baldwin is touring this spring and summer. Dates are below.
Nat Baldwin - "In The Hollows" from Holler Presents on Vimeo.
Nat Baldwin tour 2014

March 31—Smog—Hudson, New York
April 4—Mission Creek Festival—Iowa City, Iowa
April 29—Buoy—Kittery, Maine
May 1—Machines With Magnets—Pawtucket, Rhode Island
May 2—Space Gallery—Portland, Maine
May 3—Winooski United Methodist Church—Winooski, Vermont
May 28—Rockmill Brewery Tasting Room—Lancaster, Ohio
May 29—Constellation—Chicago, Illinois
May 30—Mike & Molly's—Champaign, Illinois
May 31—Rootcellar Lounge—Bloomington, Indiana
June 1—Dreamland—Louisville, Kentucky
June 2—The Ice Cream Factory—Cincinnati, Ohio
June 4—Baby's All Right—Brooklyn, New York
June 6—Café Nine—New Haven, Connecticut
June 7—Spotty Dog Books & Ale—Hudson, New York
June 8—The Thing In The Spring Festival—Peterborough, New Hampshire
June 14—Perot Grain Silos At Silo City—Buffalo, New York
June 17—Neptune's Parlor—Raleigh, North Carolina
June 18—Conundrum—West Columbia, South Carolina
June 19—Go Bar—Athens, Georgia
June 20—Proud Larry's—Oxford, Mississippi
June 21—Blue Moon Saloon—Lafayette, Louisiana
June 22—Circle Bar—New Orleans, Louisiana
June 24—The Stone Fox—Nashville, Tennessee
June 25—The Mothlight—Asheville, North Carolina
June 26—Twisted Branch Tea Bazaar—Charlottesville, Virginia
June 27—Metro Gallery—Baltimore, Maryland
June 28—Andy Warhol Museum—Pittsburgh, Pennsylvania
G/O Media may get a commission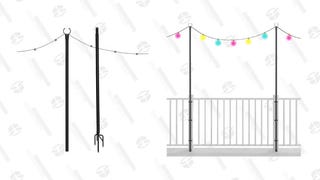 Up To 49% Off
Holiday Styling String Light Poles