Last we checked in with the Discovery Channel, it had just acquired a new president who promised that his channel would stop trying to trick children and stoned people into believing in mermaids and crap by airing "documentaries" that presented said crap under the guise of pseudoscientific fact. But TV, like politics, is full of liars with really good hair. That's why we here at The A.V. Club are proud to present the first—and potentially only—installment in our new Newswire series, FraudSquashers.
Yesterday The Hollywood Reporter shared details on Discovery Channel's newest slate of programming, developed by newly minted president Rich Ross and his similarly newly minted deputies, John Goldwyn and John Hoffman. As Ross promised, there's nary a cryptozoological investigation in sight, although the programming still caters to 13-year-old boys and 13-year-old boys at heart whose interests include cool cars that go fast, things tangentially related to Indiana Jones, and possibly seeing a nipple if the network censors slip up while blurring Naked And Afraid XL. (And this is Discovery trying to expand its reach; as Ross tells THR, "I saw that Discovery could be a male-driven brand without being a solely focused male brand," meaning he hopes patient girlfriends will watch Discovery programming as well.) This year also sees the dubious distinction of including Discovery's first scripted series, Harley-Davidson, although we suppose that, while the series is made up, it has no pretentions of passing as a documentary so it's not, strictly speaking, bullshit.
The full lineup of Discovery's upcoming fall series is below; eagle-eyed readers who can spot the one we just made up will become members of the FraudSquashers Kidz Club and receive an official Junior FraudSquasher badge, if we ever remember to mail them out. No peeking at the source article, FraudSquashers fans: Because as our mascot Truthy the Lie Detector always says, "that's just bullshit!"
Cuban Chrome: A Havana-set series about vintage cars and the rich stories behind them.
Diesel Dave: A series centered on "Diesel Dave" and his team at DieselSellerz who sell tricked-out diesel trucks.
G/O Media may get a commission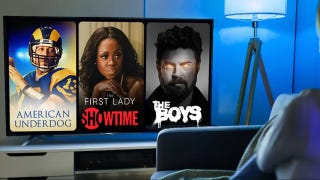 UNDER $1
99¢ Prime Video Channels
Demolition Dinos: A series where teams create monster trucks based on real-life dinosaurs and pit them against each other in the arena.
Harley-Davidson: A miniseries about how two 19-year-old Milwaukee pals founded the global biking brand.
Killing Fields: An investigative series takes a closer look at the country's remote "killing fields."
Lunar XPrize: A series that pits 30 engineering teams against each other in a bid to launch and land a robot on the moon.
Naked And Afraid XL: A spinoff featuring 12 former Naked And Afraid survivalists who are dropped for a potential 40 days and 40 nights.
Pacific Warriors: A series focused on the only commercial fisherman who kayak solo on the rough Hawaiian waters.
Treasure Quest: An adventure series about a group who is hunting for a horde of stolen Incan gold off the coast of Brazil.