Tonight on RuPaul's Drag Race, the queens get to make the kind of campaign ads that real-life politicians wish they could make. You just know Donald Trump has thought about "Hillary eats babies for breakfast" ads, but even in this crazy election, there are limits to how politicians can attack their opponents. Drag Race has none of those limits, and the queens are given the opportunity to smear their assigned opponents as aggressively as possible in "Shady Queens." Unfortunately, only one queen really rises to the challenge, and at this point in the season, it shouldn't come as any surprise who that is.
Bob The Drag Queen is the queen to beat on season 8, scoring her third win tonight for constructing the tightest, funniest ad against her partner Derrick Berry, who gains her first win by being paired up with Bob. The challenge is for the queens to make individual ads promoting themselves as America's First Drag President while smearing their opponents, and Bob makes the best campaign ad while also stealing the show in Derrick's. This is a challenge that plays to Bob's strengths, and she writes a clever script and performs it impeccably, selling her campaign while also going after Derrick with a hilariously over-the-top claim that she eats babies.
The bit with Bob coming up from a blowjob to talk about BJs (Better Jobs) for everyone is pulled from Alaska's "Red For Filth" perfume ad, and it shows that Bob knows what works from past seasons and is capable of taking those ideas and reusing them in a way that feels fresh rather than derivative. He accomplishes that with smart writing, using the restroom blowjob as a transition to "public service" and "Better Jobs." Intelligence is Bob's greatest asset, and Derrick realizes that Bob knows what she's doing. Getting paired up with Bob is a great opportunity for Derrick to make her way out of the bottom by truly collaborating with this season's top contender, and Derrick follows Bob's lead instead of creating tension.
Bob has had a great track record this season, so if she says strip down, cover yourself in blood, and chew on toy baby parts, it's wise for Derrick to obey. It's wildly outside the norm for Derrick, and her dedication to this bit makes it her best moment on the series thus far, revealing a willingness to embrace an exaggerated character that is nothing like Britney Spears. The robo-Republican is a solid concept for Derrick, but that wooden delivery just draws more attention to how full Bob's performance is in her segments. The baby-eating is when Derrick really bursts out of her shell for the first time, and it's the moment when Derrick finally asserts herself as a threat in this competition. She could still go further—the judges call her out on her repetitive, boring makeup on the runway—but we finally see Derrick's potential this week and it's all because of Bob.
G/O Media may get a commission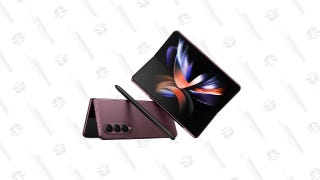 Save Up to $300
Galaxy Z Fold4
If Bob doesn't win this season, she'll at least go home with the honor of being the top New York City queen this season, and like "Snatch Game," Bob's win in "Shady Politics" coincides with the elimination of one of his NYC sisters. Editing herself has been Thorgy's main issue the entire competition, and she gets so lost in her mountains of material that she loses focus of what she needs to do for the challenge. She writes over 30 pages for 45 seconds of footage, and focuses most of that time on herself rather than going after Chi Chi, who is an easy target right now. Michelle tries to get Thorgy to record some footage of Chi Chi being a drunk because that's Thorgy's main smear, but she decides she doesn't need it, giving the impression that she has absolutely no idea what she's supposed to be doing here. In Thorgy's final ad, the only visual of Chi Chi shows her giving food to the homeless, and it ends up being a positive depiction despite what Thorgy is saying.
Chi Chi's ad has better attacks, but her character is far weaker than Thorgy in both personality and appearance. The latter is what really hurts Chi Chi, and she's never looked more manly in drag than she does in her campaign ad. The contouring of Chi Chi's make-up is a big issue this week, and her make-up in the ad doesn't create a successful female illusion while her make-up on the runway makes her look like a corpse. (Dead Presidents realness is cool, but doesn't work here.) Despite the contouring, Chi Chi's runway look is much stronger than Thorgy's mish-mash of various clothing items, and it's also very appropriate for the song they have to lip sync to: Dreamgirls' "And I Am Telling You I'm Not Going."
Coincidentally, I just saw Dreamgirls on stage this weekend (a phenomenal production at Chicago's Porchlight Music Theatre), and seeing "And I Am Telling You I'm Not Going" performed live confirmed that it's one of the most challenging, demanding songs in musical theater. As Thomas Roberts would say, there's a lot of gravitas to that song, and it's hard enough to match the emotional intensity of the music when you're singing it. That makes it an especially challenging lip sync song, one that requires a mix of focus and passion and a true connection to the lyrics if it's to be believable. The big problem with this week's lip sync is the cuts, and it's very hard to gauge the build of their performances when the cuts are so jarring. It's a great lip sync song for a drag queen, but it's not a great "lip sync for your life song," and a lot of the impact of the song gets lost because of the time constraints.
Chi Chi can't rely on her acrobatic dance moves with this lip sync, but as we've seen in Untucked, she's more concerned with having a real understanding of the emotional content of the song and conveying that fully. Chi Chi's performance is big, but not clown big like Thorgy, and staying grounded is what saves Chi Chi. That and the cascade of beads that fall when her heel rips the thread of her necklace, a dramatic moment that gives Chi Chi a huge boost in confidence and allows her to take control of the stage, which she's now sabotaged with a bunch of tiny beads.
Thorgy is clearly not happy about this, but there's nothing she can do to fix it so she just goes bigger, adding an unnecessary cartwheel at the end while Chi Chi is positioned center stage on the floor, staying true to the music instead of opting for one last cheap trick. Ultimately, Thorgy's lack of focus is what sends her home, and I was expecting this development to make me sadder. Looking back, Thorgy took on Betty's bitterness when she left the show, and it's seemed like this experience has been less fun for Thorgy since Bob started outshining her.
Bob/Derrick and Thorgy/Chi Chi are tailored for maximum drama, which leaves Kim and Naomi together. They don't have any personal tension, but that introduces a new challenge for them: How do two friends create smear campaigns against each other? Naomi fares better by going after Kim's most obvious flaws, and she draws attention to Kim's inability to walk in heels and her lisp. Naomi is able to do those more personal attacks because she's close to Kim, so it's clear that there's no malicious intent behind what she's saying. Naomi's writing isn't especially witty, but she has the right attitude and satisfies the requirements of the challenge, which puts her a cut above the weaker queens.
Kim's ad has an almost Tim & Eric-like strangeness to it, but it's not very funny, the performance is stiff, and the reads don't make sense. As Kim shows on the runway with her Sin City-inspired sad French clown, she excels with nonverbal performance, and she's far more successful at conveying a character with her fashion and her body language than with her voice. She does a great job presenting that sheepish character without saying a word, and I'm impressed by her ability to create compelling personalities with imaginative paint jobs and striking fashion designs.
Both Kim and Naomi turn it out on the runway, with Naomi paying homage to Raven's season 2 finale ensemble. It could have come across as lazy, but it works in the context of a challenge that is asking the queens to channel the look of a past queen by doing the black-and-white make-up of Detox in the season 5 finale. It's also not a bra and panties, so it's showing the judges that Naomi can rock different kinds of silhouettes. Kim and Naomi are queens with an exceptional sense of style, but their performance skills are leagues away from Bob, which makes it hard for me to see them as legitimate competition. In terms of raw charisma, uniqueness, nerve, and talent, none of the remaining queens compete with Bob, so I won't be surprised if she changes her name to Bob The Drag Superstar in May.
Stray observations
Derrick Berry wins a mini-challenge that requires no skill, correctly determining the preferred sexual position of the highest number of Andrew Christian models. It's a dumb mini-challenge, but it's a reason to ogle pretty men in tiny underwear so I'll take it!
Bob's been arrested for participating in political demonstrations while in drag. RuPaul must love him.
I liked hearing about Kim's background and learning about the lack of gay culture and drag in South Korea. That insight into how other parts of the world react to drag is one of the reasons why I like having international queens on this series.
I love Bob's Freaks inspired look on the runway. Lean into the clown when it works, baby!
This lip sync makes me wonder why Logo or World Of Wonder doesn't put the entire lip sync online. I bet a lot of fans would want to see those without the cuts.
Vivica A. Fox is in the house and she wants everyone to know how much she loves the word "Strangé." She also gives some very solid critiques!
"Excuse me! Just one top…in all of West Hollywood?"
Michelle: "Someone found a couch." Ru: "Yeah! What's your sleep number?"
"The mime has come to lip sync for your life."
"Bob The Drag Queen for president. Why? Because I didn't eat a fucking baby."
"If you really were going for Michele Bachmann you would have looked at the wrong camera." Shade from Thomas Roberts!
"Free Restylane for all!"
Thomas: "It means heft." Ru: "Like a fat ass kind of heft?" Michelle: "Gravitass."
"Bring back my girls, Mr. Gorbachov!"