As a member of the fabled indie-rock band Neutral Milk Hotel and the mastermind behind The Music Tapes, Julian Koster has played a pivotal role in the Elephant 6 Recording Company collective from the beginning. Now returning to Athens, Georgia, after living on an island off of Maine, Koster is helming a big tour of Elephant 6 characters past and present: musicians from epochal indie-rock bands like Olivia Tremor Control, The Apples In Stereo, Elf Power, and many more. The concerts will function something like variety-show affairs, with special appearances by Koster's friends and Music Tapes bandmates Static (a television programmed to "sing" along onstage) and the Seven Foot Tall Metronome (a rhythm machine he built himself). The A.V. Club recently spoke with Koster about the state of Elephant 6, his thoughts on Neutral Milk Hotel, and what it means to exist inside of every day.
The A.V. Club: You're back in Athens for the first time in a few years. How would you describe the atmosphere there?
Julian Koster: It's very special, very extraordinary. There's just so much energy, and everybody's got it. And it feels like we're moving forward now. It feels exactly how things felt at a certain point, but in the sense that the next step can finally come. It's made me think of, in a weird way—when I was little, I got kind of crazy about caterpillars. Sometimes everything has to change before whatever is supposed to happen can actually happen, because everything that gets created "new" is an absolute impossibility until the moment it actually exists. There has to be this tension, like when you feel it's impossible, but it has to happen.
AVC: How would you describe the feeling that you have right now that is different or new that you haven't felt in the past? What's special about this time?
JK: For me, the last several years have been about really small things: existing inside of every day, loving the place you live, loving the ocean, being able to imagine things, and being able to get lost inside your own imagination. For me, to be completely honest, it was about hiding away from as much of the real world as I could. The thing about what's happening now is there's an incredible strength and magic that can only come when a certain group of people come together inside all of their minds and imaginations and beliefs and love for everything. There's this crazy strength and momentum that is literally like a wave. And it's uncontrollable as a wave, but you can get up on top of it. When you have that strength, you no longer need to look at something and go "That's impossible," because you're aware that you are riding a wave that has this incalculable, incomprehensible power.
G/O Media may get a commission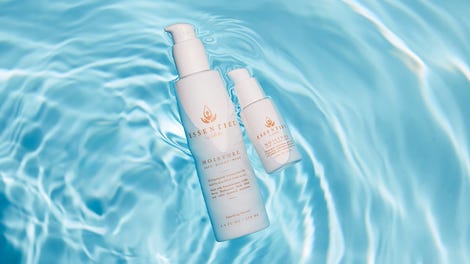 20% off
Essentiel by Adele
AVC: When you say "hiding out," do you mean from the attention that greeted Neutral Milk Hotel in the band's prime?
JK: I feel like that was the most engaged with the outside world that I ever was maybe since childhood. But in childhood, you're so enwrapped in your own imagination that you're protected, like when you become a creature independently trying to go out and wrestle with the physical world. You are more engaged in the world than you've ever been, and I definitely was. But you can never really comprehend fully what is going on, and you shouldn't. That's not your job. But definitely a person's job is to learn and believe in things, and act on that. The things that make everything beautiful are infinite and eternal, but that stuff can't visit this universe without being something that has to be born and die and live these different lives, in a way.
AVC: Would you say that "hiding out" impulse was shared within parts of the Elephant 6 movement? Some of the bands have been touring and recording ever since, but others seem to have taken some downtime to reevaluate.
JK: I agree. I think that something's tucked away inside of it. I have to carefully point out that I'm answering that question from my own experience, because plenty of people have been very busy the whole time and have done marvelous things. But as I have experienced it, something did tuck inside of itself and transform and feel a bit like it had to hide away. It always felt like extraordinary things might happen, or could happen and were going to happen. There was a tension at a certain point of "How do these things that we feel might happen actually happen?"
AVC: How is it different now?
JK: What's happening right now feels so right to me. I mean the way that every day has felt, and all of us being together, and the way that things feel possible right now. It's an extraordinary feeling to have in your gut.
AVC: How did you approach everybody with the idea for this big communal tour?
JK: It was kind of crazy. To be honest, it started as a dream, literally. I woke up one morning in bed and suddenly realized that not only did we have to do this, but I should call everyone right away. So I found the telephone and started calling everybody and got everybody instantly, which was pretty far out, because all of us are pretty impossibly hard to get in touch with. But everyone was so happy. I hadn't even talked to some folks for so long. It was a really wonderful morning. From the minute of having the idea that we should do this thing, an hour later, I had talked to so many of my old friends, and everything was aglow.
AVC: What did you ask them to do, exactly?
JK: Well, we had done these shows roughly around the holidays twice in Athens in the '90s. Everyone brought foodæthe whole crowd. It was a massive potluck, and everyone was just hanging out and telling stories. We all played each other's songs, holiday songs, special songs. We did a huge orchestra version of a couple things with 25 people, like a massive orchestra. So there's a precedent for this. Eric Harris and Joey Foreman had been making a Major Organ And The Adding Machine movie, which is amazing. It's being described as a short film, but it's actually about 40 minutes. So in a way, we have this variety-show structure where we're going to be able to do suites or individual songs. It won't be full band sets as much as it'll be, we can all pair up in different ways and do special versions of things.
AVC: Is Jeff Mangum involved in any way?
JK: There's nothing planned. Nobody really knows. It seems like every time you say anything about Neutral Milk Hotel, it can be such a big deal. It makes me paranoid, makes me measure every word I say. But the truth is just that no one really knows what's going on with anything, in some ways. We're just riding something nice.
AVC: To you personally, is there any degree to which Neutral Milk Hotel still exists as a functioning entity?
JK: To me, it's all the physical world outside me. It's an independent thing in some ways. We're a bit married. But it's something that I love and believe in. I love Neutral Milk Hotel. I think people tend to… Sometimes it's really easy to get worked up and see everything as being finite or static. "This is this," or "This isn't that." To me, it's a bunch of adventures, a feeling. And it's a bunch of stuff that we lived. It's a wonderful thing. When I think about Jeremy [Barnes] and Jeff [Mangum] and Scott [Spillane], I'm thinking about them and all the possible things we might be able to do together. I'm not thinking about any band names or any specific courses of action until that comes of its own accord.
AVC: How are you guys going to all get around on this tour? It's an ungainly group.
JK: It'll be a joyful chaos. We'll be a caravan. The most responsible of us, which is absolutely not me, will travel with the equipment and make sure it gets there on time. We were not the most "together" thing in the world, but that was part of what made it possible to be expressive of other things, you know?
AVC: Will you bring Static and the Metronome on tour with you?
JK: Yes, and not just because we wouldn't want to leave them out. They're band members and friends to me. It was funny—when we were first talking to everyone about the idea, everybody was like, "Is the Metronome going to come? Is Static going to come?" Everybody: the booking people, the agent, the clubs, the promoters. I had no idea they would care.
AVC: Have you worked on new projects along those lines?
JK: There are new band members in production. It's a really big ordeal, as things like that tend to be. They require the work of real machinists who are not getting paid what they normally get paid when they're busy making aeroplanes! [Laughs.] One of them is something really special to me, because my grandpa helped me with it when he was dying. It was a way for us to be together in a way where we were working and distracted. What he was experiencing physically, it pulled him out of it. He was becoming more and more of a child, and so we were able to be together in a way that was just… I don't know if there are words for it, but it was something that was really special to me. So a lot of the original blueprints came out of that process. It's called the Tap Dancing Machine. It has two legs suspended on machine works. The works are where the knee joints would be, legs and feet that tap-dance on a platform. You can even make them kick a drum.