The Emmys announced their nominations Thursday morning and reaffirmed their commitment to most of the shows they already liked, at least in the drama category. Mad Men and American Horror Story led the nominations totals with 17 nominations each (a number AHS got to by reclassifying itself as a "miniseries," which gave it less competition), followed closely by Downton Abbey (now competing as a drama series, rather than a miniseries) and History Channel miniseries Hatfields & McCoys with 16 nominations. Modern Family garnered the most nominations for a comedy series with 14 nominations, while Homeland grabbed the most for a new series with nine nominations. HBO led for networks with 81 nominations, followed by CBS with 60 nominations and PBS with 58.
The drama series category had only slight changeover from last year, but it still marked an important milestone for the Emmys, as it's the first time no broadcast networks have received a nomination in one of the two big series categories. The Good Wife, last year's sole network representative, was pushed aside by either Breaking Bad (returning to the category after a year off) or Downton. (The other series "pushed out" was the not-returning Friday Night Lights.) In addition to Breaking Bad and Downton, nominations went to Boardwalk Empire, Game Of Thrones, Homeland, and Mad Men. The comedy series category saw a significant amount of change, as three of last year's nominees—Glee, The Office, and Parks & Recreation (grrr)—were pushed aside by three HBO series: Curb Your Enthusiasm, Girls, and Veep. Curb is a perennial nominee that just wasn't eligible last year and the other two are in their first years of eligibility. The broadcast network series The Big Bang Theory, Modern Family, and 30 Rock rounded out the category.
Nearly every good show on television was nominated for at least something, however, with several bright spots in the smaller categories. (One exception: Archer, which was nominated nowhere.) Community finally broke through into a major category with a nomination for writing for its multiple timelines episode (and the comedy writing category, in general, is a stronger set of nominees than the series nominees list), while Louis CK set a new record for most nominations for an individual at the Emmys in one year with seven nominations. (The previous record, held by David Lynch in the first year of Twin Peaks, was five.) In addition, the supporting categories are filled with deserving first-time nominees, from Giancarlo Esposito and Anna Gunn of Breaking Bad to Jared Harris of Mad Men. (AMC's twin dramas broke through in a big way in the acting categories, with both receiving guest actor nominations as well, for Mark Margolis and Ben Feldman respectively.) The comedy acting categories were once again dominated by Modern Family but still made room for New Girl's Max Greenfield and Nurse Jackie's Merritt Wever.
Of course, there were curious snubs as well, including the epic Game Of Thrones episode "Blackwater" somehow missing out on directing in a drama series, and Vince Gilligan and his writing staff for Breaking Bad continuing to be unable to break through in writing in a drama series (perhaps because of the stranglehold Mad Men has on the category). The fact that Parks was unable to score a nomination for comedy series after doing so last year was enervating, as was the fact that CK could be nominated seven times but somehow not get nominated for Louie as a series. (Replace any two of Modern Family, Big Bang, and Curb with Louie and Parks, and this is one of the best Comedy Series lineups ever.) The Emmys are always going to do several bizarre things, but this year, the weirdness was very nearly matched by pleasant surprises and out-of-nowhere cool nominations, which doesn't always happen. All in all, it was one of the better years, as far as nomination lists go.
A select list of nominees from categories you will care about follows. To read the complete list of nominees, go here.
G/O Media may get a commission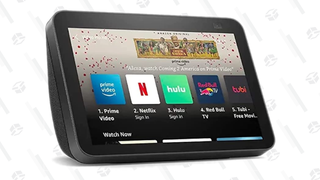 Outstanding Drama Series:
Boardwalk Empire
Breaking Bad
Downton Abbey
Game Of Thrones
Homeland
Mad Men
Outstanding Comedy Series:
The Big Bang Theory
Curb Your Enthusiasm
Girls
Modern Family
30 Rock
Veep
Outstanding Lead Actress in a Drama Series:
Kathy Bates, Harry's Law
Glenn Close, Damages
Claire Danes, Homeland
Michelle Dockery, Downton Abbey
Julianna Margulies, The Good Wife
Elisabeth Moss, Mad Men
Outstanding Lead Actor in a Drama Series:
Hugh Bonneville, Downton Abbey
Steve Buscemi, Boardwalk Empire
Bryan Cranston, Breaking Bad
Michael C. Hall, Dexter
Jon Hamm, Mad Men
Damien Lewis, Homeland
Outstanding Lead Actress in a Comedy Series:
Zooey Deschanel, New Girl
Lena Dunham, Girls
Edie Falco, Nurse Jackie
Tina Fey, 30 Rock
Julia Louis-Dreyfus, Veep
Melissa McCarthy, Mike & Molly
Amy Poehler, Parks & Recreation
Outstanding Lead Actor in a Comedy Series:
Alec Baldwin, 30 Rock
Don Cheadle, House Of Lies
Louis CK, Louie
Jon Cryer, Two And A Half Men
Larry David, Curb Your Enthusiasm
Jim Parsons, The Big Bang Theory
Outstanding Supporting Actor in a Drama Series:
Jim Carter, Downton Abbey
Brendan Coyle, Downton Abbey
Peter Dinklage, Game Of Thrones
Giancarlo Esposito, Breaking Bad
Jared Harris, Mad Men
Aaron Paul, Breaking Bad
Outstanding Supporting Actress in a Drama Series:
Christine Baranski, The Good Wife
Joanne Froggatt, Downton Abbey
Anna Gunn, Breaking Bad
Christina Hendricks, Mad Men
Archie Panjabi, The Good Wife
Maggie Smith, Downton Abbey
Outstanding Supporting Actor in a Comedy Series:
Ty Burrell, Modern Family
Jesse Tyler Ferguson, Modern Family
Max Greenfield, New Girl
Bill Hader, Saturday Night Live
Ed O'Neill, Modern Family
Eric Stonestreet, Modern Family
Outstanding Supporting Actress in a Comedy Series:
Mayim Bialik, The Big Bang Theory
Julie Bowen, Modern Family
Kathryn Joosten, Desperate Housewives
Sofia Vergara, Modern Family
Merritt Wever, Nurse Jackie
Kristen Wiig, Saturday Night Live
Outstanding Guest Actor in a Drama Series:
Dylan Baker, The Good Wife
Jeremy Davies, Justified
Ben Feldman, Mad Men
Michael J. Fox, The Good Wife
Mark Margolis, Breaking Bad
Jason Ritter, Parenthood
Outstanding Guest Actress in a Drama Series:
Joan Cusack, Shameless
Loretta Devine, Grey's Anatomy
Julia Ormond, Mad Men
Martha Plimpton, The Good Wife
Jean Smart, Harry's Law
Uma Thurman, Smash
Outstanding Guest Actor in a Comedy Series:
Will Arnett, 30 Rock
Bobby Cannavale, Nurse Jackie
Jimmy Fallon, Saturday Night Live
Michael J. Fox, Curb Your Enthusiasm
Jon Hamm, 30 Rock
Greg Kinnear, Modern Family
Outstanding Guest Actress in a Comedy Series:
Elizabeth Banks, 30 Rock
Kathy Bates, Two And A Half Men
Margaret Cho, 30 Rock
Dot Marie Jones, Glee
Melissa McCarthy, Saturday Night Live
Maya Rudolph, Saturday Night Live
Outstanding Miniseries or Made-for-TV-Movie:
American Horror Story
Game Change
Hatfields & McCoys
Hemingway & Gellhorn
Luther
Sherlock
Outstanding Lead Actor in a Miniseries or Made-for-TV-Movie:
Kevin Costner, Hatfields & McCoys
Benedict Cumberbatch, Sherlock
Idris Elba, Luther
Woody Harrelson, Game Change
Clive Owen, Hemingway & Gellhorn
Bill Paxton, Hatfields & McCoys
Outstanding Lead Actress in a Miniseries or Made-for-TV-Movie:
Connie Britton, American Horror Story
Ashley Judd, Missing
Nicole Kidman, Hemingway & Gellhorn
Julianne Moore, Game Change
Emma Thompson, The Song of Lunch
Outstanding Supporting Actor in a Miniseries or Made-for-TV-Movie:
Tom Berenger, Hatfields & McCoys
Martin Freeman, Sherlock
Ed Harris, Game Change
Denis O'Hare, American Horror Story
David Strathairn, Hemingway & Gellhorn
Outstanding Supporting Actress in a Miniseries or Made-for-TV-Movie:
Frances Conroy, American Horror Story
Judy Davis, Page Eight
Jessica Lange, American Horror Story
Sarah Paulson, Game Change
Mare Winningham, Hatfields & McCoys

Outstanding Reality-Competition Series:
The Amazing Race
Dancing With The Stars
Project Runway
So You Think You Can Dance
Top Chef
The Voice
Outstanding Host of a Reality Series or Reality-Competition Series:
Tom Bergeron, Dancing With The Stars
Cat Deeley, So You Think You Can Dance
Phil Keoghan, The Amazing Race
Ryan Seacrest, American Idol
Betty White, Betty White's Off Their Rockers
Outstanding Reality Program:
Antiques Roadshow
Jamie Oliver's Food Revolution
MythBusters
Shark Tank
Undercover Boss
Who Do You Think You Are?
Outstanding Nonfiction Series:
American Masters
Anthony Bourdain: No Reservations
Frozen Planet
Inside The Actors Studio
The Weight Of A Nation

Outstanding Variety Series:
The Colbert Report
The Daily Show With Jon Stewart
Jimmy Kimmel Live
Late Night With Jimmy Fallon
Real Time With Bill Maher
Saturday Night Live
Outstanding Variety Special:
Betty White's 90th Birthday: A Tribute To America's Golden Girl
Kathy Griffin: Tired Hooker
The Kennedy Center Honors
Mel Brooks And Dick Cavett Together Again
Tony Bennett: Duets II

Outstanding Animated Program:
American Dad, "Hot Water"
Bob's Burgers, "BurgerBoss"
Futurama, "The Tip Of The Zoidberg"
The Penguins Of Madagascar: The Return Of The Revenge Of Dr. Blowhole
The Simpsons, "Holidays Of Future Passed"
Outstanding Short-Format Animated Program:
Adventure Time, "Too Young"
Disney Phineas & Ferb, "The Doonkleberry Imperative"
MAD, "Kitchen Nightmare Before Christmas/How I Met Your Mummy"
Regular Show, "Eggscellent"
Robot Chicken, "Fight Club Paradise"
Outstanding Voice-Over Performance:
Hank Azaria, The Simpsons
Maurice LaMarche, Futurama
Dan Povenmire, Disney Phineas & Ferb
Rob Riggle, Disney Prep & Landing: Naughty Vs. Nice
Brenda Strong, Desperate Housewives
Kristen Wiig, The Looney Tunes Show
Outstanding Directing for a Drama Series:
Boardwalk Empire, "To The Lost," Tim Van Patten
Breaking Bad, "Face Off," Vince Gilligan
Downton Abbey, "Episode Seven," Brian Percival
Homeland, "Pilot," Michael Cuesta
Mad Men, "The Other Woman," Phil Abraham
Outstanding Directing for a Comedy Series:
Curb Your Enthusiasm, "Palestinian Chicken," Robert B. Weide
Girls, "She Did," Lena Dunham
Louie, "Duckling," Louis CK
Modern Family, "Baby On Board," Steven Levitan
Modern Family, "Virgin Territory," Jason Winer
New Girl, "Pilot," Jake Kasdan
Outstanding Writing for a Drama Series:
Downton Abbey, "Episode Seven," Julian Fellowes
Homeland, "Pilot," Alex Gansa, Howard Gordon, and Gideon Raff
Mad Men, "Commissions And Fees," Andre Jacquemetton and Maria Jacquemetton
Mad Men, "Far Away Places," Erin Levy and Matt Weiner
Mad Men, "The Other Woman," Semi Chellas and Matt Weiner
Outstanding Writing for a Comedy Series:
Community, "Remedial Chaos Theory," Chris McKenna
Girls, "Pilot," Lena Dunham
Louie, "Pregnant," Louis CK
Parks & Recreation, "The Debate," Amy Poehler
Parks & Recreation, "Win, Lose, Or Draw," Michael Schur
Outstanding Writing for a Variety Series:
The Colbert Report
The Daily Show With Jon Stewart
Portlandia
Real Time With Bill Maher
Saturday Night Live