"So many people think they know what they'd do" if they were the victim of domestic violence, National Network To End Domestic Violence president Kim Gandy says at one point in Lorena, Amazon Studios' new four-part docuseries on the trial of Lorena Bobbitt. And we hear quite a few people, most of them male, say that they'd never stay in an abusive relationship. They'd kick him to the curb. They'd get a restraining order. In fact, they don't believe that Lorena was abused by her husband at all, because she didn't react the way they think they would in her situation. But there's one voice that—save for her absolutely devastating court testimony—is missing from this blustering cyclone of speculation, and that's Lorena Gallo (formerly Bobbitt) herself.

I was 10 years old when the story of Lorena Bobbitt—a 23-year-old housewife who cut off her husband John Wayne Bobbitt's penis and threw it into a field near their home Manassas, Virginia—became international news, in 1993. At the time, I didn't know that Lorena suffered years of nightmarish physical, sexual, and emotional abuse at her husband's hands. I didn't even realize that she was an Ecuadorean immigrant, and that the racist stereotype of the "hot-blooded Latina" had come into play both in the media and in the courtroom. All I knew was that she was the (giggle) penis lady, and she was the butt of the joke on every comedy show from Letterman to Saturday Night Live.
Notably, Lorena features extensive interviews with Lorena, now remarried and a domestic violence advocate, about her life before and after "the incident." It also features interviews with John Wayne Bobbitt, but those are much easier to find: Bobbitt was continually soft-pedaled by tabloid media and celebrated by publicity-hungry nightclub owners before and after he was acquitted of marital rape, fetéd by Howard Stern (who comes off extremely poorly, as does Geraldo Rivera, in this docuseries) in a jokey New Year's Eve special after his record of domestic violence became public knowledge. But lest we think an accused rapist selling autographed T-shirts is a relic of a less enlightened era, Lorena links the social climate surrounding the Bobbitt case—first implicitly, then, by the very end of the series, explicitly—to our present-day hellscape.

G/O Media may get a commission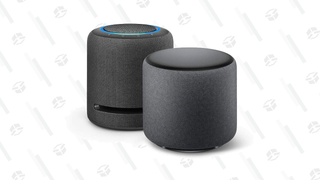 25% off - Prime Exclusive
Echo Studio + Echo Sub Bundle
Media outlets love to run editorials about the transformative power of the #MeToo movement, but the threads Lorena director Joshua Rofé pulls into the series all have unsettlingly relevant contemporary parallels: In many ways, Dr. Christine Blasey Ford is a modern-day Anita Hill. Nearly 30 years after the Tailhook "scandal," sexual assault in the military is more prevalent than ever. The same prioritizing of male (in this case, sexual) potential over female suffering that let John Wayne Bobbitt off the hook also set Brock Turner free. Even this week's Esquire cover story is evoked, as Gandy reveals that NOW repeatedly sent out press releases offering expert opinions on domestic violence in the Bobbitt case, but that the female writers who pitched the stories were all turned down by unsympathetic male editors unable or unwilling to look past their fixation on the concept of severed manhood.
Lorena more than compensates for past biases, and John Wayne Bobbitt is already complaining that the documentary makes him look like a "violent mean guy." Unfortunately for him, all of the friends, coworkers, and neighbors interviewed in Lorena—including the most lovable next-door neighbor duo since Wild Wild Country—support Lorena's side of the story. The constant, easily disprovable lies Bobbitt tells on camera don't help his case either, and neither do the bemused chuckles and stubborn whataboutisms coming from the (male) attorneys, comedians, and pundits who took his side. That being said, reducing the Bobbitt case to simply a battle of the sexes, though that is part of it, is reductive. Lorena embraces the many complex layers of the Bobbitt case, skillfully highlighting both the larger cultural implications of the story and the intimate personal pain at its center.
Lorena is presented in the overdone prestige true-crime style parodied so deftly in American Vandal, and despite its strong anti-tabloid stance, it doesn't completely eschew sensationalism. (Yes, we do see crime scene photos.) Still, it's the best docuseries of its kind since ESPN's O.J.: Made In America. It's a tough watch (domestic violence and/or sexual assault survivors may find much of it extremely triggering, especially footage of a shaking, crying Lorena describing her sexual assaults in court), but it's an important one, particularly given how heartbreakingly common spousal abuse is. Over the course of four hours, we get to know Lorena as a human being, from her naive Catholic upbringing to her wise middle age. Twenty-five years after her trial, we owe Lorena Gallo an apology. This documentary is a good first step.