In Hear This, A.V. Club writers sing the praises of songs they know well—some inspired by a weekly theme and some not, but always songs worth hearing. This week: actually scary songs.
My entry from February about My Life With The Thrill Kill Kult's "Do You Fear For Your Child?" could certainly qualify here, but let's go for another of my favorites from the industrial era, Skinny Puppy. Around age 14, I discovered industrial and quickly became entranced/terrified of it. As I mentioned in that TKK piece, I was genuinely scared to see some of my favorite bands live, so I was definitely nervous when I finally saw Skinny Puppy in 1992 on the Last Rights tour.
By that point, I had devoured the Skinny Puppy discography. Albums like Rabies, VIVISectVI, and Too Dark Park were on my Discman regularly, and my combo disc of Remission and Bites saw plenty of action even though the band sounded dramatically different in the early days. Not seeing as much play was 1986's Mind: The Perpetual Intercourse or 1987's Cleanse, Fold And Manipulate, though I still listened to them. Years later I'd realize how much I love a good hook, but at the time I'd plod through Skinny Puppy's occasional atonal shrieking and convince myself I was into it. Those records aren't all noise, but I had a harder time hooking into them than I did stuff like Too Dark Park, which remains a classic.
It could also have something to do with how genuinely creepy those albums are. Okay, every Skinny Puppy album is creepy to a certain degree, but those two especially. Mind: The Perpetual Intercourse has a topless woman on the cover who could be dead. (Also: What the hell did the title mean?) Cleanse, Fold And Manipulate had this creepy face with glowing pupils. The song that sticks out the most is "God's Gift (Maggot)," the second song on Mind.
G/O Media may get a commission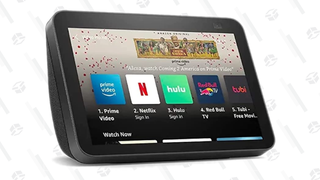 A wash of creepy voices, unnerving samples, and frontman Nivek Ogre's typically dark croaking, "God's Gift" stutters along in a way that can most easily be described as haunting. The few lyrics I could make out were Ogre repeatedly shouting "God gives maggots!" or "God's gift maggot!" The Internet Age isn't much of a help; one of the lyrics sites I found lists "[Incomprehensible]" a bunch of times. The lyrics it does have sound about right: "Rain, rain, atomic grin on the floor / In a pool of blood on lifeless grin / Back to the bedroom / With a grin."
The final 45 or so seconds of the song feature Ogre howling over what sounds like a pitch-shifted sample of a creepy voice until it climaxes with "God gives maggot / Confess maggot / My friend maggot / Life built maggot." Yup, still creepy.