Permanent Records is an ongoing closer look at the records that matter most.
What happens when we get old? It's a question that the Descendents have been mulling over for almost 40 years. Even as kids barely out of high school, the progenitive pop-punk band approached the thought of outgrowing adolescence with a mix of abject terror and jaded surliness. While their SoCal hardcore peers during the 1980s were wrestling with bigger thematic fish like police brutality and other social ills, the Descendents focused their angst on unrequited crushes, shitty adults, and other scrappy, teenage fodder. That was their world, and they largely scoffed at anything and everything outside of it.
To that end, the Descendents could arguably be the perfect punk band, or at least the most relatable. Punk rock is at its heart a youth movement, and few punk bands have successfully wrapped their arms around the doldrums of suburban life like the Descendents. From 1982 to 1987, the band churned out classic, adrenalized punk tunes about girls, bikes, caffeine, and food. Their songs were dopey but heartfelt, sugary sweet but still steeped in early American hardcore. They were every bit as pissed and alienated as Black Flag, but they traded in the hostility and violence for a nerdish sense of humor. The Descendents gave hardcore the pop treatment, a combination that essentially made them pop-punk forefathers.
Then after four records, the band went dark as frontman Milo Aukerman left to pursue a career in biochemistry. More than a singer, Aukerman was a bookish, bespectacled punk-rock poster child, and there was no replacing him. Drummer Bill Stevenson, now joined by guitarist Stephen Egerton and bassist Karl Alvarez, continued on as All, which offered (and continues to offer) a worthwhile continuation of the Descendents' sound, but it would be 12 years before that band would return to reclaim its pop-punk title with Everything Sucks in 1996. The band couldn't have picked a better time to resurface. With the breakthrough success of Green Day, The Offspring, and now-Epitaph Records labelmates Rancid, punk rock was in a period of cultural clout and currency that once seemed unimaginable. The band made the most of its reunion bid, delivering one of the sharpest records of the '90s punk-revival era.
When the Descendents first started pondering what it meant to grow old, they still had plenty of time on their side. But some 14 years after Milo went to college, the band's return is a loud, rude awakening. Once scared of the banalities and annoyances that they believed defined adulthood, Everything Sucks is the Descendents realizing that their worst fears had come true. Growing old, they found, sucks. Judging by the songs, in fact, it's safe to say that it's even worse than they might have thought.
The objects of their ire are largely the same: women, work, the sameness of everyday life. But the band strains harder in its return to deal with the hassle. Egerton's ferocious downstrokes on the record's title track immediately let listeners know the band didn't soften over its extended downtime, while Aukerman, his voice now slightly gruffer, runs through his laundry list of problems: horoscopes telling lies, flat tire on the car, girlfriend moving in, taxman taking his money. And that's just the first of many songs ironing out the Descendents' multifaceted frustrations. "I'm The One" is a poppy-but-pissed meditation on finishing second in someone else's race. "Doghouse" angrily vents about a dead-end existence working for "the man at the taco stand." The band even delves into politics on "Caught." Milo and friends used to snicker about the pratfalls of adulthood. Now they're unwilling victims.
G/O Media may get a commission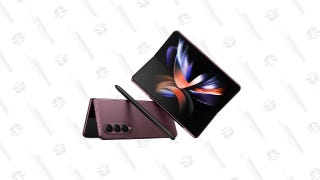 Save Up to $300
Galaxy Z Fold4
This all sounds pretty heavy, and it can be at times. But Everything Sucks is still quintessentially a Descendents record. Stevenson's metronomic timekeeping and love of drum fills are perfectly in tact. Alvarez, whose bass playing had become a signature component of All's sound since the band's hiatus, is also in fine form. And for all of Aukerman's lyrical rage, he hasn't lost his boyish sense of humor. Whether he's riding high on a 30-second caffeine buzz ("Coffee Mug") or letting out his sexual frustration ("Eunuch Boy"), Everything Sucks is ripe with silly, juvenile charm. It's also got a lot of underdog heart. "We" is the kind of song that wants so badly to believe in true love, even as the world around it continues to throw the band lemons.
Aging is scary, especially in a genre where doing so gracefully has proven particularly difficult for bands to pull off. But the Descendents tackle the malaise and bullshit of the adult world head-on, and Everything Sucks benefits from it. Eight years passed before the band rallied again for 2004's Cool To Be You, and still another 12 have elapsed leading up to the band's forthcoming full-length effort, Hypercaffium Spazzinate. But at this point, there's no use worrying about the South Bay legends losing their youthful edge.