Cartoonist Dan Meth, he of The Meth Minute 39 and innumerable other strange creations, has now set his satirical sites on Tinder and other "sexy" social apps. In his latest cartoon, he's created a dating app especially for bearded men. More specifically, it's aimed toward bearded men who are lumberjacks. And way more specifically than that, it's for desperately lonely lumberjacks who, in their extreme isolation, seem to have developed an unhealthy, erotic fixation on the wood they chop every day as part of their job. The name of the app: Timber. What else? The way it works is quite simple. The user just downloads the app and then flips through various, theoretically tempting pictures of logs, planks, and beams. Like so:
Then he makes his selection:
Exactly how the wood is supposed to respond when a lumberjack swipes right is unknown. Maybe the selected item is mailed to him discreetly, and then he takes it back to his cabin or some secluded spot in the woods and does with it as he pleases. It's best not to dwell on those kinds of details. It seems like the average Timber user runs the risk of getting splinters in some extremely inconvenient places. Imagine explaining that to the camp doctor. The implications of this cartoon, brief as it is, are many and horrifying. There is something distinctly unwholesome about the way the lumberjack is leering at his smartphone.
Meth is hardly the first to speculate on the sexual peccadilloes of lumberjacks. Monty Python's Flying Circus gave the world "The Lumberjack Song" way back in 1969, and it became a staple of the comedy troupe's live shows for decades afterward. If only this poor fellow played by Michael Palin had access to social media, maybe he could have avoided uncomfortable and embarrassing scenes like the following.
[via Laughing Squid]

G/O Media may get a commission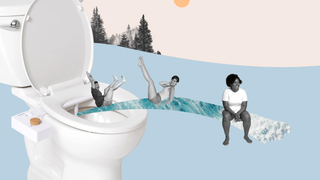 17% off
Tushy 3.0 Warm Water Spa Bidet Attachment