In Hear This, A.V. Club writers sing the praises of songs they know well. This week, in celebration of artificial intelligence, we're picking songs about either robots or computers.
Yael Naim, "New Soul" (2007)
One of my favorite commercials is the one for the first generation of Apple's MacBook Air. Like the computer itself, it's simple in design and debuted among a wave of Apple ads that formulaically paired a popular or upbeat song with sparse, streamlined imagery. What's different about this ad in comparison to say, the well-known and similar iPod ads, is that it made me feel something for the technology it was attempting to sell. Set to folk singer Yael Naim's "New Soul," the visuals focused on how slim the computer is, pulling it out of a document-sized button-and-string envelope before opening it up and providing a profile shot, again reinforcing the product's thinness. What this does, though, is allow the song and its lyrics the spotlight.
As Naim sang, "I'm a new soul / I came to this strange world / Hoping I could learn a bit 'bout how to give and take," before jumping into the "la, la, la, la" chorus, I couldn't help but imagine adopting one of these lost souls and helping them along as they feel the joy and fear presented by the world, trying to determine what is true and fake. Apple really got me with this one, which is slightly embarrassing, but less so when you consider that the company (and its founder, Steve Jobs) is known for masterfully manipulating consumers' emotions. In the same way Apple has convinced millions to invest in each new product or upgrade the company unveils, this simple commercial paired with "New Soul" convinced me for just a moment that this technology in particular was more than a computer, that it had a soul worthy of my affections.
The truth of course, is that the entire thing is a promotional ploy for both the product and Naim; "New Soul" went on to reach No. 7 on the Billboard Hot 100, and by 2011, only a few short years after its introduction, the MacBook Air supplied almost one-third of Apple's notebook sales.
G/O Media may get a commission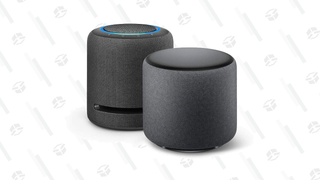 25% off - Prime Exclusive
Echo Studio + Echo Sub Bundle
Check out the trailer for Ex Machina here and RSVP for a special advance screening on 4/16 here.