Every day, Watch This offers staff recommendations inspired by the week's new releases or premieres. This week: We greet the hostile extraterrestrial visitors of The 5th Wave with more movies about alien invasions.
When The A.V. Club reviewed Attack The Block in 2011, critic Nathan Rabin described John Boyega's lead performance—as a small-time gang member from the South London projects named Moses—as "potentially star-making." In a way, it was: Directed by first-timer Joe Cornish, Boyega's debut film earned positive reviews and the kind of cultish fandom enjoyed by producer Edgar Wright's oeuvre, which made Hollywood take notice. He appeared in the miniseries revival of 24, was being considered for the new Terminator movie, and there was even talk of him appearing in the upcoming Star Wars movie. Flash forward a few years and more than a billion dollars later, and Boyega has had his truly star-making turn as Finn in The Force Awakens, and with it, some measure of cinematic immortality.
He only had some stage experience when Cornish began casting his modestly budgeted alien-invasion picture. The director, an Edgar Wright associate known more for his low-budget comedy series The Adam And Joe Show, sought unknowns with open casting calls in London. Whoever played the lead character, tellingly named Moses, needed to balance menace with vulnerability: He was a wannabe street tough who was also a neglected 15-year-old kid—and tasked with leading his friends in a battle against aliens who have invaded the council estate where they all live.
Cornish knew exactly what he wanted for the role, because he knew Moses: Years before, he'd been mugged walking home in London, by a small group of kids on BMX bikes. As he told The Guardian:
"It made me think two things. First, it made me want to find the main kid and talk to him—it didn't feel like an authentic situation. It was a pantomime, a ritual. And I knew he lived locally—I'd seen him in the park, I was probably on the same level of Call Of Duty as him, probably liked the same music. And I could see how young and scared he was. And the second thing was, what would have happened if we had been interrupted by something fantastical?"
G/O Media may get a commission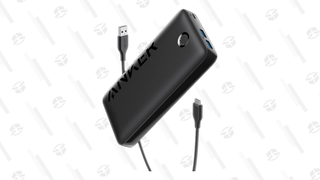 20% Off
Anker 335 Power Bank
That's the opening scene of Attack The Block, as Cornish's stand-in, played by Jodie Whittaker, gets mugged by a group of kids as a meteorite strikes the car next to them. When Boyega takes the opportunity to steal what's inside the car, he's nearly bitten by a small alien who runs off to a nearby playground. The kids follow suit and kill the creature, only to discover a much more menacing platoon of visitors follows.
In interviews at the time, Cornish specifically referenced E.T. and Spielberg's approach of "outlandish things happening in quite familiar suburban environments." The urban London setting allowed him to address issues of race, class, and juvenile delinquency as the kids tangle with police and a fearsome local criminal in addition to the invaders. The aliens—eyeless creatures with glowing teeth and impenetrably black fur—personify the attributes people callously ascribe to the urban youth they regard, by default, as criminals:
"They're all the things that the press and people call those kids, made into a monster," Cornish told The Guardian. "People call these kids monsters, they call them feral, they call them animalistic, they say they've got no morals or values and all they care about is territory and competitiveness. So what if there was a creature that really was like that, and then you pitted the kids against it?"
What happens is one of the smartest, most entertaining takes on an alien-invasion movie in recent memory (and a far better Spielberg homage than J.J. Abrams' Super 8, released a month and a half earlier). Attack The Block didn't quite make Boyega a star, but it set him down the path to Jakku.
Availability: Attack The Block is available on Blu-ray and DVD from Netflix or possibly your local video store/library. It can also be rented or purchased through the major digital services.