Seminal punk band Fugazi was nothing if not fastidious. Its four members kept close tabs on every aspect of the band, from the door charge at its shows to how much its records cost to how the crowd behaved at its performances. These were not guys who left anything unexamined.
Like, say, the more than 1,000 shows it played between September of 1987 and November of 2002. Fugazi's sound engineers recorded more than 800 of them, most of the time using nice gear, and now the band is releasing those recordings online. The Fugazi Live Series launches on Thursday with an initial offering of 130 performances (101 shows plus 29 of the ones featured on out-of-print Fugazi live CDs). More will be added continually—the website, currently in beta, calls the project "a semi-permanent work-in-progress." The band plans to adds photos, flyers, and other show info as well and hopes fans will contribute.
In keeping with a band that insisted its music remain affordably priced, the downloads cost $5, but there's also a sliding-scale option that allows listeners to set their own prices. There's also a $500 "All Access" subscription option that gives super-fans clearance to download everything while going "a long way towards putting a dent in the costs of producing this Fugazi archive."
You can access the beta site by creating an account at Dischord.com, and you'll a free download of the essential Ian MacKaye/Jeff Nelson one-off project Egg Hunt for signing up. ("We All Fall Down" slays.)
If nothing else, the archive project will give fans something to do while waiting out Fugazi's hiatus—we still have hope that it will someday end.
G/O Media may get a commission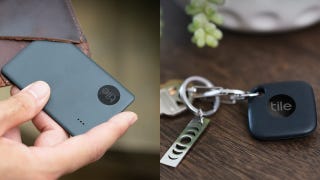 Up to 35% off
Tile Item Trackers
(In the meantime, go listen to The Argument again for an example of a goddamn phenomenal way to go out.)