Welcome to Random Roles, wherein we talk to actors about the characters who defined their careers. The catch: They don't know beforehand what roles we'll ask them to talk about.
The actor: Although he started his career as a performer when his age was still in single digits—and spent his 20s and 30s a name for himself as an actor, playwright, and multifaceted singer—it wasn't until Garrett Morris was added to the roster of Saturday Night Live's Not Ready For Prime Time Players in 1975 that he was discovered by the world at large. After five years of SNL, Morris moved on to other opportunities, including films (The Stuff), guest-star gigs (Diff'rent Strokes), and regular roles on various sitcoms, most notably Martin. He can currently be found playing Earl on CBS' 2 Broke Girls.
2 Broke Girls (2011-present)—"Earl"
Garrett Morris: Earl is my man! He's a guy who used to be in show business, but he's now retired, and he's got this job that makes him halfway-decent bread. But he also moonlights at a club somewhere down… well, who knows where it is? [Laughs.] But the character himself is a guy who's got a history of playing in a bunch of blues and rock 'n' roll joints. He's a saxophone player who's now retired, and he's got a couple of wives—maybe three or four, maybe five or six—and some kids, too, and a lot of child-support payments to go with them.
The A.V. Club: How did you find your way onto the series in the first place? Was it an audition, or did they come looking for you specifically?

GM: No, it was an audition. They had a lot of guys out there. I had to actually have hit men kill a couple of guys. That's how I got the role. No, I'm just joking! [Laughs.] I'm just joking, okay? Let the people know that's a joke! No, there were a lot of guys down there auditioning, and finally there weren't but two of us left, and I was lucky enough to get it, because the other guys who were auditioning were also very talented.
G/O Media may get a commission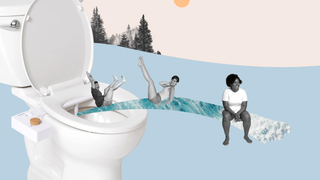 17% off
Tushy 3.0 Warm Water Spa Bidet Attachment
AVC: It must be said that your two leading ladies aren't exactly rough on the eyes.
GM: Oh, my God, we've got two of the finest foxes in the business. With Kat [Dennings] and Beth [Behrs]. But that's just the way they look. Believe me, I've been onstage with these ladies, and they are the definitive examples of craftsmanship and professionalism. Beth is there at least 30 or 40 minutes before the rooster. The rooster hasn't crowed, and Beth will be at work. The rooster's saying, "Damn! I got another 30 minutes to sleep, Beth! Please!" And Kat, you know, she could memorize an encyclopedia. And Jonathan [Kite] is a great guy. He's great at improvisation and can do Shakespeare as well as a sitcom. Matthew Moy, he upstages everybody every week. And, of course, we've got Jennifer Coolidge, who's holding strong at 39 and is still one of the sexiest ladies on the screen and moment-to-moment funny. She doesn't have to open her mouth or even move, and you laugh.
AVC: As far as the dialogue, do you ever take any issue with the number of double entendres?
GM: Are you kidding, man? I'm from Saturday Night Live! I'm from the 'hood! I was born in Gert Town, in New Orleans. The people in the Ninth Ward were scared to go to Gert Town, okay? So double entendres? Well, we don't even know what that is! I mean, I'm saying it because I went to college and learned it, you know. [Laughs.] But where I come from, just the household itself is nothing but barbs. You've got to learn how to talk back sharp and make jokes and play the dozens… in your house! You're playing the dozens in your house all day long. People will be talking about your mama, and your mama will be in the house! And your mama will be talking about her mama to you!
AVC: So how much of your dialogue is scripted and how much is improv?
GM: Well, we have some great writers, but, yes, we do slip in a bit of improv and a few lines every once in a while. They allow us to do that. But the writers are great. Michael Patrick King, he obviously comes out of that kind of comedy, with Sex And The City and Will And Grace, but he's got Jhoni [Marchinko] there with him, Michelle [Nader], Liz [Feldman], Morgan [Murphy], Patrick [Walsh], Sonny [Lee]… who am I forgetting? Oh, and there's another Liz [Astrof]! [Laughs.] I mean, they've got all kinds of great writers there. We do throw in a few things once in a while, yeah, but the writers… I mean, it's not like Saturday Night Live, where a lot of the scripts would come out of improv. It's not that way here. And that's cool.
Where's Poppa? (1970)—"Garrett"
AVC: Not that you didn't start acting long before this, but it looks like your first on-camera role was in the 1970 film, Where's Poppa?
GM: Oh, my God! Yeah, that's right! I was a robber, and I robbed Ron Leibman! That's from the ingenious Mr. Carl Reiner, and in that movie he has one of the funniest images ever in show business, I think, where—without a word, with just a split second of looking—you've got the real import of racism. He has Ron Leibman dressed in a gorilla outfit hailing a cab, but right before him is a black [woman] hailing a cab… and the cab driver passes the black [woman] and stops for the gorilla! [Laughs.] Oh, man, working for Carl Reiner was one of the best things ever.
AVC: How did you first find your way into a career in acting?
GM: Well, I was born and raised by a Baptist minister, who was a great preacher, so that's acting. And he put together his own sermons every week, so that's writing. He was also a singer who conducted his own choir. I started off seeing all of this stuff around me, and I was in the gospel choir by the time I was 4, so I never thought about specializing in show business! [Laughs.] But I acted in high school and in college, and then, although I went to New York to be all that I could be, since my degree was in music, I started out as a singer, working with Harry Belafonte.
So long before anybody knew about me as an actor, I was already making a living as a singer/arranger with Harry Belafonte. Meanwhile, when I wasn't working with Harry, I'd work off-Broadway in some plays. So by the time the 1970s came, when I was "discovered" by Saturday Night Live [Laughs.] I'd already been in the business for 17 years! I'd done about 30 plays on and off Broadway; I'd written two plays, one of which had been produced; and I'd also been a school teacher at P.S. 071 in New York City!
---
Diff'rent Strokes (1982)—"'Santa Claus / Mr. Jones"
The Jeffersons (1983-1984)—"Jimmy"
AVC: You did a one-off episode of Diff'rent Strokes where you played Santa Claus.
GM: Yes, I did! Yeah, that was great, with—may he rest in peace—Gary [Coleman]. That was nice. I really liked that a lot. I did quite a few episodes of The Jeffersons. I don't know how many people know that. But in between a couple of those, I did Gary's show.
AVC: How was the experience of doing The Jeffersons?
GM: Great! Sherman [Hemsley] was a great man to work with. He was the only star of a show who actually bought dinner for everyone on the show days. He got a Chinese restaurant to come in whenever we shot, and on that day you'd eat on him. And he was also the only guy… At that time, I was smoking joints, so Sherman and I would smoke before the show. I later learned that I can't do that very well. [Laughs.] So I don't smoke grass anymore to perform. And now my olfactory nerves don't work, but back then I could smell pretty good, and I'll tell you, that hallway really had a Maui Waui smell going on. It was like something straight out of Honolulu.
Santa With Muscles (1996)—"Clayton"
GM: Oh, yeah, that was way back there, during a, uh, lapse in my career… although some may consider what I'm doing now to be a lapse in my career. [Laughs.] Actually, I won't say "lapse." I don't mean that as an insult. But I was doing a lot of movies that I would not have gravitated toward if I had not been in a downturn.
But I got to work with Hulk Hogan! And, come on, man, are you kidding? How can you be in the same room with him and not touch his muscles? [Laughs.] You can't be on the same block with him and not touch his muscles! I liked him. Hulk was a very nice guy. At that time, he was not at the top as a wrestler—he was starting to come down—but he was investing a whole lot of his wrestling legend in making movies and making some money. And why not? You know what I mean? He didn't go the way Dwayne [Johnson] went, but I'm sure he did well that way, and he was a nice guy. But every time I'd walk in the room, I'd say, "Please let me live! That's all I ask!" And he'd smile malevolently.
The Stuff (1985)—"'Chocolate Chip' Charlie W. Hobbs"
GM: I was also in a lot of horror movies, but I hope you won't be dealing with any of those. Be kind. I beg of you.
AVC: Even being as kind as possible, there's at least one that has to be asked about.
GM: I already know what you're talking about: The Stuff.
AVC: You got it.
GM: All right, let's go ahead and get that over with. [Laughs.] That's when I was just doing the money thing: "Give me the money, and I'll do it!" Uta Hagen taught me, Alice Spivak taught me, a whole lot of other people who I'm sure would not be proud of that period of my life, but then you have you look at the paycheck… and I just cried all the way to the bank. But it was actually nice doing that movie. I didn't expect that movie to do anything, but it became a cult classic. A lot of people still check that out. So what I'm saying is that you really have to question the taste of a lot of these American moviegoers.
AVC: The scene of your head exploding remains a highlight of the film.
GM: Yeah, well, both of my ex-wives say that used to happen all the time. [Laughs.] But they were the ones who wanted to do the exploding, as a matter of fact.
AVC: Do you have any anecdotes about working with Larry Cohen? He's certainly quite a character.
GM: Uh, I was taught to respect everybody, and that if I can't say something nice about somebody, then I won't say anything at all.
The Longshots (2008)—"Reverend Pratt"
GM: Oh, yeah, that was really nice. It was nice working with Ice Cube, and it was also nice being down in Louisiana, my home state. Although it was also not nice, because we filmed in Baton Rouge, and the reason why we were in Baton Rouge was because Katrina had so wiped out New Orleans, where most of the movies were made before Katrina… and are now being made there again, thankfully. But I should also comment that it's a damned shame that Hollywood fucked up its whole system in the last 40 or 50 years, because they're taxing everybody. "We're Hollywood! You can't come unless you pay, pay, pay!" Now movies are being made everywhere, and Hollywood's making, like, 20 or 30 films a year, while everybody else is going off and making independent films.
Little Richard (2000)—"Carl Rainey"
GM: Yes! I sure did do that movie! I might say that I didn't really like the way they backed away from getting… in-depth. That's all I'm going to say, because I like Little Richard. I think Little Richard stands at the fulcrum of the breakthrough of rock 'n' roll as it moved into our world—he's not alone, but certainly him, Chuck Berry, and Ike Turner deserve a lot of credit—and Little Richard was always very obvious about who and what he was. But I was glad to be in a movie that was celebrating this great rock 'n' roll genius.
AVC: You mentioned earlier that you've been singing since you were 4 years old, but you've also released a couple of albums.

GM: Yeah, I actually just put one out called Black Creole Chronicles. My first professional singing was as a member of a gospel quartet that went around Louisiana. My grandfather, who was a minister, made me the first tenor, so I was singing gospel and blues before I ever started singing classical music. A lot of people know that I sing German lieder and French art songs and all that because I studied that in college, and I did make a lot of money singing German lieder stuff after I became a man. Actually, in my teens I started singing German lieder. But before that, I was more of a bluesman.
My grandfather… I don't know if you know how revolutionary it was for a Baptist minister to let his grandson listen to Ray Charles and Ike Turner and Charles Brown and Bessie Smith and all of them. In the '20s, '30s, and '40s, blues was considered evil… and some people still say that! There's still a little faction, a little sect of conservative Christians who still believe that. But back then you most definitely didn't sing the blues if you were a church person, and you certainly didn't let your grandson hear it, but he let me hear the blues and he let me hear Redd Foxx. He really was crazy. [Laughs.] He was out of his mind. But I still have the residue from that. My main man in the blues is Muddy Waters, and on my new CD, I do my version of "[I'm Your] Hooche Cooche Man." I also do a song called "If Blues Was Money, I'd Be A Millionaire," written by a friend of mine, Deacon Jones, who heads the band at my club, the Downtown Blues And Comedy Club.
I also do four songs of my own, one celebrating Storyville, which is the background to the French Quarter. If you know about the French Quarter, you should know about Storyville. I also do a thing called "Walkin' Down Bourbon Street," which is a song I wrote when I was at Saturday Night Live, when we were going to New Orleans. I figured I'd write a song—the hometown boy!—and do a video for the song, so I went into Lorne [Michaels'] office to pitch it, and it got zero. I realized then that, when you're trying to pitch your ideas to a producer, you should go in with your boy or your girl who's going to laugh at your shit. [Laughs.] Don't go in by yourself and laugh at your own shit, okay?
But the song, "Walkin' Down Bourbon Street," when it was first written was called "Walkin' Down Rampart Street," because it was a celebration of the actual street where black people in New Orleans really hung out. It's the same with 125th Street in Harlem, or Central Avenue in Los Angeles. Rampart Street was where the black people hung out in New Orleans, but then I changed it, because let's face it: A lot of "in" people would know that, but people who don't know much about New Orleans would respond more to Bourbon Street or Beale Street or Basin Street. So I went with Bourbon Street. There's another song called "Livin' On Top of the World," and a love song I wrote to one of my ex-wives called "Come Back Valentine." Anyway, the album's on CD Baby, it's on iTunes, and… the other thing. Amazon? Something like that. [Laughs.]
AVC: Before delving more deeply into your Saturday Night Live work, and since we're discussing your singing, when Walter Matthau hosted the show, you sang an aria.
GM: Walter Matthau demanded that.
AVC: How did he come to know that you could sing an aria?
GM: Well, I expect he looked at Saturday Night Live. I sang all the time, and I sang a whole lot of different things. Matter of fact, I sang German lieder one time that they'd written a comic thing to accompany. German is my forte. I was doing French art songs, Italian art songs, English art songs, and Spanish art songs, but when I was doing German lieder… I was pretty good at it. People thought I spoke the fucking language. [Laughs.] In fact, after I did it on Saturday Night Live, they got letters from people, saying, "Does he speak German?"
But, anyway, Walter Matthau was a knockdown, drag-out fan of operatic tenors. He was traveling around with his cassette player and about 20 or 30 tenors singing arias. So he asked. He said, "When I do the show, can Garrett Morris sing without any accompaniment?" So I sang "Dalla Sua Pace" [from Don Giovanni].
AVC: How do you look back on your album Saturday Night Sweet?
GM: I don't. [Trails off.] That was when I made a lot of bad, fucked-up decisions. I blame myself for that tragedy. I was making a lot of bad decisions. I was very much into being dependent on cocaine. By the way, I don't know you if know it, but I'm eight years away from that now. My "birthday" was in October. You know, you have your "birthday" when you quit. When I hooked up with cocaine, it was called "the white lady." I don't know if you knew that. But I found out that bitch was a hermaphrodite, and she had a penis about a mile long, and she shoved it up my ass said, "I'm going to keep it there for 30 years." And she did. Thank you for laughing, by the way. But people will read that and say, "Ain't that a shame, ain't that a shame…"

AVC: Well, they may laugh, too—to be fair, your delivery was a thing of beauty—but your comments will certainly be taken in the spirit in which they were intended. Plus, it's a lot easier to laugh knowing that you're still here to laugh with.
GM: That's right, I'm still here. You'd better believe it!
---
The Anderson Tapes (1971)—"Everson"
GM: Oh, that was a great experience. Nothing better than working with the great Sidney Lumet, man. He was just a beauty to work with. The only thing about Sidney was that he was so lovey-dovey. He would kiss everybody on the lips every morning… and when I say "everybody," I mean every-body! He'd be, "Hey, hello, baby!" [Smooching sound.] "Hello, baby!" [Smooch.] "Hello, how you doing?" [Smooch.] And, I mean, the man paid me some nice salary, but I ain't going to go no further than the lips. If we're going to go further, we're going to have to talk about a higher fee. [Laughs.]
He was a beautiful man, and he let me do a lot of stuff on that film. He was a director who made you not even think he was directing a lot of times, but he'd discuss the stuff with you. And he even let me do the scene on my own that should've required a stuntman. Now I regret that he did that, because when I was up in the air on those ropes, I said, "Oh, shit. If I mess this shit up…" [Starts to laugh.] But, yeah, he was great to work with. And I'm the only guy I know, at least in my set, who's ever shot Sean Connery and lived to tell the tale!
---
Martin (1992-1995)—"Stan Winters"
GM: Oh, well, that was great, because that's how a lot of people after Saturday Night Live really got to know me. It was great working with Tisha Campbell and Tichina Arnold. They were great ladies. And Tommy Ford and Carl Payne, they were just good to work with.
The Census Taker (1984)—"Harvey"
GM: That's one I'd like to forget, too. But, again, I don't blame the people, I just didn't like too much of anything I was doing at that time. I don't really regret anything I've done, in the sense that I made the choice to do those things. I don't really look at the movies I do, anyway. But I did look at The Stuff one time. [Laughs.] But, yeah, I don't really have a lot to say about The Census Taker except that it really wasn't the best experience.
---
Roll Out (1973)—"Wheels"
GM: Oh, man, that was great! Yeah, that was way before they'd done a lot of stuff like that. That was going to be the next M*A*S*H. That was going to be the black M*A*S*H, and… I won't go through it, but an incident occurred concerning one of the people in the show that caused Gene Reynolds to cancel it. But I really wish that hadn't happened, because I thought it was a really great, extremely rare approach at the time, to have a series about a black convoy unit during World War II.
AVC: How did you enjoy your first experience with the grind of a weekly TV series?
GM: Well, you're getting paid, man! [Laughs.] And you're doing what you like to do! Like I said, from when I was born, my prototype was my grandfather, who was a writer, actor, singer, and choir director. I threw some composing and playwriting in there, too, but… well, anyway, it was great. And the grind was fine with me. I was working, so I had no problem with it.
---
The Twilight Zone (1985)—"Jake"
GM: How about that cast? [Laughs.] Dan Hedaya played the Devil, and then it was Morgan Freeman, myself, Barney Martin, and [M.] Emmet Walsh, and we played poker with the Devil… and we won! Yeah, that was a nice episode. A lot of people still talk about that episode.
AVC: Morgan Freeman hadn't quite taken off as a film actor at that point.
GM: No, but, you know, Morgan had already been on The Electric Company, so he'd been up, he was making a living, but he was getting ready to move way up. So it was great working with him, and Dan, and the rest of them.
Cooley High (1975)—"Mr. Mason"
GM: Well, of course, I loved that, man. [Director] Michael Schultz actually fought to get me that role, because they didn't want me to play the role of the schoolteacher. Now, mind you, at the time that they were looking for the schoolteacher role, I was a schoolteacher! [Laughs.] I was working at P.S. 071 in New York City when I was auditioning! Michael had to fight to get them to let me play the role of a teacher in the school, because they thought I looked too young.
It was just another case of the producers trying to create the stereotype that they want to have for teenagers, as opposed to dealing with the reality. I mentioned my friend Deacon Jones earlier, and he went to audition for a film that was going to have a blues singer in it. Well, he's a blues genius, who played with John Lee Hooker for, like, 20 years, and he's a musical director; he knows all the blues licks. Unfortunately, he still has his teeth. [Laughs.] You get what I'm saying? This producer has a stereotype that he wants to create about blues people, right? Deacon Jones goes down and auditions, and the guy says, "Nah, you don't look right." It's like the people who'd turn us down way back when because, "You don't talk black."
Anyway, let's get back to your question: I loved Cooley High. I mean, I liked doing it, I liked working with Michael Schultz, and, you know, it's one of the roles that people talk about, and I'm happy when they do. I think it was a classic that Michael produced, and I think it's a shame that, after he did that, they didn't keep on helping him out to do some more films like that. He helped out a whole lot of people. But if you do a film that isn't as successful as another, usually what people say is, "Here, take some more money! Take some more money!" But with some people, they say, "Nope, you only get one chance." I'm not going to say to what color those people belong, but…[Laughs.]
---
Twin Falls Idaho (1999)—"Jesus"
Jackpot (2001)—"Lester Irving"
AVC: You've touched on the fact that there are some films in your back catalog that you're not entirely thrilled about, but is there one that you felt should've gotten more attention?
GM: Yes! Jackpot. It's a film starring me and my main man, an excellent actor by the name of Jonathan Gries. He's one of my friends. Matter of fact, he was the guy who played the white guy at the radio station on Martin. He is a brilliant actor. He and I do a very good job throughout the film, if I do say so myself. [Laughs.] I'm not going to tell you exactly what it's about, but it's about the complications coming from competing karaoke singers. I'm an agent for Jonathan, and he's a karaoke singer. It's about a future where karaoke singing is a big deal, and they actually nominated me for an Independent Spirit Award! But I think Jonathan is very underrated, I very much like him, and it's he and I together, along with Daryl Hannah and…who else is in it that you would know? Peggy Lipton. Oh, and the country-western singer Mac Davis.
AVC: Michael Polish, who directed you in Jackpot, also directed you in Twin Falls Idaho a few years earlier.

GM: Yes! Yeah, that's right. But I'm going to tell you what happened with Jackpot: Sony bought it, but at the same time they bought us, they bought Crawling Tiger, Jumping Lion, or whatever that movie was. [Laughs.] And they decided to produce it instead. And in my opinion, they made a mistake. Not just because I was in it, but because I think that film really was a great film about a phenomenon—I'm talking about karaoke singing—that a lot of people don't deal with in the same way that we deal with it. A lot of people are serious about that shit. [Hesitates.] By the way, you will cross out all the four-letter words like "shit" and "fuck," right?
AVC: Well, it's possible. But this is for the 'net, so you're more than welcome to use them.
GM: Oh, okay. Because, you know, I don't use four-letter words. [Laughs.] However, "motherfucker" is a 12-letter word, so you will hear that one a lot.
---
Critical Condition (1987)—"Helicopter Junkie"
GM: Yeah! That's because Michael Apted, I assume under the instructions of the great—the greatest—Richard Pryor, asked me to do the film. And he said he had no role, but he would write one for me. He did, but to add to that: You probably know that Richard came to do Saturday Night Live, but when he came, he had gotten the word that apparently the people on Saturday Night Live didn't believe that I could do… whatever. So he brought his own group and did not use me. I must say that, to this day, I view him as the greatest monologist I've ever heard. I thought so before he did that, and even though he did that to me, I still loved him… and I still love him now! He never actually said it was an apology, but he did invite me to do the film with him out of nowhere, and I sort of took that as him saying something like… well, I don't know what he was saying, but I took it was a gesture that was meant to smooth out what he had done there. And, you know, he was like me: Both of us were filled with a lot of drugs.
It's Your Move (1984-1985)—"Principal Dwight Ellis"
GM: Oh, yeah, man! Hey, that's another one that went away too soon. That was with Jason Bateman, and the producers [Michael Moye and Ron Leavitt] had broken him out earlier [on Silver Spoons]. I thought he and I both did a great job, as did the others on the show—a couple of us had come off of other shows to get there—but we were vying for a second season with a sitcom that was called Double Trouble, or something like that. It had twins in it, anyway. So they decided they wouldn't do our show anymore. They wouldn't go with Jason Bateman, who already had credentials and credibility, or Garrett Morris, who also had credentials. Instead, they'd go with these twins, who nobody knew about. And, of course, after another half-season, that show was over, too.
---
Hill Street Blues (1985)—"Derelict"
GM: Oh, yeah, I worked for about six weeks on there, I think, playing that character. What'd I play, a homeless guy or something like that? I can't even remember.
AVC: Do you enjoy the opportunity to dabble in dramatic work when the opportunity presents itself?
GM: Well, with no disrespect to you, sir, since you obviously know this already, but…before Saturday Night Live, that's all I did! [Laughs.] Getting it now, though, it's like pulling teeth. I mean, really, it's like pulling fucking teeth to get anyone to view me as anything else but a comedian, which I am not. I'm a comic actor, but certainly not a comedian. I've been working hard out there, and I get laughs, but at my club, I introduce some very fabulous, talented comedians every week, so I have great respect for that. I believe that I can hold my own, but I'd just like people to understand that I have such respect for the craft itself that I still only consider myself in process right now.
---
Saturday Night Live (1975-1980)—cast member
AVC: How did you first cross paths with Lorne Michaels?
GM: He was looking for a playwright, for a writer for Saturday Night Live, and my play, The Secret Place, had been produced, so I brought it to him, and he read it and asked me to become a writer on the show. That led to him seeing Cooley High, where he saw me act, so he asked me to audition. So I auditioned with Gilda [Radner], and the rest is television history… or television notoriety, whichever way you want to view it. [Laughs.]
On Saturday Night Live, and I had no problem with it, my assignment was to make people laugh with this new comedy. I was down for that. I'm a child of Amiri Baraka—who just died, by the way, and who was then called LeRoi Jones. I don't know if you know who that is, but he was a celebrated black poet/playwright who was very much an activist. I was also very much an activist in the '60s. I was in a workshop where we did improv about problems in the community—not so much to get laughs, but just to give us the opportunity to talk about drug addiction, abortion, pregnancy, and all that—and we got raided by the police. We got raided at least three times! And the last time, I just lost my nerve. I said, "Look, Amiri, I've got to go. I don't want to go to the tank." Now, I know you've never spent in the weekend in the tank—
AVC: That is true.
GM: Well, friends of yours will tell you that, when you're in the tank, either your head or your feet are about two inches from the toilet. After I spent two weekends in the tank, I said, "This tells me, 'Never turn into a felon.'" [Laughs.] That's the one thing that stops me from ever doing it: I don't ever want to wind up in a cell where my head or my feet will always be that close to the toilet.
AVC: How did your classic "New York School For The Hard Of Hearing" bit come about?
GM: That was all Chevy Chase. Chevy wrote that and asked me if I'd do it.
AVC: And then he apparently asked you to reprise it for his talk show.
GM: Yes, yes, yes. [Laughs.] I wish that they hadn't done what they did with that show. If they'd been more humble in the beginning and let him build to something, I think he'd still be there now.
AVC: Did you have a favorite character or recurring character during your time on SNL?

GM: Well, I liked the character on "Black Perspective," and the "Death Row Follies" guy. "I'm going to get me a gun…" [Laughs.] And Chico Escuela, "Baseball been berry, berry good." I liked them all, really, but I really liked those. I'm proud of some others, I know, but I can't remember them right now.
AVC: Is there a sketch that you yourself wrote that you're most proud of?

GM: Well, after I became a member of the Not Ready For Prime Time Players, I was, uh, relieved of my writing duties. But there are some things that I wrote. For instance, "Get Me A Shotgun" was mine. I did some other stuff that was mine, too. I did one about Muhammad Ali one time, and another time I did one about a rock 'n' roll group from England. So I did several pieces. But I was relieved of my actual writing duties when I joined the cast.
AVC: Did you have any interest in sticking around after Lorne left the show after the fifth season, or were you just done?
GM: Being done didn't have anything to do with it: I didn't have any choice in the matter. I was summarily dismissed. No, sir, I had a paycheck coming every week, paying the rent, I'm not about to leave that voluntarily.
AVC: You've popped back onto the show on a couple of occasions. Would you ever consider hosting?
GM: Look, if somebody offers me money, I will go wherever. [Laughs.] So if Saturday Night Live says they want me and they offer me money, I will go and host… but I don't want you to hold your breath until that happens, because you're going to go very blue