A camisado is a nighttime sneak attack. It's also an apt description of Hannibal Buress' comedy style. With his gravelly mumble and perpetually sleepy eyes (he describes himself, post-Lasik, as "sorta like how Milhouse from The Simpsons looks without his glasses"), Buress sounds like an amiable stoner, or, like his Broad City character, someone so laid back that he's entered another plane of existence entirely. Indeed, in performance, Buress weaves in and out. Not in clarity—Buress' comic voice is strong and focused—but in the way he approaches his subjects, coming in at odd angles, landing a joke with a solid snap, then riding his singular delivery to the next target. Unlike comics who rely on performance and attitude to carry substandard material, Buress' jokes emerge inextricably linked to his persona.
Filmed in front of an appreciative crowd in Minneapolis, Buress' new Netflix special sees the comic run through his hour-plus set with wily ease. When he does a joke about how his laser-corrected eyesight lets him notice details he was missing by pointing out how he can see that a man in the balcony is "a real piece of shit," he surfs the quick burst of audience laughter, adding, "I wasn't able to make easy, dumbass jokes like that, either, but lately I've been firing them off all the time, and the people love it," turning the laugh and riding it further, and in another direction. Later, he doubles back on the theme with a tailing speculation on what life would be like as a newly blind comedian, where his curiosity-driven success would mean sold-out stadium shows filled with "awful material I turned out to feed the beast that is my growing fan base." It's discursive with purpose, observational humor leading to fanciful riffs and back again, Buress' seemingly loose delivery driving the laughter with a deceptively steady hand.
His material throughout follows that ebb-and-flow structure. An observational bit about losing his ID morphs into a series of long, escalatingly funny rants about not being served a breakfast Bloody Mary at an airport bar because "that's what the kids are into these days," and not being allowed to check into an economy chain hotel even with six alternate forms of identification and his own website. ("Are you suggesting I learned how to design websites so one day I could sneak into the Embassy Suites?") Much of his material—touching on dating, aging, family, career—sees Buress launching into similar broadsides against absurdity that come off less like tirades than twinklingly bemused cries for sanity. He has a rolling, deceptively easygoing delivery, equal parts self-effacement and wry contempt at things that are clearly bullshit.
When he gets more personal, specifically about the now-infamous Bill Cosby joke that saw him plucked from relative obscurity by cable news and social media, Buress affects that same bewilderment, introducing the topic with, "That situation got out of hand. Yikes. I was doin' a joke at a show." Still, in examining the continuing fallout from the bit—both positive and very negative—Buress only underscores how compelling and effective his comedy style is. The reason his Cosby joke started the legal snowball rolling is that Buress didn't appear to have an agenda. Instead, his observation that the formerly beloved entertainer is an alleged (by scores of women) serial rapist emerged from the comic's delivery like a truth the public had let drift, for various reasons. Buress simply plucked it from the parallel drift of his comic flow, crystalized it, and let it drop. He moved on, but the truth stuck.
G/O Media may get a commission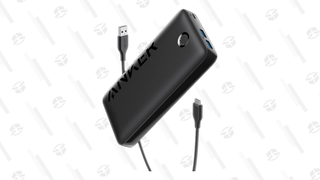 20% Off
Anker 335 Power Bank
Buress' material about how he found himself at the center of the ensuing, continuing Cosby mess applies the same comic principle. Noting the sly digs news stories made at him ("unknown comic Hannibal Buress" transforming into "homeless comic Hannibal Buress… covered in rags"), he acknowledges the effect the notoriety has had, musing, "There's an interesting energy around me sometimes where I'm skeptical of people. It's a weird emotion where you're flattered and cynical at the same time." It's as vulnerable as Buress gets here, but his followup, imagining the thought process of the Facebook user who sent him a death threat (buying the cheapest thing at a coffee shop to get the wi-fi password so he can Google Buress' information "on his Acer laptop") brings home the absurdity of his situation just as effectively. Similarly, a story about a run-in with an overenthusiastic fan who's also an armed police officer addresses the comic's conflicted position as a semi-famous black man in the time of Black Lives Matter with a glancing comic perspective all the more resonant for the roundabout route Buress takes to get there.