Here's what's up in the world of TV for Monday, March 23. All times are Eastern.
Top pick
It's Me, Hilary: The Man Who Drew Eloise (HBO, 9 p.m.): In this new Lena Dunham co-produced HBO documentary, Dunham interviews Hilary Knight, the illustrator who co-created the popular Eloise series. The half-hour documentary gives a detailed look at Knight's lasting legacy and the popular picture-book character. Noel Murray has a pre-air review that takes a look at the documentary's merits.
Regular coverage
Bloodline (Netflix, 7 p.m.)
Bates Motel (A&E, 9 p.m.)
Better Call Saul (AMC, 10 p.m.)
Also noted
The Late Late Show With James Corden (CBS, 12:37 a.m.): Jane The Virgin doesn't return until April 6, so Monday nights are back to looking pretty bleak. But James Corden steps into the late night game starting tonight, taking over the slot from Craig Ferguson. Mila Kunis and Tom Hanks will be his first guests.
Elsewhere in TV Club
In a new For Our Consideration, Noel Murray advocates for the death of the reality TV confessional. Libby Hill also delivers a new TV Club 10, looking at the most representative episodes of the late, great NewsRadio.
G/O Media may get a commission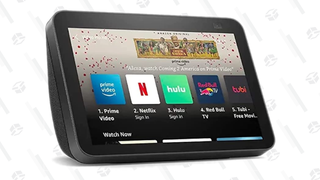 What else is on?
The Voice (NBC, 8 p.m.): With the Battle Round over, the Knockouts start tonight. Expect plenty of Adam Levine vs. Blake Shelton banter.
The Following (Fox, 9 p.m.): Fox serves up two hours of The Following tonight for no good reason. Twice the gruesome deaths! Double the detached violence!
The Night Shift (NBC, 10 p.m.): The Night Shift continues to feel like a tired amalgamation of every medical show ever. But tonight there's a car crash! And radiation poisoning! And…wait, every medical show has been there done that.
American Dad (Cartoon Network, 10:30 p.m.): Stan goes to Hollywood and thinks he's automatically a star! It happens to the best of us.
The Roommate (FXM, 3 p.m.): A college freshman played by Leighton Meester becoming obsessed with her roommate played by Minka Kelly sounds like a great pitch on paper, but The Roommate is no Single White Female. In fact, it's a total mess. Meester and Kelly deserve better.
Maleficent (Starz, 6:30 p.m.): With its feminist allegories and stellar lead character, Maleficent was one of the best Disney releases of recent memory. Come for Angelina Jolie; stay for Angelina Jolie.
Battleship (FX, 8 p.m.): Rihanna is the best part of this movie. Rihanna is the only watchable part of this movie.
NIT Basketball Tournament: Louisiana Tech at Texas A&M (ESPN, 7 p.m.): So much basketball, so little time.
In case you missed it
The Good Wife: Alicia Florrick's big Election Day finally happened, and Gwen Ihnat stepped in on The Good Wife beat while Kayla Kumari Upadhyaya was off in New York contemplating the downward trajectory of Kalinda Sharma.