Next month, if you're out on the road, feelin' lonely and so cold, all you'll have to do is start up the Netflix app on your phone and Gilmore Girls: A Year In The Life will be there on your phone screen—or whatever device you prefer to watch Netflix on. The highly anticipated revival series will be coming to Netflix on November 25, but it's not the only big Netflix Original series you'll be able to stream next month. You'll also get the Queen Elizabeth II drama series The Crown, starring Claire Foy and Matt Smith, on November 4. Plus, Netflix will have Kevin James' True Memoirs Of An International Assassin and a few new comedy specials from guys like Colin Quinn and Michael Che.
Outside of Netflix Originals, the streaming service will have a ton of Thomas & Friends videos you could watch with a train-loving kid. If you don't have a train-loving kid, you could go with Cujo, Burn After Reading, Boyhood, The Jungle Book, or Paddington, most of which are good. Of course, you can't have new things on Netflix without losing some old things, and in November those old things will include The Boondocks, The Boxtrolls, Gigli, Legally Blonde, and Chuck.
The full list of what's coming to Netflix is below, followed by the list of what's leaving.
Available November 1
The African Queen (1951)
Alfie (2004)
Bob the Builder: White Christmas (2008)
Candyman 2: Farewell to the Flesh (1995)
The Confessions Of Thomas Quick (2016)
Cujo (1983)
The Doors (1991)
The Heartbreak Kid (2007)
Jetsons: The Movie (1990)
King's Faith (2013)
Love, Now (2012)
Norman Lear: Just Another Version of You (2016)
Pervert Park (2014)
Ravenous (1999)
Stephen King's Thinner (1996)
Tales From The Darkside: The Movie (1990)
Thomas & Friends: A Very Thomas Christmas (2012)
Thomas & Friends: Holiday Express (2012)
Thomas & Friends: Merry Winter Wish (2010)
Thomas & Friends: The Christmas Engines (2014)
Thomas & Friends: Ultimate Christmas (2009)
G/O Media may get a commission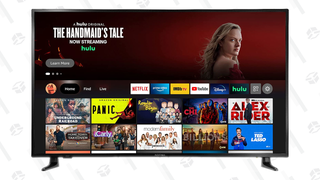 38% Off
Insignia 50" 4K UHD Smart TV
Available November 2
Dough (2015)
Food Choices (2016)
Meet The Blacks (2016)
Available November 4

The Crown: Season 1 - Netflix Original
Dana Carvey: Straight White Male, 60 - Netflix Original
The Ivory Game (2016) - Netflix Original
Just Friends (2005)
World Of Winx: Season 1 - Netflix Original
Available November 9
Danger Mouse: Season 2 - Netflix Original
Available November 11
All Hail King Julien: Season 4 - Netflix Original
Case: Season 1 - Netflix Original
Estocolmo: Season 1 - Netflix Original
Roman Empire: Reign Of Blood: Season 1 - Netflix Original
Tales By Light: Season 1 - Netflix Original
True Memoirs Of An International Assassin (2016) - Netflix Original
Under The Sun (2015)
Available November 12
Take Me To The River (2015)
Available November 13
Chalk It Up (2016)
Available November 14
Carter High (2015)
Available November 15
Dieter Nuhr: Nuhr In Berlin - Netflix Original
K-POP Extreme Survival: Season 1
Men Go To Battle (2015)
The Missing Ingredient: What Is The Recipe for Success? (2016)
Available November 16
The 100: Season 3
Burn After Reading (2008)
Jackass 3.5: The Unrated Movie (2011)
Paddington (2014)
Available November 17
Lovesick: Season 2 - Netflix Original
Paranoid: Season 1 - Netflix Original
Available November 18
The Battle Of Midway (1942)
Beat Bugs: Season 2 - Netflix Original
Colin Quinn: The New York Story - Netflix Original
Divines (2016) - Netflix Original
Prelude To War (1942)
San Pietro (1945)
Sour Grapes (2016)
Thunderbolt (1947)
Tunisian Victory (1944)
Undercover: How To Operate Behind Enemy Lines (1943)
Why We Fight: The Battle Of Russia (1943)
WWII: Report from the Aleutians (1943)
Available November 22
Mercy (2016) - Netflix Original
Available November 23
Penguins: Spy in the Huddle: Season 1
Available November 25
3%: Season 1 - Netflix Original
Boyhood (2014)
Gilmore Girls: A Year In The Life - Netflix Original
Michael Che Matters - Netflix Original
Available November 29
Silver Skies (2016)
Available November 30
Ghost Team (2016)
I Dream Too Much (2016)
The Jungle Book (2016)
Level Up (2016)
Traded (2016)
Leaving November 1
The Addams Family (1991)
Almost Famous (2000)
Angel Heart (1987)
Barnyard (2006)
Bratz: The Movie (2007)
The 'Burbs (1989)
Can't Hardly Wait (1998)
Chuck: Seasons 1-5
The Core (2003)
Deliverance (1972)
E.T. The Extra-Terrestrial (1982)
Echelon Conspiracy (2009)
Eight Crazy Nights (2002)
Empire State (2012)
Equilibrium (2002)
Escape To Witch Mountain (1975)
The Family Man (2000)
Fatal Attraction (1987)
Fresh (1994)
Get Rich Or Die Tryin' (2005)
The Holiday (2006)
Into The Wild (2007)
Kangaroo Jack (2003)
Legally Blonde (2001)
Legally Blonde 2: Red, White & Blonde (2003)
Major League (1989)
Mansfield Park (1999)
Meet Joe Black (1998)
Mel Brooks: Make A Noise (2013)
Open Season (2006)
Open Season 2 (2008)
Open Season 3 (2010)
Patton Oswalt: My Weakness Is Strong (2009)
Powerpuff Girls: Seasons 1-6
Rounders (1998)
Scream 2 (1997)
Sex: My British Job (2013)
Shameless: Series 1-10 (UK)
Sky Captain And The World Of Tomorrow (2004)
Something's Gotta Give (2003)
The SpongeBob SquarePants Movie (2004)
Spy Game (2001)
The Sum Of All Fears (2002)
Total Drama World Tour (2014)
Underground: The Julian Assange Story (2012)
Urban Cowboy (1980)
Varsity Blues (1999)
What Women Want (2000)
Leaving November 2
The English Teacher (2013)
Leaving November 4
Gigli (2003)
Leaving November 5
The Homesman (2014)
Leaving November 11
Quartet (2012)
Leaving November 14
Seal Team 8: Behind Enemy Lines (2014)
Leaving November 15
Naked Among Wolves (2015)
Leaving November 16
The American (2010)
Let's Go To Prison (2006)
Leaving November 22
Tracers (2014)
Leaving November 23
The Boxtrolls (2014)
Scenic Route (2013)
Ultimate Spider-Man: Web Warriors (2015)
Leaving November 24
The Boondocks: Seasons 1-4
Chowder: Seasons 1-3
Courage The Cowardly Dog: Seasons 1-4
Uncle Grandpa: Season 1
Leaving November 25
Robin Hood (1973)
Leaving November 30
Stuck In Love (2012)
xXx (2002)