In Hear This, A.V. Club writers sing the praises of songs they know well. This week, we're talking about the songs we like most when the weather gets warm.
I'm From Barcelona, "Always Spring" (2011)
What is it about Sweden and pop music perfection? Ever since ABBA first stormed the world with its potent distillation of sunny harmonies and sing-along refrains, the country has somehow managed to produce artist after artist uncannily well-versed in crafting nuggets of three-minute musical bliss, whether performer or producer. No matter the era you grew up in, chances are there's outstanding Swedish pop music tailored to your life.
For those times when The Knife is too arty and dark, and Icona Pop too overproduced and Top 40-sounding, I'm From Barcelona comes to the rescue. Formed in 2005, the band was a happy accident: Songwriter and frontman Emanuel Lundgren had put some songs together during a monthlong break from his job, and to celebrate, he organized a one-off show including all 28 musicians with whom he had collaborated. Soon, that one-off show become a full-time gig, and I'm From Barcelona was born. An effervescent live act with never fewer than 16 members, the group specializes in joyfully upbeat rallying cries, a Scandinavian cross between the revival-tent rave-ups of The Polyphonic Spree and the indie-pop freneticism of Los Campesinos! The music is simple without being simplistic, a festive exhortation to appreciate the weird and wonderful things in life, be they Charlie Parker or Fawlty Towers.
"Always Spring," off the group's 2011 release Forever Today, is a prototypical IFB song: Jaunty with an irrepressible hand-clap rhythm, it captures a vibe of youthful abandon that perfectly matches the lyrics' yearning optimism. The vocals evince a desire to try everything, to experience all the big and small aspects of life simultaneously: "I wanna be young, I wanna be old, I don't know where to go / I wanna be yes, I wanna be no, I want it all, you know." It's an anthem for uncertainty, buttressed by a confidence that such caprice isn't a problem, but rather something to be celebrated. After all, if a choice is just the closing off of all other options, why bother choosing? "Always Spring" demands the impossible, but does so with a happy admission that while the impossible may not be feasible, it's possible somewhere. And when I'm From Barcelona insists, "Somewhere, it's always spring," the music makes it easy to believe it.
G/O Media may get a commission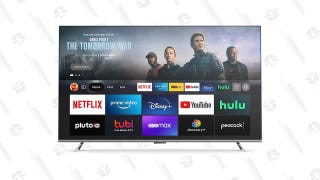 Save 46%
Fire TV 55" Omni Series 4K UHD Smart TV