The Black Panther movie debuts in just a few hours, and the superhero is about to gain millions of new fans. Anticipating the wave, Marvel Comics is putting out a crash course on the Wakandan king with next week's Black Panther Annual #1, a one-shot featuring stories by three writers who played major roles in the character's past. Writers Don McGregor, Christopher Priest, and Reginald Hudlin have each handled different periods in T'Challa's life, and they return to catch up with old characters and old plots, as well as pay tribute to the friends they've lost.
This exclusive preview of next week's Black Panther Annual #1 begins with Christopher Priest catching up with Everett K. Ross (played in the movie by Martin Freeman), the government employee who continues to find himself in crazy situations even though he's no longer the Black Panther's escort. Ross was the main character of Priest's run on Black Panther, which serves as a major inspiration for the new film. Featuring art by Mike Perkins and colorist Andy Troy, this new story is one big throwback. It following the same structure of Priest's first issue on the series, which had Ross explaining recent events out of order and without much detail, and Priest doesn't skip a beat as he slips back into that rhythm.
The script, plot, and visuals of that first story are a dramatic contrast to the story that follows, jumping to an alternate past to show T'Challa in mourning. Don McGregor's time with T'Challa spanned multiple titles over the course of decades, and he significantly expanded the mythology of Wakanda while giving the character a more aggressive political stance. He teams up with artist Daniel Acuña for a story dedicated to his late collaborators Rich Buckler and Billy Graham, and the spirit of those artists is captured in the dynamic artwork, presenting T'Challa as a daring adventurer. The way he moves across the panels in the two-page spread is very much inspired by Buckler and Graham's layouts and compositions, and you can feel reverence for the past radiating off the page.
The annual jumps from the past to the future for its final story, reuniting Reginald Hudlin with artist Ken Lashley to explore Wakanda after T'Challa has taken over the world. Black Panther's marriage to Storm of the X-Men was a major part of Hudlin's run, and the characters are still together in the future, with their family together what eventually led to world domination. The first "Black To The Future" story happened in 2008's Black Panther Annual, and it's fun to see this same creative team return to the concept for the Black Panther Annual ten years later. Marvel has been pushing a lot of Black Panther comics out to prepare for the movie's release, but next week's one-shot works especially well as a sampler of three different eras waiting for new readers to explore.
G/O Media may get a commission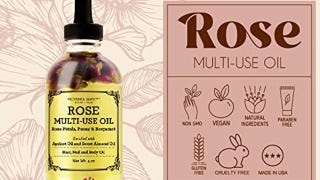 Provence Beauty Rose Multi-Use Oil