If your Instagram feed has become nothing but tacos and dogs, well, there's nothing at all wrong with that. But perhaps it's time to branch out. Consider following Queens OnScreen, an ongoing Instagram series from Indian illustrator Shivani Gorle that highlights female characters from Hollywood and Bollywood films. Every post features an original illustration of the character in circle ("I love circles," Gorle explained in an interview with Catch News), as well as a memorable quote from them. English translations of the quotes in Hindi are provided in the captions.
According to Mashable, Gorle was inspired to start the project when she first saw the category "movies with a strong female lead" on Netflix. "Why can't there just be regular movies with both genders playing equally strong and well-rounded characters?" Gorle told Mashable. "I felt like there was a lot more room for gender equality in the film industry, especially in the 21st century."
The featured Hollywood heroines include Rose from Titanic, Nina from Black Swan, Harry Potter's Hermione, Juno, Jess from Bend It Like Beckham, Sacha from Spotlight, Miranda Priestly from The Devil Wears Prada, Shosanna from Inglourious Basterds, and Aibileen from The Help. Gorle pulls from all genres and also from a more global film spectrum, featuring characters from Bollywood films like The Dirty Picture (if you're unfamiliar, here's a slice of greatness from the Vidya Balan-starring movie), Udta Punjab, and the very romantic Jab We Met. Gorle told Catch News that she plans on branching out further to include other languages and other film industries, like Tollywood, Telugu-language cinema.
"What's common to all the heroines is their thirst for life, their desire to break through conventions and ability to inspire," Gorle told Mashable. "The larger point of this project is to ensure that one day women don't need a separate category on Netflix or any other movie distribution medium to portray convincing characters… there'll just be regular movies with equally well-rounded and powerful characters represented by all genders."
The characters Gorle highlights aren't all being pulled from films necessarily considered "women-centric"—a category the project directly challenges. Though no doubt some Ghostbusters bros will try to argue QueensOnScreen is ruining their childhoods or something.
G/O Media may get a commission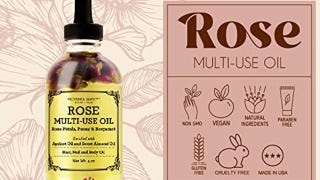 Provence Beauty Rose Multi-Use Oil
Check out some of these queens: