Known as a "clean" comedian whose raciest bits are about putting bacon in salads, it doesn't take much for Jim Gaffigan to translate his day-to-day into a series of 22-minute segments. His homelife is familiar to anyone who's seen his stand-up or read his books: He and his wife Jeannie are rising five kids, who were all born in the bathtub of their two-bedroom Manhattan apartment. (From his stand-up: "She screamed so loud, I almost woke up a few times.") Other relevant topics include the family's Catholicism and Jim's constant desire for food and naps (the titles of his two books: Food: A Love Story and Dad Is Fat). The Jim Gaffigan Show is the latest incarnation of a pilot that he and Jeannie have been shopping for a few years, which wound up at TV Land after that network approved the Gaffigans' preferred single-camera format.
The "dumb dad" trope is as old as Fred Flintstone, and there aren't too many earth-shattering variations on it here. We know Jim will mess up his daughter's preschool application; we know he will get drunk before performing for an outing organized by a friend's mother. What helps bring The Jim Gaffigan Show up to another level are its eponymous star and the cast he's chosen to surround himself with. Gaffigan takes his own self-deprecation to absolute artistic heights: At one point, a character tells him he looks like a dead marshmallow, and he's eating something in a scene more often than not. There's no setup that wouldn't be improved by Michael Ian Black and Adam Goldberg, and they're both on their A-game here. Goldberg (Dazed And Confused Adam Goldberg, not The Goldbergs' Adam Goldberg) plays a composite player version of Jim's stand-up friends; it takes a few episodes to learn what exactly Black is doing in the Gaffigans' kitchen, whining and sniping at everyone, until it's revealed that he's a gay ex-boyfriend of Jeannie's who hosts an unrestrained hostility toward Jim. So Black savors his delivery of bitchy Jim-directed lines like, "Your signature bit is you singing 'Hot Pockets' and suddenly you're worried about people thinking you're stupid?"
As with another ongoing sitcom partially set in the New York stand-up scene, comedians like Chris Rock and Hannibal Buress just show up at the comedy club to hang out and crack a few jokes before Jim's show. Guests stars can also include famous people going off onto inspired riffs far afield of their usual on-screen personas, like the notably sarcastic Janeane Garofalo as a hilariously earnest preschool teacher. And the barista who may or may not be Macaulay Culkin is one of the new series' most inspired running bits.

But most inherent to the overall plots is Ashley Williams as Jeannie (subbing in for the real Jeannie Gaffigan, who played Jim's wife to delightful effect on My Boys). Williams portrayed simplistic dream girls on Good Morning, Miami and How I Met Your Mother, but here her Jeannie is undoubtedly the glue holding the Gaffigans together. She's refreshingly unhinged as well—as would be expected, with all those kids. And sometimes her character takes a welcome unsurprising turn: When Jim gets drunk before that aforementioned performance, instead of stewing and lecturing, Jeannie gives up and joins him.
G/O Media may get a commission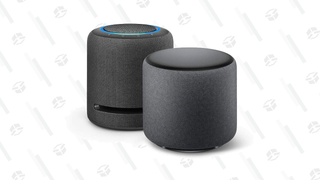 25% off - Prime Exclusive
Echo Studio + Echo Sub Bundle
The family's religious affiliation will probably be the trickiest waters for this sitcom to navigate, even though their parish priest is billed as a regular. An episode that explores what would happen if Jim was photographed holding a Bible is an interesting, under-explored take on how the religious views of entertainers play into our perceptions about them (as well as the dangerous, rapid explosions of social media). Although his priest chides him for not coming to mass every Sunday, Gaffigan evidently feels strongly about his Catholicism, leading to an area that most other stand-up sitcoms have yet to cover.
The Jim Gaffigan Show not only shows the domestic side of Manhattan, but also the affection the Gaffigans clearly have for their home, with effective location shoots at places like the Bowery Ballroom and Smith And Wollensky's. The Gaffigans' apartment is refreshingly reasonably sized and crowded—as would be expected for a family of seven in a 2B—instead of sitcom-palatial. The harried errand-running and permanent viewings of Paw Patrol ring true. So far though, these are about the five quietest kids on TV, even the baby: We can only imagine that the real-life Gaffigan house is a lot more chaotic, and a bit more of that translated to the small screen would make this true-to-life sitcom even more sincere.