After months in which the press struggled to find something interesting in Justin Bieber wearing a gas mask, abandoning his monkey to German prison, and inducting the ghost of Anne Frank into his fan club, last night's Billboard Music Awards finally spawned a far more compelling Justin Bieber story—that of the artist being rewarded for his craft. Bieber was on hand to receive the Milestone Award, an inaugural trophy sponsored by Chevrolet that celebrates "the ingenuity of this year's hitmakers" and the fact that "ingenuity" is a word Chevrolet is really into right now. At long last, here was the recognition that Bieber's music is every bit as exciting as the Chevy Impala, his career as unshakeable as the American auto industry. But despite its more than a century of producing reliable cars, not everyone had faith in Chevrolet's ability to pick today's most innovative musical artists. Indeed, many in the audience started booing.
"I'm 19 years old. I think I'm doing a pretty good job," Bieber said, reminding the crowd and himself of the incredibly early age at which he'd already achieved a Chevrolet trophy, something most artists go their whole careers without. "And basically, from my heart, I really just want to say, it should really be about the music, it should be about the craft—the craft that I'm making. This is not a gimmick," Bieber continued, pointing emphatically to the "heart" region of his leather V-neck T-shirt, while the light sparkled off of his oversized aviators and giant gold necklace, and his dropped-crotch pants rippled and expanded in the breeze—a leather battle flag, flying for the cause of art.
"I'm an artist and I should be taken seriously, and all this other bull should not be spoken of," Bieber concluded, possibly referring to a pet bull currently languishing in a Russian gulag, say. The crowd responded by booing again—as Bieber had demanded, far more seriously—until Bieber called on his manager Jesus to make them stop.
Once Bieber had finished stooping over for his art, host Tracy Morgan scolded the crowd, saying, "Don't be booin' nobody. This ain't Showtime At The Apollo"—a reference to a show in which white people's embarrassing attempts to co-opt black personae is typically met with hostile derision, from people who similarly don't respect craft.
G/O Media may get a commission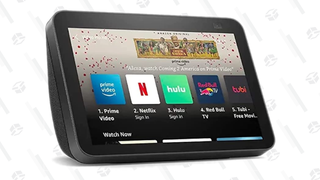 Later, Justin Bieber presumably pulled up in his Chevy Milestone Award and offered to give everyone who'd booed him a ride, then laughed as he motored his trophy off into the sunset. This award seats serious artists only.