In We're No. 1, A.V. Club music editor Steven Hyden examines an album that went to No. 1 on the Billboard charts to get to the heart of what it means to be "popular" in pop music, and how that concept has changed over the years. In this installment, he covers Lady Gaga's Born This Way, which went to No. 1 on June 11, 2011, where it stayed for two weeks.
When I began this column, I said I wanted to "learn about the present by studying the past," in order "to determine whether we still have it in us to get behind one big, shiny, joyously accessible, and all-inclusive album again." Turns out I didn't have to leave the present at all, since 2011 has given us not one, but two big, shiny, joyously accessible, and all-inclusive albums that the pop audience has embraced: Adele's 21 and Lady's Gaga's Born This Way.
You could draw broad parallels between Adele and Gaga, two prodigiously talented, big-voiced singer-songwriters in their early 20s who rose to become our most prominent contemporary pop stars after periods of intense personal adversity. (Adele was famously involved in a dysfunctional romantic relationship, while Gaga has admitted to abusing cocaine while drifting through New York City's overcrowded music scene in the late '00s.) Themes of self-empowerment, self-actualization, and bare-knuckle survival run through both records, and form the core of their appeal for wide swaths of people in these beaten-down, inspiration-starved times.
But instead of dwelling on the common ground between them, many critics have instead pitted Adele and Gaga as opposites. It's a lazy but convenient storyline, where the artists are portrayed as one-dimensional embodiments of their album covers. On the front of 21, Adele is depicted in luminous black and white, the very essence of timeless dignity and "classic" artistry, and it's easy to transfer the qualities of the photography to the subject. She tilts her head in a thoughtful position, exposing a soulfully forlorn facial expression unadorned by makeup or the sex-kitten pout that's normally sandblasted into the faces of female pop singers.
Lady Gaga is also pictured in black and white on the cover of Born This Way—except for her garish red lipstick, which forms a bloody "O" at the center of the record that sucks you in like a candy-colored wormhole into a deeply weird fantasia of 24/7 pleasure, where sex and unicorns are always available right at your fingertips. All flowing hair extensions and insistent "Look at me right now, dammit!" urgency, the Born This Way cover promises proudly artificial thrills, something between an erotic, made-for-cable vampire movie and an all-lesbian Kiss tribute band. It's instant-gratification pop delivered to you, the customer, in about as much time as it takes to refresh a web page.
Critics inclined to follow this line of album-cover interpretation have made Adele the "anti-Gaga," a paragon of "honesty" over the contrivances of "image" that Born This Way seems to represent. The fact that Born This Way bulldozed its way to No. 1 by moving 1.1. million units—more than a third of which Amazon practically gave away as a 99-cent download—only to be passed two weeks later by the steady-selling 21 (which has enjoyed 10 non-consecutive weeks at No. 1 so far this year) was taken as evidence of the "real" having more staying power on the charts than the "fake." "What's become lost in the Lady Gaga-era is the confidence in the idea that less is more," Paul Rees of Q magazine told the Independent. "A large element of Adele's success is that she remains something of an enigma and we don't know everything about her."
G/O Media may get a commission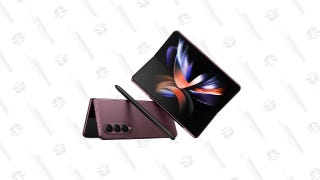 Save Up to $300
Galaxy Z Fold4
What's interesting about Rees' quote is how easy it is to disprove. Adele's unavoidable hit single "Rolling In The Deep" comes packaged with a backstory about the former lover who inspired many of the songs on 21. We might not know everything about Adele, but what we are aware of has been used as a hook to sell her music. It certainly gives the soul-stirring "Rolling In The Deep" another layer of richness, pointing toward the source of the pain in Adele's bracing vocal whenever she launches into that epic chorus.
I'm a big believer in success never being an accident. Having a hit song—much less a hit as monumental as "Rolling In The Deep"—is a feat not unlike persuading Conan O'Brien to buff and wax one of Jay Leno's prized Studebakers. It's a highly unlikely event, and the result of a lot of hard work and persistent cajoling. So when Adele is described, in the words of the Independent story, as "the world's most successful—yet reticent—pop star," I don't buy it. Her talent might be considerable, but she still had to put it out there.
Just how much effort is required to be a pop star in 2011 can be plainly seen when surveying Lady Gaga's empire, currently inhabited by millions of her so-called "little monsters," with whom she communicates several times day via Twitter. Most people are too busy to Tweet regularly throughout a work day, and that's especially true for Lady Gaga, the sharpest, hardest-working, and most brazenly ambitious huckster currently operating in pop music. And yet communicating with fans—and doing whatever else she can to keep the monsters fed with music, videos, outrageous outfits, and uplifting online bon mots—is vital to maintaining the very fabric of the kingdom she lords over.
With Gaga, the work that goes into her stardom is pushed to the foreground; you can always see her sweating hard to be famous. But this hardly makes her music or persona "fake." In fact, it makes her the most transparently honest pop star there is right now.
Gaga recorded Born This Way over the course of a year while she was on her 201-date "Monster Ball" tour, retreating to a spare bus outfitted with studio equipment to work on songs after performing onstage for more than two hours every night. "Basically after the shows, I would go on the bus, and I would work all night," Gaga told The New York Times. "Then we would pull the buses over, and then I would get back on my bus and go to sleep on my bed, and then we would just keep driving."
If an album sold 10 million copies or more during the commercial glory days of the music industry, Lady Gaga finds room to reference it on Born This Way. It's a superstar pop record in quote marks, self-consciously constructed to emulate the trappings of old-school chart-topping smashes from the '70s and '80s in the hopes that it might pass for one. There's campy disco ("Born This Way"), clap-your-hands arena rock ("Electric Chapel"), anthemic movie-soundtrack synth-pop ("Marry The Night"), and even a German-accented novelty song ("Scheiße"). A true student of pop tropes, Gaga gets specific with her scholarship. If "You And I" sounds uncannily like a Shania Twain mall-pop ballad from the mid-'90s (with a dash of Elton John), that's because Gaga hired Twain's ex-husband Robert John "Mutt" Lange to produce it. If "Edge Of Glory" seems like a pitch-perfect tribute to the micro-genre of cheesy Bruce Springsteen-biting '80s pop—exemplified by Bonnie Tyler's "Total Eclipse Of The Heart," written by Meat Loaf collaborator Jim Steinman—it helps that the late Clarence Clemons is blowing sax on it.
Word of Born This Way began trickling into the media several months before its May release, when Gaga announced the album title at the MTV Video Music Awards. So began what the Times called "one of the most extensive and savvy marketing campaigns ever mounted in music," centered on a release date—May 23—picked specifically for its advantageous placement on the promotional calendar. In the weeks and months leading up to "Born day," Gaga performed cuts from the record on the Grammys and the finale of American Idol. She guested on Saturday Night Live and starred in her very own HBO special. And that was on top of the numerous tie-ins with retail stores and mainstream and social media, as well as other, more traditional forms of advertising, all geared toward heightening the anticipation of Born This Way's slow descent on the populace.
With the hard release date and steadily ramped-up hype, Born This Way was marketed, as Steve Berman of Interscope Geffen A&M told the Times, "like we were opening a blockbuster film." But even with all that boosterism, many in the industry were questioning how well Born This Way would do, speculating that Gaga generally and the record specifically were "overexposed and could suffer a sales backlash," according to Billboard. A month before the record's release, Born This Way was projected to sell about 400,000 copies. On the album's release date, the speculators topped out at 700,000. Only until the album was out for a few days did the one-week 1 million sales figure—last achieved by Taylor Swift's Speak Now last November—seem like a possibility.
Clearly, Amazon's decision to sell Born This Way for a nominal fee of 99 cents for two days (as a promotion for its new Cloud software) greatly pumped up the album's sales figures. Born This Way set one-week records for digital sales with 662,000 downloads, good for 60 percent of the album's overall haul. Of those downloads, 440,000 came from Amazon's 48-hour fire sale. Tellingly, sales for Born This Way plummeted in its second week. While the record remained at No. 1, its tally dropped 84 percent from the week-one numbers. It was the familiar result of the blockbuster model, where all the chips are put on a big opening weekend that the film won't come close to replicating on its quick journey to the Netflix afterlife.
Many saw Born This Way as a new kind of blockbuster album, where the actuality of having a No. 1 record is less important than the idea of it. An album is no longer a product with any real value of its own; it's a vehicle for organizing "the flurry of products, activities and side deals that now constitute an artist's business," in the words of Times reporter Ben Sisario.
Commenting on what he called "a new paradigm" represented by the release of Born This Way, Jacob Ganz of NPR wrote that while a million-selling album was "a trophy Gaga and her team clearly coveted," it was "merely part of a huge campaign to promote an artist." This is in contrast to the old paradigm for No. 1 albums, which I summed up in my first We're No. 1 column as "a quantifiable measure of a band's prominence, something that could be relied upon as an indisputable measure for 'making it.'" In the new world that Born This Way inhabits, there's no longer such a thing as "making it," only "maintaining." And maintaining requires constant upkeep of your media profile. If you can sell 1 million records in seven days, it's not so much a career-defining achievement as a way to buy time on Extra! for a few days—but only for a few days.
During one of her promotional appearances for Born This Way, Gaga appeared in a sketch on Saturday Night Live with host Justin Timberlake that Maura Johnston of The Village Voice cleverly posited as a study in pop-star contrasts. The sketch was "What's My Name?", a game show where Timberlake and Gaga were asked to remember the names of people they've recently encountered. While Timberlake racks his brain trying to recall the names of former 'N Sync groupmate Chris Kirkpatrick and an anonymous sexual conquest, Gaga is able to instantly bring up the names of every fan at her concert. Writes Johnston:
Given that Timberlake came up during the tail end of music's boom years—the 1999 establishment of the RIAA's Diamond Award, which honors those albums that shipped 10 million copies and which hasn't been given out to a record released since Usher's Confessions came out in 2004, coincided with 'N Sync's rise—it's not much of a stretch to say that the "joke" in this sketch could also be seen as a presentation of the rift between generations. Timberlake could grow into a pop star who came off as something of an asshole because the times that birthed his career allowed him to do so; they also allowed retailers to sell albums for $18.99 and not spin off any singles from those albums, locking consumers into the higher price point. Gaga, meanwhile, doesn't have the luxury of exploding record sales and an ascending economy, which could very well play into the reasons why she's more inclined to empathize with her fans and make her music available to them at the lowest possible price.
Justin Timberlake hasn't released an album in five years, and hardly seems interested in continuing his music career at the moment. And yet he's still a pop star. He shines brightly and captivates millions from a distant perch that's inaccessible to most of us. Lady Gaga is certainly popular, but she doesn't seem like a pop star in the same way Timberlake is a capital-P Pop capital-S Star. At some point, probably around the time of the "Rock Your Body" video, Timberlake was granted pop-star tenure, and he was allowed to relax and just be. Gaga does not have tenure. Her kind of fame is ephemeral, always up for review, which means she can never go to the place up there, where the stars are.
That's because Lady Gaga is not a pop star—at least not in the way we've always defined pop stars. She's more like a popitician. Her re-election campaign for stardom is a never-ending loop of tour stops and stump Tweets, designed to build and placate a following that demands constant action and interaction. The smashing debut for Born This Way is a "victory," but there's always another baby to kiss and hand to shake. There is no end until she decides to retire, and she knows it, telling the Times: "It's never finished. Pop culture is my religion, so to say pop culture is your religion you'd better believe your work is never finished, and that art is something that transcends, and it transforms." Pop stardom traditionally has been about creating a persona and imprinting it on pop culture. But social media devours information and instantaneously passes it through its lower colon. The transcendent transformations must now be continual.
Gaga prides herself on being a master popitician. Nobody is better at the trick of openly lusting for prominence while also being a maligned, bullied maverick. As she told Time Out London, her music is "all about closing the gap and bringing people closer together," and who better to do that than the pop equivalent of the ever-electable, nonpartisan "Washington outsider"?
Gaga's meta relationship with fame can be likened to the meta relationship the media has with politics, where the "horse race" aspect of elections is covered more than the actual issues. This way of looking at politics has filtered down to the rest of us. Our political discussions often revolve around candidates' "electability," or whether they appear "presidential." We care less about the content of a person's words than how those words will be perceived. Approaching politics like a game played by bloodless mercenaries is what passes for savvy.
Not that long ago, people had no idea what went on in the pop-music sausage factory. But in the last 10 years, the meta-reality of politics has entered pop music, and the machinery has become the star. With American Idol and its knock-offs, we've willingly become part of the machinery, as our aspirations have shifted from emulating the people onstage to the puppetmasters behind the scenes. Gaga fancies herself a fame deconstructionist, but she's actually just trying to make do in a sea of already-disassembled spare parts.
Coming up: Counting Crows' Recovering The Satellites