In Hear This, A.V. Club writers sing the praises of songs they know well. This week: For Horrors Week, we're once again talking about songs with the word "ghost" in the title.

Lord Huron, "Love Like Ghosts" (2015)
Lord Huron's sophomore album Strange Trails offers the same warm sounds as the band's first, Lonesome Dreams, from the softer electric guitar to the steady twang. But it's the lilting lyrics from singer Ben Schneider that bring the listener back. Telling haunting stories of lost love, the Strange Trails track "Love Like Ghosts" asserts the notion that love is ubiquitous in conversation but sparse in actuality, before deftly setting up the emotional waxing and waning that any attempt at love can inspire. The song begins with the relationship's end, which the narrator needs logical confirmation of, the only way to truly sever ties and extinguish any flame of hope: "Yes I know that love is like ghosts / Oh, and what ain't living can never really die / You don't want me baby please don't lie / Oh but if you're leaving, I gotta know why."
It's a bluff, of course, a fake leave, executed in the hopes that it will inspire the object of the narrator's affection to follow. The next verse makes this clear with the narrator's continued protests: "There ain't a language for the things I feel / And if I can't have you then no one ever will." The fight continues to the end of the song, making it a typical ode to a lasting love, but one that is especially easy on the ears, if hard on the heart.
G/O Media may get a commission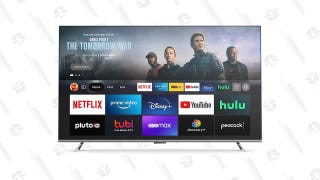 Save 46%
Fire TV 55" Omni Series 4K UHD Smart TV