Well, well, well. Look who's ruining childhoods now. It's Fall Out Boy's Pete Wentz, who revealed on Twitter yesterday that he recently "crossed one off the kid dream bucket list" by covering Ray Parker Jr's Ghostbusters theme for Paul Feig's upcoming reboot of the franchise.
But while Wentz's childhood dream has come true, at what cost? Clearly, his years of pop-punk stardom have taken Wentz down a dark path of pathological narcissism, convincing him that his childhood is more important than those of the hardcore fans who had a good thing going on hating the new Ghostbusters movie, and frankly don't have the time to add the crew of smirking pretty boys who made that terrible "Uma Thurman" song to an already-full hate list.
Actually, there is a girl to blame as well: Missy Elliott, who Wentz says contributed a verse to the retooled Ghostbusters theme. But that actually sounds kind of cool, especially if Missy wears a giant inflatable Ghostbusters jumpsuit in the video. Elliott's participation is one of the bright spots in what overall appears to be a very slick, youth-oriented, and therefore hatable pop soundtrack, though. In a press release, RCA Records touts original songs from G-Eazy (featuring Jeremih), 5 Seconds Of Summer, a cappella group Pentatonix, Walk The Moon, Wolf Alice, and the terrifyingly ill-defined "more."
The first song to be released from the soundtrack, from Rob Schneider offspring/Wanda Jackson devotee Elle King, also serves as a bit of (presumably unintentional) meta-commentary on the divisive response to the film thus far. Called "Good Girls," the typically rockabilly-styled number opens with the line, "I'm a whole lot of trouble in an itty bitty skirt," which, if you take out the word "skirt" and replace it with "jumpsuit," sounds about right.
[via The Playlist]
G/O Media may get a commission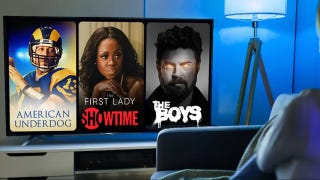 UNDER $1
99¢ Prime Video Channels