In Podmass, The A.V. Club sifts through the ever-expanding world of podcasts and recommends 10–15 of the previous week's best episodes. Have your own favorite? Let us know in the comments or at podmass@avclub.com.
Suzi Barrett (How I Met Your Mother, Drunk History) doesn't delve into the mechanics of her career as much as some of the other guests who have appeared on Box Angeles (chalk it up to her Midwestern modesty), but she does tell a lot of great stories. While some, such as remembering her parents' divorce, are poignant without being cloying, most of them are just plain funny. The best stretch comes midway through the podcast, where she remembers working at Rainforest Cafe, then going to Amsterdam to perform with Boom Chicago. Her trip is unsurprisingly colorful, involving many sex shows (and bananas) and getting slapped by a homeless person. Listeners may not walk away from her and Mike Elder's conversation with a better idea of how to succeed in show business, but they'll probably walk away laughing. And hey, when entering the Hollywood grind, it's best to laugh as much as possible.
[Dan Caffrey]
---
G/O Media may get a commission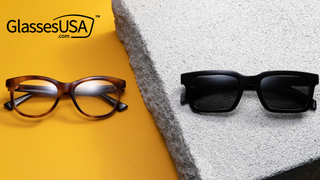 60% off frames
GlassesUSA.com Back to School Sales
The warming weather of late May makes this week's simple topic—glass—a suitably cool niche to delve into with a panel of experts. Joining Melvyn Bragg this week to discuss "one of the great scientific puzzles" in its many forms are science professors Dame Athene Donald and Paul McMillan, along with Jim Bennett, a former science museum director. From a historical perspective, we learn that glass made in the Roman empire, with its manufactured process and jewel-like visage, inspired later alchemical experiments done with metals. And glass remains mysterious. Despite the fact that it's an old technology, scientists are still not sure exactly how glass works as a "disordered solid," with its atoms arranged randomly and unpredictably, and new types of glasses and applications are still being developed today. A listing of different additives and their various properties isn't the most stimulating part of the hour, but listeners should expect no less than exhaustive thoroughness from Bragg's scholars. As often happens, the real revelation comes in the podcast's looser bonus material, when McMillan talks about glass used in cooking: It turns out that the glaze on doughnuts is technically sugar glass.
[Anna Hrachovec]
---
Meanwhile In The Future, the recently launched podcast from Gizmodo, takes a novel approach at trying to understand what the future might look like. Each week, host Rose Eveleth throws out a thought experiment and talks to an expert about how it might actually play out in the world. This week's scenario posits a world where all weapons are outlawed and all wars are fought via hand-to-hand combat. Would fewer people die in wars if there were no guns or other weapons? Would the planet be more peaceful? Eveleth calls up Brad Allenby, a professor of engineering and ethics at Arizona State University, to explore to these questions, and while the answers may at first seem self-evident, Allenby's insights show it is much more complicated. As the interview progresses, Eveleth and Allenby tackle a range of issues concerning what constitutes a weapon and how technology is changing the way wars are fought and experienced. After just three episodes, Meanwhile In The Future is a promising and fascinating show that leaves listeners with plenty to consider long after an episode ends.
[Dan Fitchette]
---
The Movie Crypt's first episode was a full-length commentary track for Friday The 13th Part 2, and though the horror-centric podcast is primarily interview-based, hosts Adam Green and Joe Lynch will occasionally take a break to do the same with movies like E.T. and Shocker. In this episode, the duo records a commentary for Jaws: The Revenge, a notorious flop that's probably best remembered for the hilarious roar of its namesake beast. In between trivia, analysis, and personal reminiscences, Green and Lynch pepper in a few comedic bits, including a chuckle-worthy interview with "Michael Caine," who, because of Jaws: The Revenge, was not able to accept his 1987 Academy Award for Best Supporting Actor. The highlight, however, is a (seemingly legitimate) phone call with one of the film's sound engineers, who bristles considerably when the duo asks him why he made the shark roar, responding, "I don't know! Why not?" If the film's lore is to be believed, this remark encapsulates its logic. Green and Lynch aren't simply here to mock, however; they love movies, and find plenty to love in Jaws: The Revenge, from its solid acting to its continuity in kitchenware.
[Randall Colburn]
---
Movie Fighters suffers from several of the same problems as other "bad movie" podcasts: light rambling, some unfounded criticisms, and a difficulty articulating a "badness" that often must be seen to be believed. What separates Movie Fighters from its brethren, however, are the films hosts Chris Sims and Matt Wilson choose to cover. They're not interested in cult favorites like Troll 2 or The Room, nor do they revel in '80s schlock or misguided Hollywood blockbusters. Rather, the movies on Movie Fighters are the kind typically found beneath a layer of dust in a gas station bargain bin. For example, before Nicolas Cage helped try and reboot it, the popular Christian book series Left Behind existed as a trio of forgotten films starring none other than Kirk Cameron. So intrigued by these bizarre, faith-based action films, Sims and Wilson have devoted several episodes to dissecting each in the series (including the reboot), and it's a trip to hear the duo try to make sense of the series' labyrinthian end-times philosophy, not to mention its "angry proselytizing," which is heavily informed by Cameron's warped Way Of The Master ministry.
[Randall Colburn]
---
Gimlet Media has something special on its hands here. The bones of the program are deceptively simple, but the results are breathtakingly complex. Mystery Show is an investigative procedural where host Starlee Kine—an alum of This American Life like Gimlet co-founder Alex Blumberg—seeks to solve everyday mysteries proposed by friends and acquaintances. The magic of Mystery Show is found less in the mysteries and more in the way that Kine goes about their solving. In This American Life's 2003 episode "Time To Save The World," Kine proposed a new approach to small talk that she called The Rundown, and its fingerprints are all over her winningly shaggy-dog approach to gumshoeing: never straightforward, always fascinating. Think of it this way: If Serial host Sarah Koenig's detective style is that of Philip Marlowe in The Big Sleep, then Kine's is Philip Marlowe from The Long Goodbye. This week's investigation is focused on a paparazzi photo of Britney Spears, seen holding a copy of To Feel Stuff, a little-known book written by Kine's friend Andrea Seigel, who is eager to know how Spears came to posses the tome and whether or not she enjoyed it. Kine is able to wring a surprising amount of suspense and humanity out of this simple quest, auguring very well for the show's future.
[Ben Cannon]
---
Undisclosed: The State Vs. Adnan Syed
28 Days
Undisclosed has been finding its footing the past few weeks, and it discovers some solid ground in episode four. The podcast picks up where Serial left off, though it's decidedly in favor of Adnan Syed's innocence. Attorney (and friend of Adnan) Rabia Chaudry is joined by lawyers Susan Simpson and Colin Miller, who discuss the evidence from The State V. Adnan Syed and Serial. Although there are no bombshells—like last episode's reveal that the Baltimore detectives appeared to coach witness Jay Wilds by using a tapping sound that didn't appear in any transcriptions—the podcasters have a better handle on sound and production.
Episode four looks at the 28 days between Hae Min Lee's disappearance and the discovery of her body in Leakin Park, when the case changed from "missing person" to "homicide." We learn that the seal on the evidence container for Jay's DNA was intact, but the seals on the evidence containers for Adnan and Hae's DNA were broken, although no DNA testing had been done on them. Miller talks about an evidentiary principle called chain of custody, in which you have to prove every set of hands the evidence went through—which means the state has no account of how the seals were broken. It all amounts to things we already know—sloppy police work, sloppy legal defense—but it's a satisfying dive into the subject for hardcore Serial fans.
[Laura M. Browning]
---
Space Jam has inexplicably become a sacred-cow film for many people my age, an unimpeachable kids' flick in the same vein as The Goonies or E.T. Maybe it's because I've never been a sports fan, but I never liked it, even as a 12-year-old kid back in 1996. So good for the We Hate Movies gang for calling out Space Jam for what it is—an unwatchable, feature-length commercial whose sole purpose is to fluff Michael Jordan and his Foghorn Leghorn-sized ego. But the film is troubling for reasons that go well beyond this incessant hero worship and the flat-out weirdness of the plot, from the commodification (or neutering) of the Looney Tunes special brand of anarchy to the disturbingly human anatomy of Lola Bunny (She has breasts!) and the Monstars (They have well-sculpted butts!). Hopefully after hearing We Hate Movies point out these—and many, many other—flaws, fans of the movie will start to question their love for it.
[Dan Caffrey]
---
Pete Holmes tries hard to have an interview show like no other, but the ways he does this can become barriers to a captivating listening experience. Guests might not vibe with his Ram Dass quoting or Deepak Chopra name-dropping but are too polite to steer away. Coming from 20-plus years of success and establishment, Noel Gallagher has no problem balking with a "Yeah, but who cares?" at Holmes' mysticism. Which is not to say that the two are at odds or unengaged. Gallagher is in high spirits and good humor and gives a surprisingly dense 50-minute interview. There's a little Oasis storytelling (coming home drunk and high after a rainy gig in Paris, he wrote "Don't Look Back In Anger" and then put it aside for a year), but the talk largely centers around his creative process and inspiration. The spirit of "Who cares?" returns when Gallagher talks about giving advice to aspiring artists. Who cares if what you're writing what has been written before? Do it anyway, Gallagher implores. The joy he receives from performing is perfectly encapsulated in a quick, unexpected, and passionate diatribe against Bill Wyman, which seems to exemplify that Gallagher remains a chief bigmouth decades into his career.
[Joe White]
---
Charles Manson continues to fascinate, with the Tate murders standing as a horrifying yet important moment in American culture. For Karina Longworth, it's also a Hollywood story, one of fame, fortune, failed dreams, and, with the murders of Sharon Tate and her houseguests in August 1969, revenge on the system. In the fantastic first part of a 10-part series that will look at Manson through the lens of the Hollywood, Longworth focuses on the Hollywood culture that Manson operated in. Alongside the rise of the psychedelic music scene—which Manson was desperately trying to break into—was a studio system that couldn't connect with the youth culture, didn't acknowledge rising social unrest, and all but ignored the sexual revolution. The figure who looms largest over the episode is Dennis Hopper; with a history of rampant drug use, violence, and glorification of the outlaw drifter culture in his film Easy Rider, Hopper comes to embody the dark forces lying just under the surface that gave rise to Manson and his apocalyptic, racist worldview. Longworth's histories are always meticulously researched and expertly told, and this series with its expansive scope has the potential to be her finest, most engrossing work yet.
[Dan Fitchette]
---
We see what you said there
"That's your problem with Jaws 4? Not the fact that the shark had already been blown up like three other times? Or that it swam all the way from Martha's Vineyard to Jamaica or wherever the fuck? You got a problem with the roar, but not the other 90 minutes of that piece of shit?"—Unnamed Jaws: The Revenge sound engineer on the shark's roar, The Movie Crypt
"Clarence Gilyard outright says those words: 'We're going to have to start a Tribulation Force.'"—Matt Wilson on Left Behind II: Tribulation Force, Movie Fighters
"You're going to be visited by three Looney Tunes, and they're all going to teach you not to be an asshole."—Andrew Jupin dreaming up a better, Christmas Carol-version of Space Jam, We Hate Movies