All you need to know about the difference between what ABC wants Nashville to be and what it actually is can be found in the network-issued description of this episode and what's actually up there onscreen. Rayna brings her daughters on tour, says the description, but she's worried that Juliette will be a bad influence on them! So what sorts of bad influence do we see? Is Juliette having sex with guys in hotel elevators? Snorting coke off of Deacon's head? Drinking full bottles of Jack Daniels all by her lonesome? And is she doing all of this in front of the girls, pausing from her latest red-hot sexual congress to lean over and slur at the girls, "This is a real fun time. You should try it, no matter what your momma says!"? No, Juliette is a bad influence on the girls—so far as I can tell—because she tells Maddie that she shouldn't give up on her dreams, even if her mother is telling her differently. That's… about it. All you need to know about the show's struggles is right there. The implied salaciousness gives way to something quieter and more earnest.
The show struggled in its early going to find the path between what it wanted to be and what the network wanted for it, but it finally found a way to do that somewhere in February sweeps. Last week's episode—ably covered by my colleague Farihah Zaman—was a bit of a step back from the February momentum in that nothing happened yet again, but I had some high hopes for tonight's. Instead, I got the latest in the series' long sequence of feints toward the ABC soap machine while lavishing the bulk of its attention on things that are often pleasant but far from exciting. Scarlett and Gunnar had a fight about her future! Juliette got a deal to be the face of some mobile phone, then seduced her mother's sponsor (who came along on the tour, because why not?)! Maddie and Daphne sang "Ho Hey," and it was honestly pretty adorable, and I could have watched that scene five or six times!
All of this was pretty okay. All right, I'm not so sure about Juliette seducing Dante, nor do I completely understand why their storyline a.) closed with this image and b.) played such sultry music underneath the two of them writhing together on a red footrest (or divan or whatever). But I liked the idea of Juliette finding her voice as an adult, since it ties into the fact that she's turned into the show's most consistent character, in charge of the show's best storyline. Any time that Juliette shows off her newfound guts is all right with me, and I particularly liked that her hotel room was apparently directly across the street from the giant billboard of Rayna, making Connie Britton into a sort of 21st century Dr. T.J. Eckelberg. (Please let this be a recurring thing that happens to Juliette!)
G/O Media may get a commission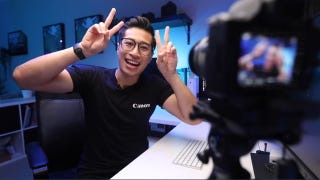 Up to 33% off
Canon Camera National Promotion
Webcam kits, lenses, & more
Since many of us adopted working from home, we've become accustomed to the crappy video quality output of our laptops' built-in webcams. Present yourself professionally with the help of a professional quality camera. Dress to impress now means set dressing and picture definition. Canon has made it easy to take your EOS camera and convert it to a webcam with the help of a variety of kits.
The Gunnar and Scarlett story makes less sense, but getting those two crazy kids together has turned out to be a good thing for the show. In particular, I liked that the show seemed to be headed toward a story where Gunnar is upset with Scarlett for having the contract without him being a part of it, but it actually was doing something sneakier and having him be mad that she just didn't tell him. He wants her to succeed. He wants to be proud of her success and be excited for what happens to her. And he can't be that if she won't sign the damn thing already. As I mentioned a few weeks back, this is increasingly a show that offers up a fair amount of romantic wish fulfillment for those who enjoy an attractive young man (or two), and this is like the ultimate example of that, like one of those "mom porn" books that were briefly popular in the big-box bookstores of this great nation, where a new mother would come across a shirtless, muscular man in her kitchen, saying something like, "No, I'll do the dishes and put the baby to bed. You've earned a rest." Gunnar is basically that dude on a weekly basis, and he doesn't even seem to mind that Scarlett first put the moves on him in the wake of his brother's death.
Also, Gunnar and Scarlett met a cowboy named Will, who apparently lives upstairs from them and gets a bunch of their mail? And they all share a laundry facility?
I almost wished that this would be the only moment we saw Will and that the show had created the most elaborate device ever to get Gunnar to see Scarlett's contract. But, no, we get to see the "welcome to Nashville" dinner the two throw for Will in somewhat intimate detail, complete with talk about Texas and football and God knows what. Will may as well have wandered in and said, "Hi, I'm Will, and I wear this big, ridiculous cowboy hat, and I'll be your plot device for the evening." Also, I believe the two guys talked about the Titans, when it's been well-established that Fake Tim Tebow played for some other Nashville football team. So… I don't know what that's all about.
Rayna, meanwhile, isn't too keen on Maddie's dreams of becoming a country recording superstar, when that's a totally reasonable goal for a 13-year-old girl who's just been given her mother's prized guitar to jump to, particularly when mom is a country recording superstar. I sort of expected there to be more from this when Juliette gave Maddie the advice that was directly contradictory to what Rayna wanted for her daughter, and there were bits and pieces of it here and there. But for the most part, this was just more evidence of the show's utterly strange way of building conflicts. And yet after Rayna tells Maddie that she just wants her daughter to be better prepared for stardom—the way Juliette obviously wasn't when she was plucked from obscurity at 15—and Maddie mostly accepts this, the show heads for that "Ho Hey" sequence, which is utterly charming and has the best moment of the episode, when Deacon says hello to Rayna with a "Ho," and she replies with a "Hey," and it's cheesy as all get out, but it works, dammit.
Also, is anyone ever again going to tell Maddie that she is obviously Deacon's daughter? Or are we saving that for the finale? Ah, hell, let the kid have her delusions, and maybe then a giant billboard of Rayna can say, "You know Teddy Conrad? He's not your daddy," as Maddie's preparing to run onstage for her first sold-out concert tour in season nine. Hey, a TV critic can dream, right?
Stray observations:
Right, a bunch of other shit happened, too. Lamar was going to get his way with the baseball stadium by blackmailing Peggy to get her to play ball, but then he started having a heart attack. (The show seemed to contain all of its soapiest material to this storyline, what with it also featuring Peggy coming over to visit Teddy clad in only an overcoat, then Peggy greeting Lamar with "Hi, honey," when she thought it was Teddy. Welcome to Knot's Landing!)
The trials and tribulations of Avery Barclay: "Avast!" said Avery Barclay, former rock star and current disappointment, "that I would have to stoop to being a roadie!" Yet fate was smiling on Avery Barclay that day, in the form of a strongman named Augustus and a cowboy named Will. They would have many adventures. (I'm just ad libbing here. It's totally cool if Nashville wants to introduce an 1890s-style strongman named Augustus, though. I'm releasing that character under a Creative Commons license.)
I've come to realize that because of the show's title, I always expect any given episode of the series to conclude with an assassination attempt.
Deacon is dating Sandra Beeman from The Americans. I am not sure how I feel about this.
Let's just talk about this for a second. How weird is it that Rayna's label would apparently be so uninterested in the idea of Scarlett performing with a guy singer that it wouldn't even bother listening to the two of them together at a later date? Scarlett's going to go into a marketplace that's already fairly cluttered by other young country chanteuses (particularly one Juliette Barnes), while there's more of a gap for a male/female duo. But what do I know? I'm just that old guy from the pilot, and I've got an idea.