An elegant, immaculately shot meditation on survival and loss, Tran Anh Hung's adaptation of Haruki Murakami's novel Norwegian Wood is a beauteous, lukewarm bore. Frequent Hou Hsiao-hsien cinematographer Lee Ping Bin, who also shot In The Mood For Love and Tran's Vertical Ray Of The Sun, gives the images a gloomy luster, as if the entire film were shot on a crisp, damp autumn day. But Tran's visual precision is betrayed by his jumbled script, which fails to impose a cinematic structure on the source material.
The movie's focus is narrow enough, confined to a dramatis personae of three: college student Kenichi Matsuyama, still reeling from a friend's suicide; Rinko Kikuchi, the dead boy's girlfriend, who enters a rural sanitarium after his death; and Kiko Mizuhara, Matsuyama's coy, flirtatious classmate, whose own life is soon touched by loss as well. Others hover on the periphery and occasionally step into the spotlight, but they feel like unfinished sketches, especially Reika Kirishima, as Kikuchi's fellow inmate and informal music teacher.
Tran essentially tracks the development of Matsuyama's romantic relationships in parallel, as he shuttles between the troubled Kikuchi and the unavailable Mizuhara. Both women describe their sexual histories in graphic detail—Kikuchi relates her fruitless attempts to be intimate with her lifelong love, while Mizuhara fantasizes about Matsuyama, then reminds him she's already got a boyfriend—but their intimate dialogues and the encounters that inevitably follow are drained of any erotic charge. It's a particularly surprising lack given the languorous sensuality of the features Tran shot in his native Vietnam, and it leaves Norwegian Wood with a void at its center. Matsuyama's blank, withdrawn performance is numbing as well as numbed, leaving open the question of why two unrelated women would simultaneously form such profound attachments to him.
Aided by the dissonant swell of Jonny Greenwood's score, the movie builds to a handful of bravura moments. Kikuchi goes through the stages of mental breakdown in a single back-and-forth tracking shot, navigating the roiling swell of chest-high grass buffeted by an unceasing wind, and Matsuyama mourns a late-breaking tragedy amid the crash of grayish-blue surf. But rather than compensating for the movie's general affectlessness, the emotional surges seem histrionic by comparison. It's a film out of balance, sometimes tilting toward inspiration, but finally falling to earth.
G/O Media may get a commission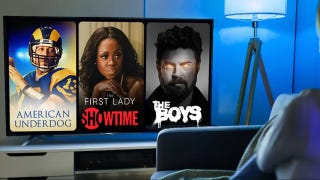 UNDER $1
99¢ Prime Video Channels