Here's what's up in the world of TV for Wednesday, April 22. All times are Eastern.
Top pick
The Americans (FX, 10 p.m.): The Americans' third season finale is upon us, and only one question remains: Why aren't you watching The Americans? According to every single thing written about The Americans, at this point, you simply have no good excuse.
As for the episode itself ("March 8, 1983"), "Elizabeth and Paige take a trip that lands them in treacherous territory." Our knee jerk reaction to that description? That sounds pretty awesome. Happy International Women's Day, ladies. Also, "after an emotionally charged mission, Philip turns to an unlikely source for solace." Is it Henry? Is it possible this season finale is a take your daughter/son to work situation? If you don't watch The Americans, then you'll never know. Erik Adams will be too focused on his episode review to ask you why you're not yet watching The Americans, but have no fear: The rest of us have that question on lock.
Also noted
The Middle (ABC, 8 p.m.) / The Goldbergs (ABC, 8:30 p.m.): This week, The Middle is single-handedly filling television's Van Dyke-sized hole, as Frankie attempts to reunite her uncle Dutch (Dick Van Dyke) with her father Tag (Jerry Van Dyke). Then, The Goldbergs' "As You Wish" attempts to reunite the world with its love of The Princess Bride (pretending for a moment that the world ever lost it); Adam decides to join the fencing team in order to recreate him favorite scene from the movie, much to the disappointment of Murray. What Will Harris wants to know is when both of these sitcoms will tackle one-and-done Reunion and The Big Chill, respectively.
G/O Media may get a commission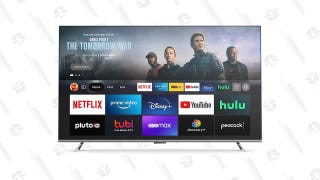 Save 46%
Fire TV 55" Omni Series 4K UHD Smart TV
Broadchurch (BBC America, 10 p.m.): Broadchurch also sees the end of it season, with the end of the Joe Miller trial? What will be the final verdict? What will be the final verdict, Gwen Ihnat?!?
Big Time In Hollywood, FL (Comedy Central, 10:30 p.m.): After the insanity of "To Catch A Paparazzi" last week, how can Big Time In Hollywood, FL possibly top that? In "A Night In," "the guys are threatened at gunpoint while Alan and Diana enjoy a romantic evening." Ah, classic Big Time. LaToya Ferguson is really looking forward to Alan and Diana's romantic evening, especially if it involves binge-watching The Americans.
Regular coverage
Marvel's Daredevil (Netflix)

Survivor (CBS, 8 p.m.)

Arrow (The CW, 8 p.m.)
Modern Family (ABC, 9 p.m)
Black-ish (ABC, 9:30 p.m)
Elsewhere in TV Club
You thought you were safe from The Americans judgment, didn't you? Why would you think that? That's the sort of naivete that's preventing you from watching the show, isn't it? Zack Handlen has a TV Review of the season as a whole (minus the finale, of course), focusing on the family aspect of the spy drama and how truth at home is of such importance in a show all about secrets and lies.
Also, for those of you who do watch The Americans, you're being rewarded with non-Americans media, in the form of Marah Eakin's 11 Questions interview with Veronica Mars "bad boy" (and Play It Again, Dick's "Ace"), Jason Dohring. This is your reward, even if you were always more a Deputy Leo person than a Logan Echolls person.
Plus, part one of a four part Inventory also drops, and boy is it a doozy: It's all about those kids' TV shows that don't make parents question every single choice they've ever made in their lives that led them to watching said kids' show.
TV Club Classic
Lost (Classic) (1 p.m.): Myles McNutt is prolonging the wait for "Exposé," and because of that, we're getting a review for just the Locke-centric episode "The Man From Tallahassee" this week. Myles McNutt has made an enemy for life out of a certain What's On Tonight contributor.
What else is on?
The Mysteries Of Laura (NBC, 8 p.m.): In "The Mystery Of The Dodgy Draft," a murder investigation "leads the cops into the madness of NCAA basketball." As both a mom and a cop, surely Laura has some feelings about this whole situation. Surely.
Young & Hungry (ABC Family, 8:30 p.m.): This week on Young & Hungry, "Gabi is excited by an upcoming visit from Cooper, especially since they're about to take their relationship to the next level." What level? Well it sounds like these characters are on the road to the old s-e-double hockey sticks: sex. Also: If these characters are so hungry, when do they eat?
Criminal Minds (CBS, 9 p.m.): "Series star Matthew Gray Gubler directed the episode." Sure, why not?
Supernatural (The CW, 9 p.m.): In the press release for this week's episode of Supernatural, there is the simple question of "Can Dean Save Sam?" Using past episodes of Supernatural for reference, we feel safe to assume the answer is: yep. But can Sam save Dean? Tune in next time to see.
Nashville (ABC, 10 p.m.): Christina "Jade St. John" Aguilera is still here! Everyone cheer! It will help distract from the fact that Teddy is still a character on this show and that the episode itself appears to be about him: "The brightest stars of Nashville have gathered in support of Teddy's music education initiative, 'Note By Note'." It's a little known fact (to the point of not being known at all) that Teddy is the biggest fan of music and music education, so it's really great the show wants that to be the backdrop this week.
CSI: Cyber (CBS, 10 p.m.): It's perhaps too much of a stretch to assume that an episode of CSI: Cyber titled "Selfie 2.0" feature the entire cast of Selfie, as their characters for Selfie. However, it is what we're going to assume. You know, maybe the episode press release is just keeping the appearances of otherwise high profile guest stars Karen Gillan and John Cho a surprise. "The Cyber team investigates the abductions of young women whose social network pages are being kept up-to-date." How does that not just scream Eliza Dooley? Bonus: Rosanna Arquette makes an appearance, possibly because her sister is the star, but also possibly because she's a huge Selfie fan.
Rambo III (AMC, 8 p.m.): Last week, it was the most American movie classic possible, First Blood. So where does Rambo III rank on that America scale? Right about here. (We never said it was a scale that makes sense.)
Legally Blonde 2: Red, White & Blonde (Ovation & POP, 8 p.m.): We kid you not. If you want to watch the unnecessary Legally Blonde sequel, there are two places (at least) you can do it, at the very same time. This is a punishment, and it's specifically a punishment meant for those people who have yet to watch The Americans. Think about it. More like Red, White & Missing Out (as well as missing an Oxford comma).
Sports, sports, all type of sports
MLB Baseball: Cardinals at Nations (ESPN, 7 p.m.)
MLB Baseball: Marlins at Phillies (Fox Sports Network, 7 p.m.)
Stanley Cup Playoff: Game 4: Rangers at Penguins (NBC Sports, 7 p.m.)
Stanley Cup Playoff: Game 4: Canadiens at Senators (USA, 7 p.m.)
Stanley Cup Playoff: Game 4: Blues at Wild (NBC Sports, 9:30 p.m.)
Stanley Cup Playoff: Game 4: Ducks at Jets (USA, 9:30 p.m.)

NBA Playoff: Game 2: Trail Blazers at Grizzlies (TNT, 8 p.m.)
NBA Playoff: Game 2: Spurs at Clippers (TNT, 10:30 p.m.)
Lucha Underground (El Rey, 8 p.m.)
WWE NXT (WWE Network, 8 p.m.)
In case you missed it
Inside Amy Schumer: Kate Knibbs gave the season three premiere, "Last F*ckable Day," the coveted A grade. Run, don't walk.