E Street Band saxophonist Clarence Clemons died Saturday from complications related to a stroke. He was 69. Clemons fell ill on June 12, and underwent two brain surgeries that reportedly had him in stable condition for a time. But Clemons never made it out of the hospital in Palm Beach, Fla., where he died not far from his home in Singer Island.
Along with Danny Federici, who died in 2008 of melanoma, Clemons is now the second member that the "classic" E Street line-up has lost. In a statement, Bruce Springsteen called the impact of Clemons' death "immeasurable," and it's unclear whether this signals the end of perhaps the most iconic backing group in rock history.
It's certainly the end of the E Street Band as fans have always known it, since Clemons was easily the most recognizable guy in the group not named Bruce Springsteen. More than a mere sideman, Clemons' special place in the band is as plain as the playful camaraderie and genuine affection on display on the cover of1975's Born To Run, where Springsteen leans on the ever-steady Clemons for support. The cover was indicative of the duo's Batman and Robin dynamic—and Springsteen and Clemons often switched roles in that equation. Springsteen might've been the Boss, but Clemons was the Big Man, and the authority he carried on stage made him an ideal straight man for Springsteen to play off of. It was a symbiotic relationship, the stuff of great marriages, and both men clearly knew what they had. As Springsteen observed Saturday, Clemons "was my great friend, my partner and with Clarence at my side, my band and I were able to tell a story far deeper than those simply contained in our music."
On "Tenth Avenue Freeze-Out" from Born To Run, Springsteen makes Clemons' entry into the band the stuff of rock 'n' roll myth: "When the change was made uptown, and the big man joined the band/From the coastline to the city, all the little pretties raise their hands." Along with Federici and bassist Gary Tallent, Clemons was a charter member of the E Street Band, playing on Springsteen's 1972 debut Greetings From Asbury Park, N.J. and every E Street Band release afterward. Several years older than Springsteen, Clemons was born on Jan. 11, 1942 in Norfolk, Virginia, growing up in a southern Baptist household where gospel music was the norm. He took up the saxophone when he was 9, later joining the high school jazz band. He was also a gifted football player, and was granted scholarships for athletics and music at Maryland State College. But after a car accident ended his career as a college lineman, he became a counselor for troubled children in Newark, N.J., and played on the side in soul cover bands
But what Clemons really wanted was to play rock 'n' roll, and when he met Springsteen—in an oft-told, "you gotta be kidding me!" kind of story—he felt a sort of instant mystical connection. As Clemons later recalled, "I looked him, and he looked at me, and we fell in love."
As Springsteen became the biggest American rock star of the '80s, members of the E Street Band established their own solo careers, particularly Clemons, who scored a Top 20 hit in 1985 with "You're A Friend Of Mine," a duet with Jackson Browne. He also made prominent appearances on other people's records, including Aretha Franklin's "Freeway Of Love" and, just this year, two songs from Lady Gaga's Born This Way.
If Clemons is remembered by a single musical moment, it will likely by his solo on Born To Run's closing number, "Jungleland," a masterstroke so epic, emotional, and lengthy that it has its own Facebook page. Painstakingly worked out and pieced together by Clemons and Springsteen, the solo is the purely musical expression of Springsteen's lyrical themes on the album—the need to leave home, the struggle to break the bonds both real and imagined that keep you there, the sense that there's something bigger and better on the horizon, and the fear that you'll never get there. While Springsteen talks a lot about escaping his circumstances on Born To Run, he needed Clemons' soaring musicianship in order to finally break through into another plane.
G/O Media may get a commission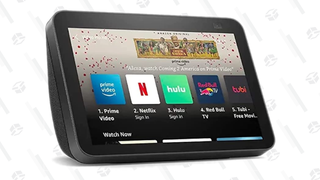 Clemons said that fans often told him that this solo had saved their lives; as corny or flat-out crazy as that might sound, Clemons played that solo every night like it was true. And it will keep on being true even now that he's gone, so long as people keep turning to "Jungleland" like it's their only friend in the world.