William Patrick Kinsella, the Canadian author whose magical realist novel Shoeless Joe served as the inspiration for Kevin Costner's 1989 hit Field Of Dreams, has died. Kinsella was 81.
Kinsella's writing—which included almost 30 books, including novels, poetry collections, and more than a dozen short story anthologies—focused on two major themes: First Nation peoples, and baseball. Kinsella published his first book, a collection of short stories narrated by a young Cree man, in 1977. As a white man writing from a first-person perspective about First Nation cultures, Kinsella was sometimes accused of cultural appropriation, a charge he hotly denied, citing an author's prerogative to write about whatever they like. He once said, "It's the oppressed and the oppressor that I write about. The way that oppressed people survive is by making fun of the people who oppress them. That is essentially what my Indian stories are all about."
In 1982, Kinsella turned his pen to his first novel, Shoeless Joe, the tale of an Iowan farmer who plows under his crops to build a baseball field, after voices begin whispering to him to "build it, and they will come." Kinsella's novel earned him critical acclaim, national recognition, and both the Houghton Mifflin Literary Fellowship and the Books in Canada First Novel Award. It also earned him the ire of reclusive author J.D. Salinger, who appears as a character in the book, and ends up dragged along on the quest of protagonist Ray Kinsella—whose last name stems both from his author's, and from a character from one of Salinger's stories.
When director Phil Alden Anderson adapted Shoeless Joe to the screen in 1989, he opted to change the character of Salinger to a fictional author, Terence Mann. James Earl Jones was cast in the part, and thus, got to bring one of Kinsella's most famous passages to life, a brief paean to the timeless quality of baseball that sits at the novel's—and movie's—heart.
In 1997, Kinsella—then in his early 60s—was struck by a car while walking, injuring his head. The accident effectively brought an end to his writing career, making it too difficult for him to concentrate. (That being said, he did publish a new book—his first in more than a decade—in 2011. It was about baseball.) Outside his writing career, Kinsella was an avid fan of America's pasttime—at least until disillusionment set in alongside the players strike in 1994. After that, he apparently devoted his mental energy to tournament-level Scrabble, instead.
G/O Media may get a commission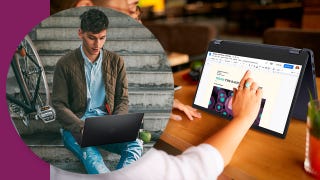 Ends August 15
Best Buy Anniversary Sale 2022
Ends August 15
Best Buy has a number of different promotions happening all for its Anniversary Sales Event. Laptops, tablets, TVs, you names it. Whether you're heading back to school or just trying to fill your home with some new tech, there is something here on sale that you've likely been waiting for.
Kinsella died last night in Hope, British Columbia. His agent, Carolyn Swayze, announced the death, saying, "He was a dedicated story-teller, performer, curmudgeon, an irascible and difficult man. His fiction has made people laugh, cry, and think for decades and will do so for decades to come.'' According to The Hollywood Reporter, his death was doctor-assisted. Assisted dying has been legal in Canada since June.