There's aesthetic value in abandonment. We've previously written about the stark beauty afforded by long-deserted film sets, Olympic venues, and World Of Warcraft cities, each of which invites the existential weight of memory in ways that can't help but spur reflection. Now, let us turn to the Radio Shack Twitter account, which, while not deserted just yet, is caught in that liminal stage between desolation and utter collapse.
As we previously reported, the embattled electronics chain recently filed for bankruptcy (for the second time) after a prolonged demise that's seen countless stores closing in its wake. Its last breaths, if you're curious, are currently being gasped on its Twitter account, where the Shack is trying to sell off not just its remaining wares but also each store's very guts.
Yeah, we're talking retail fixtures. Metal racks. Glass cases. "Extra supplies," which look like ladders and pushcarts and the plastic organization drawers that, once upon a time, presumably held bountiful paychecks for hardworking employees.
G/O Media may get a commission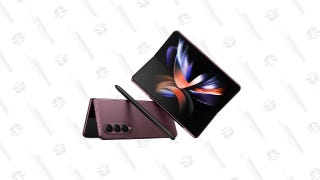 Save Up to $300
Galaxy Z Fold4
And the balloons. Why are there still balloons? They're half-deflated. Take a pin to those things, for Christ's sake.
Of course, we all know that this is just a passive-aggressive way of saying what its Reynoldsburg, Ohio store did last month.

Screenshot: Facebook