Brian Azzarello and Lee Bermejo working together on a Rorschach miniseries was the launch pad for the entire Before Watchmen project, and they're a logical fit for the gritty intensity of Watchmen's standout character. Azzarello doesn't try to do anything revelatory with the antihero in Before Watchmen: Rorschach #1 (DC), he's simply telling a hard-boiled urban vigilante story with one of his most reliable creative partners. Rorschach on a violent rampage through the streets of New York is something that could have easily unfolded in the original series, and focusing on events completely separate from Watchmen is the book's greatest strength. There aren't any of the continuity questions of Azzarello's Comedian and the book doesn't rehash old Watchmen scenes like many of the other prequels, it's just Rorschach doing what Rorschach does best: fighting to stop the neverending wave of crime that is drowning his city.
While Rorschach tracks down a gang of drug dealers, Azzarello introduces a subplot involving dead bodies with text being carved into their flesh by someone referred to as "The Bard." How these stories intersect is unknown, but the Rorschach-shaped pools of blood at the start of the issue suggest that the stories won't stay apart for long. Narration comes courtesy of Rorschach's journal, and Azzarello has a firm handle on the character's nihilistic voice, beginning with a long piece of text accompanying a birds-eye image of New York City with clouds creating a Rorschach pattern above the skyline. Rorschach's environment is an integral part of his character, and Bermejo brings the grimy city to life in photorealistic detail.
Bermejo's New York City is a place teeming with life; hookers and junkies populate streets that are packed with cars stuck in traffic. This is Rorschach's battleground, and he charges into porn shops and sewers with the same level of unerring determination. That aggression gets him in trouble when he tracks down a group of thugs who have lured him into a trap. As Rorschach gets beaten by the gang, Bermejo breaks the panels from their formerly neat layouts and scatters them on the page, capturing Rorschach's growing disorientation with each hit. His attackers make a big mistake in leaving him alive, though, and Rorschach's heightened intensity at the end of the issue promises bad things to come for evildoers, which should prove quite enjoyable in Azzarello and Bermejo's hands.
At last month's Fan Expo, DC Comics announced that J. Michael Straczynski will be writing a Before Watchmen: Moloch two-issue miniseries with Eduardo Risso on art duties. It's an unnerving move by the company that shows they're going to milk Watchmen for all its worth, and giving Stracyznski even more creative responsibility is puzzling considering his work on Nite Owl and Before Watchmen: Dr. Manhattan #1 (DC). Like Nite Owl, Dr. Manhattan rehashes a lot of material presented in Watchmen, specifically in #4 where Dr. Manhattan flees to Mars in self-imposed exile. This isn't Before Watchmen so much as it is During Watchmen, except Stracyznski chooses to directly contradict what Alan Moore wrote in the original.
G/O Media may get a commission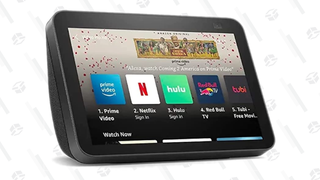 Rather than meditating on the mechanical, clocklike structure of the universe while on Mars, Dr. Manhattan considers the various possibilities that exist in a quantum universe. This is done using the theory of Schrödinger's cat, with Jonathan Osterman as the cat and the intrinsic field experiment test chamber serving as the box holding the paradoxical contents. "What's in the box?" Dr. Manhattan asks repeatedly as he examines the potential routes his life could have taken, and the issue ends with Dr. Manhattan standing at the Gila Flats research center, watching his former self walk away from the accident that turned him into the most powerful being on Earth. From a storytelling perspective, the script is much less offensive than Nite Owl, but it's scary to think what kind of changes Straczynski will make to these characters before he's done. Judging by the cliffhanger, he could very well use Dr. Manhattan to make Watchmen one big dream.
In spite of the story's flaws, Dr. Manhattan is an attractive book, thanks to the artwork of Adam Hughes, who demonstrates why he needs to be doing more interior work. His characters are realistic (yes, Dr. Manhattan's blue penis makes an appearance), but don't appear posed or overly rigid, and he adjusts his artwork to fit the tone and time-jumps of the script. The strength of the artists who work on Straczynski's books makes the quality of the writing even more distressing; these are talents that could be better applied elsewhere.
James Stokoe is one of the most meticulous artists in comics, and he brings the epic scale and intricate detail of his creator-owned series Orc Stain to everyone's favorite giant radioactive lizard in Godzilla: The Half Century War #1 (IDW). Godzilla has always been a metaphor for nuclear destruction, and Stokoe's story emphasizes the incredible magnitude of the damage inflicted on 1954 Tokyo as the monster rampages through the city. Seen through the eyes of Lieutenant Ota Murakami, getting a view of Godzilla's attack from the ground captures the utter devastation of the attack and makes the Lieutenant's actions all the more heroic.
Murakami and his tank driver distract Godzilla long enough for civilians to make their way out of the city, shooting at the lizard as it rips through buildings as if they were cardboard. Stokoe's pacing at the start of the issue is fantastic, slowly revealing Godzilla over three pages. Murakami's first glimpse of Godzilla is the lizard's giant foot stepping on cars like they were pebbles beneath its feet, and when it turns the corner, readers are treated to a breathtaking full-page splash of the monster surrounded by the fallen buildings that were once the Tokyo skyline. Godzilla's signature screech is depicted through giant orange letters shaded with small black lines that give motion and substance to the sound. It's a dramatic reveal, showing just how massive the threat is and how small the resistance.
Everything Godzilla does is huge and catastrophic: His energy beam vaporizes everything in his path and his tail can slice a skyscraper in half. And yet there's beauty in the destruction, courtesy of Stokoe's draftsmanship. The laborious amount of detail is extraordinary, and everything from the clothing to the architecture, vehicles, and weaponry is drawn with the same level of care. Future issues promise even more destruction as Murakami fights Godzilla for the next 50 years, and while the distilled carnage is breathtaking, the book excels because at its heart is a story about personal heroism in the midst of unbeatable odds.
It Girl is bored. Gifted with the ability to take on the essence of whatever she touches, she just stays inside and plays videogames, occasionally gracing her hand along a plastic bag so she can sail along the waves of ennui. It's no surprise that a superhero created by Michael Allred would headline a vibrant, charming ongoing series, but It Girl And The Atomics #1 (Image) is a bit more impressive considering Allred's only involvement is in providing covers. Writer Jamie S. Rich and artist Mike Norton do great work capturing the imagination and irreverent humor of Allred's Madman comics, and they create an easy entry point for new readers into It Girl's wacky world. Fans of Bryan Q. Miller's Batgirl series will appreciate Rich's interpretation of a superheroine who doesn't take her job too seriously, and It Girl is the type of joyful superhero title of which there are few at DC or Marvel. Mike Norton is becoming one of the busiest pencillers in comics between Revival, It Girl, and his Eisner Award-winning webcomic Battlepug, but his heavy workload hasn't had a negative impact on his artwork yet. With an animated style reminiscent of The Venture Bros., Norton's pencils are light and expressive, keeping consistent with the look Michael Allred has established for these characters.
Justice League International was one of the New 52 books that never really took off, struggling to justify its existence in the shadow of the main Justice League title. That feeling of inadequacy is the defining characteristic of the team in Justice League International Annual #1 (DC), an epilogue for the cancelled JLI written by Geoff Johns and Dan DiDio. Like Johns' Justice League and DiDio's The Outsiders, this issue suffers from putting plot before character, resulting in a string of major shake-ups that have little emotional impact. Two new characters join the team only to be used as cannon fodder for a rampaging O.M.A.C., and the biggest surprise in this issue is that Johns and DiDio don't actually kill anyone. Jason Fabok's art is like a cleaner David Finch, and while he does strong work with action, he has Finch's problem of drawing the same facial expressions and body types. The annual's primary purpose is to move pieces around the board, and these heroes feel like story pawns rather than people. The annual ends with the reveal that the Superman/Wonder Woman kiss in Justice League #12 is about to become a major plot point in the second year of the New 52, ultimately spelling gloom and doom for everyone involved. There's no room for happiness in the DC universe, and even superhero romance has to be fraught with peril.
With his trenchcoat, Cajun accent, and exploding playing cards, Gambit is definitely a product of '90s superhero comics, but his new series works to distance itself from his former image. Now a teacher at the Jean Grey Institute, Rémy LeBeau has gotten a little too comfortable with his life as a good guy, so he decides to get his adrenaline fix with some high-tech breaking and entering. James Asmus and Clay Mann
James Asmus and Clay Mann know what Gambit's major appeal is, and in Gambit #1–2 (Marvel) they have their title character without a shirt on as often as they possibly can. In an industry where female characters are consistently oversexualized, it's interesting to see a male hero through a more exploitative lens. What begins as a fairly standard thief story takes a sci-fi turn at the end of #1, and by the end of #2 it's clear what to expect from this book: lots of heists, explosions, and beautiful people. Mann is turning out the best artwork of his career on this title, with a realistic style that makes the book look like a high-budget action film. Gambit isn't the most challenging title, but it's a strong update for a character who has struggled to find his place in a less extreme comic-book market.
Mark Waid and Chris Samnee are doing incredible things on Marvel's Daredevil, and they bring that same level of excellence to Dave Stevens' trademark character with Rocketeer: Cargo Of Doom #1 (IDW), a book that's pulpy and retro without seeming antiquated. Waid story balances high-flying airplane action, suspenseful horror, and breezy romantic comedy in his story, but like Stevens' original Rocketeer tales, the main attraction is the artwork. What Samnee can do with shadows is awe-inspiring, imbuing panels with tension based on how heavy the inks are on the page. Whether he's drawing classically handsome hero Cliff Secord, his sultry girlfriend Betty, or a gang of thugs of all shapes and sizes, Samnee's characters each have a distinctive appearance and personality. He brings that same attention to detail to his drawings of airplanes and ocean liners, creating a fully realized world that is waiting to be explored. Waid and Samnee are quickly becoming a comics dream team, and with Cargo Of Doom, they create a captivating all-ages read that stays true to the essence of Stevens' beloved hero.