Sony's decision to cancel The Interview, a decision that is now worldwide, is one of those rare occasions where it actually does kind of matter what Hollywood thinks. And Hollywood is very upset, as it was happy to collectively tell the world on Twitter over the past 24 hours or so. Steve Carell, whose own North Korea project was canceled in the wake of the news, had some thoughts about the situation:
Sad day for creative expression. #feareatsthesoul

— Steve Carell (@SteveCarell) December 17, 2014
Judd Apatow, who has worked with The Interview stars Seth Rogen and James Franco in the past, called the decision "ridiculous," saying, "What if some anonymous person got offended by something an executive at Coke said. Would we all have to stop drinking Coke?". Comedians like Ben Stiller, Patton Oswalt, Jimmy Kimmel, Amy Schumer, Michael Ian Black, and Damon Wayans Jr. offered a mixture of earnest concern and snark. Aaron Sorkin wrote an op-ed about it, like he does. Meanwhile, Guardians Of The Galaxy's James Gunn pondered the decision's effect on the GoTG sequel:
But it was shy bladder lightning rod Rob Lowe who went there by comparing the decision to British Prime Minister Neville Chamberlain ceding parts of Czechoslovakia to Adolf Hitler in 1938:

The U.S. Justice Department has yet to make an official response to news reports that North Korea orchestrated the Sony hack that led to The Interview being pulled. White House Press Secretary Josh Earnest told reporters this morning, "There is evidence to indicate we have seen destructive activity with malicious intent that was initiated by a sophisticated actor," but failed to mention North Korea specifically. A New York Times piece published yesterday said that administration officials are still debating whether to publicly accuse North Korea of the attacks, citing concerns that involving Japanese corporation Sony in such accusations might disrupt delicate hostage negotiations currently in progress between Japan and North Korea.
But Fox News' Greta Van Susteren won't be contained by such petty matters as the intricacies of international diplomacy, and went on a Twitter screed calling Sony "idiots" for provoking North Korea, a country she has been to three times, thanks very much.
G/O Media may get a commission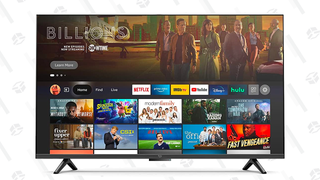 22% off
Amazon Fire TV - 50" Omni Series 4K - Early Access Deal
Mitt Romney also took to Twitter to suggest that Sony give away the movie in the name of freedom, possibly the first time Mitt Romney has suggested anyone give anything away for free:
Meanwhile, Sony itself stands to lose $90 million in production and advertising costs on the film, costs that will not be reimbursed as Sony has stated it will not release the film on DVD or VOD either. That's not including costs from the larger attack on Sony by the hackers who call themselves the "Guardians of Peace," a name that we now know to be totally ironic. One of those costs will be providing identity theft protection services to employees whose personal information, including social security numbers, bank and credit card information, addresses, driver's license numbers, and passport information, was stolen in the hack. Those leaks have led to three individual class-action lawsuits from former employees who accuse Sony of not doing enough to protect their privacy, with more potentially to come.