Screaming Females' All At Once is another slice of completely badass guitar rock, while Dessa's fourth LP, Chime, courts the mainstream, and Black Milk continues to perfect his craft on Fever. These, plus FRIGS and Mint Field in this week's notable new releases.
---
[Don Giovanni]
Grade: A-
Screaming Females is a thinking person's punk band, and the New Jersey trio's sonic palette continues to expand—keyboards! xylophone!—with another slice of intellectually stimulating, yet completely badass, guitar rock. Although not every song is essential in its own right, as a whole, All At Once congeals beautifully; in the era of the single, this is a real album, touching on themes of autonomy and control both in a personal and a wider political context. You'll want to get the LP, so you have something to stare at while being lifted by "Chamber For Sleep," a song split into two parts simply to underline the wizardly '70s-ness of it all; or the blissful wash of guitars on "Bird In Space"; or the righteous solo that opens album closer "Step Outside"; or the mad dash of "I'll Make You Sorry" as it zigzags between righteous anger and poppy tunefulness. That technique is reflected in many of the songs on the record, which can pivot from thunderous rock 'n' roll to angular post-punk in mere seconds.
RIYL: Sleater-Kinney's The Woods, another album that combines complex songwriting and monster riffs.
Start here: "Agnes Martin," a real 18-wheeler of a song that comes barreling toward the listener from its opening moments and serves as a good introduction to the Screaming Females sound. [Katie Rife]
G/O Media may get a commission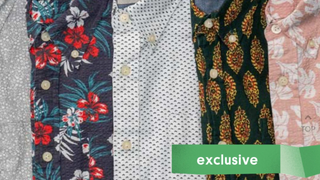 Grab three styles!
JACHS NY Summer Pack
---
[Doomtree]
Grade: B+
There's been an undercurrent of anxiety and melancholy flowing through the best of Dessa's output since her earliest solo work on 2005's False Hopes EP. The Minneapolis-bred rapper/singer/polymath has soul, but it's laced with a sense of open-hearted insecurity and frustration, the results sounding like an artist who's forever striving to punch her way out from whatever box she currently finds herself in. It makes her art enormously relatable and compelling, even as one can only admire the genre-hopping she does from a distance. Her latest, Chime, comes five years after her last record, and it's the most mainstream-courting music she's ever cooked up, while maintaining the wit and awkward-outsider pathos that makes up much of her appeal. But it's not a massive change in sound; the jittery beat and slam-poet flow of "5 Out Of 6" is classic Dessa. But in the back half of the album, she launches a triptych of soaring vocal melodies and anthemic balladry ("Good Grief," "Boy Crazy," and "Jumprope") that culminates in "Half Of You," a straight-up electro-pop hit as catchy and tuneful as Robyn.
RIYL: Twenty-first-century Digable Planets. A good sing-song flow. Densely packed, erudite wordplay. Watching a good friend win a poetry slam but not in an obnoxious way.
Start here: "5 Out Of 6" is a good reminder of Dessa at her badass best, but "Good Grief" fuses her rhymes with a soaring R&B-fused balladry more representative of the album as a whole. [Alex McLevy]
---
Black Milk, Fever
[Mass Appeal]
Grade: B
You always know one thing about a Black Milk record, and that's that the drums are going to be good. Across seven albums and even more collaborative projects, the Detroit producer and emcee has moved from synthesizers to live instrumentation, from post-Dilla boom-bap to melted psychedelic soul, and throughout them all his drums remain a miracle of modern science. The new Fever is no different. The almost proggy instrumentation of 2013's No Poison No Paradise and 2014's If There's A Hell Below gets smelted out here into even airier, more-'70s settings, full of flute solos, noodling guitars, and echo-laden freak-outs, but Milk holds things together through the sheer power of his percussion. As a rapper, he's never been the most engaging, and the notion of him tackling (ugh) "the Trump era" is not super promising, but he fires off his verses here with a refreshing reserve, more like a bandleader punctuating the action than a freshman emcee eager to impress. Like all of his albums, it's good but not great, a consummate professional continuing to perfect his craft.
RIYL: Jay Dee. New Amerykah-era Badu. "Awaken, My Love!"-era Childish Gambino. Actual '70s soul and R&B.
Start here: "2 Would Try" lays lilting vibes and minimalist guitar licks over—you guessed it—some truly fucking righteous drums. [Clayton Purdom]
---
[Arts & Crafts]
Grade: B
FRIGS are hard to pin down. The Toronto trio's mercurial debut, Basic Behaviour, draws from grunge, sludge, psych, new wave, and more to build a dark, dizzying brand of post-punk. They're at their most compelling when they play fast and hard—as in short, searing numbers like "Doghead," "Talking Pictures," and "II"—but even when things come screeching to a halt (the stoned "Waste") or wander into post-apocalyptic psych jams ("Trashyard"), it usually proves worth the ride. FRIGS have a rare, impulsive energy that pushes every one of Basic Behaviour's songs to unexpected places, and a captivating frontwoman in Bria Salmena. Whether she is brooding over a hazy synth progression ("Gemini") or speak-singing a feverish stream of consciousness ("Solid State"), Salmena's emotions feel palpable and cathartic. And that's Basic Behaviour's greatest strength: rawness. On the other hand, the album's dramatic shifts in tone can make it feel unfocused, and as a whole, it burns off quickly. Still, it leaves a hell of an impression.
RIYL: Grungier PJ Harvey. Sonic Youth. Gang Of Four.
Start here: Salmena is understandably disgusted to have wasted any time thinking about our current commander in chief, but at least it produced the blistering, purgative "II," one of the album's best tracks. [Kelsey J. Waite]
---
Mint Field, Pasar De Las Luces
[Innovative Leisure]
Grade: B+
The sonic landscapes of Mint Field's debut EP, Primeras Salidas, proved especially fecund, as the Mexico City-based shoegaze band (by way of Tijuana) hit the music festival circuit on the strength of that 2015 EP alone. A couple of those tracks have made it onto the duo's assured full-length debut, Pasar De Las Luces. The LP is full of lush, textured songs like "El Parque Parecía No Tener Fin" ("The Park Seemed Endless")—you'd never guess that Amor Amezcua and Estrella Sánchez basically learned to play their instruments as they put together their first EP. There's nothing amateurish about their album, which is as thoughtful in its track order as it is in its composition. As the more atmospheric tracks give way to songs with almost choral arrangements, Pasar De Las Luces skirts the dream-pop edge, which feels fully intentional. It's a sign of good things to come from these twentysomethings.
RIYL: Any Brian Eno. Blonde Redhead's angelic vocals. Tristeza's Paisajes.
Start here: With a driving bass line and soaring yet subdued vocals, "Quiero Otoño De Nuevo" is a trip. [Danette Chavez]
---
Purchasing via Amazon helps support The A.V. Club.