Permanent Records is an ongoing closer look at the records that matter most.
Right up until his death in October 2010, Solomon Burke was a man who believed in miracles.

His life's work, both as a preacher and a soul singer, was making others believe as well, and he could be damn convincing. Ask anyone who saw him perform during the '00s, after obesity and arthritis had confined him to a wheelchair. Watching "The King Of Rock 'N' Soul" ignore his physical ailments, take to his golden throne in purple pimp gear, and sing sweet songs of love and salvation was nothing short of revelatory. This was no moldy oldies show—not even when it played cheesy Connecticut casinos made to look like wolves' dens.
The very details of Burke's film-worthy biography support the idea of an all-powerful god watching over mankind and engineering funny plot twists and triumphs, just to keep things interesting. Consider Don't Give Up On Me, the Grammy-winning album Burke released on Fat Possum in 2002. It wasn't exactly a comeback, since the Philly-born '60s R&B pioneer, longtime minister, sometime mortician, and 2001 Rock And Roll Hall Of Fame inductee had been making music throughout the '80s and '90s. But it was a creative rebirth for a guy who'd spend his final decade defying the odds and making some of the finest records of his career. It was also a template for how to tastefully reintroduce a classic artist without relying too heavily on the past or trying to modernize their sound.
As the story goes, Burke met Andy Kaulkin, head of Fat Possum's parent company, Epitaph, after a 2001 show. Burke had never heard of Fat Possum—known for hipping indie kids to forgotten blues artists like R.L. Burnside and T-Model Ford—and he thought Kaulkin was asking him to play a mascot at sporting events. A youth football team had recently approached Burke with such an offer, and the idea of dancing around in a marsupial costume didn't sit right with the 60-something entertainer and archbishop of L.A.'s House Of Prayer For All People And World Wide Center For Life And Truth.
In reality, Kaulkin was offering Burke the chance to make a record—one featuring material from some of the best songwriters around. Burke was dubious, and rightfully so. He'd been screwed over more than a few times over the years, and while he'd finally received his critical due, there was no reason to believe guys like Bob Dylan, Tom Waits, Brian Wilson, and Van Morrison would contribute to the project.
G/O Media may get a commission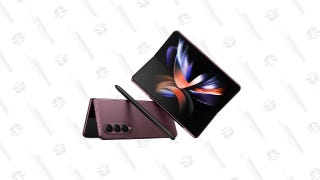 Save Up to $300
Galaxy Z Fold4
And yet these and other artists happily offered Burke first-rate stuff they'd either written just for him—such as Elvis Costello's wrenching love-as-criminal-offense ballad "The Judgment" and Nick Lowe's similarly themed "The Other Side Of The Coin"—or never gotten around to recording themselves.
Honored and awed, Burke opted to not tempt fate by getting involved in the selection process. "I don't wanna see the songs—it's too many great names there for me to go picking names out," Burke recalled telling Fat Possum in a 2002 interview with Roctober. "Just pick the songs you wanna do, and give 'em to me, tell me where the studio is, I'll show up, and we'll do 'em in four days."
The studio was Hollywood's renowned Sound Factory, and the man at the helm was Joe Henry, an acclaimed singer-songwriter who'd only recently gotten into the production game. Henry's idea was to approach the project like he was making a Frank Sinatra record. He told Burke, "We're gonna find some songs for you to sing and put a band together that knows how to follow you emotionally wherever you go with the song," as Henry recalled to Terry Gross in a 2006 interview for Fresh Air. Henry wanted to make a record that was "very stripped down and pretty rootsy." That meant forgoing charts and rehearsals and instead going in fresh, "discovering the character of a song with tape rolling."
"He'd never made a record like that before," Henry said of Burke. "But he'd bought into the idea, or at least he'd embraced the idea he was going to let me work the way I wanted to work, whether it made any sense to him or not."
Despite all the A-list names associated with the album, it was the lesser-known team of Dan Penn, Carson Whitsett, and Hoy Lindsey that wound up penning the title track, which opens the album with an emotional crest. It's an apology from a guy to a lover he's done wrong, but "Don't Give Up On Me" obviously held another meaning for Burke, a gifted and versatile singer who'd done amazing work at Atlantic in the '60s and yet failed to gain the notoriety of his peers and disciples. Over simple guitar, organ, piano, bass, and drums, Burke sings that leadoff song with passionate restraint, stretching out the word "please" and raising his voice in a few spots but mostly sticking with the weary "I know it's late in the game" vibe. The singing and playing are honest and direct. Rather than pull a Daniel Lanois (who plays guitar on "Stepchild") and pile on murk and reverb to sell the idea that yes, this is a serious Americana recording, Henry trusts his musicians and gives the tune everything it needs and nothing more.
"Mistakes happen all over the place; that's not the point," Henry told the Philadelphia Inquirer in 2002. "The music breathes as it goes along, and even though it's not a throwback, I hear the energy of those classic Atlantic recordings."
Don't Give Up On Me definitely lacks the overt old-school aesthetic of retro-soul records made by labels like Daptone, and it doesn't need it. That's down to Burke's range. Throughout his career, he'd dipped into blues and country, and on track two, Van Morrison's "Fast Train," he could almost be a guitar-toting troubadour. Burke even gets a little playful at the end, singing a "fa-fa-fa-fa-fast train" adlib he couldn't have put much thought into, considering few of these songs got more than two or three takes.
The next tune, "Diamond In Your Mind," might be the standout, thanks to Tom Waits' soggy-shoed optimism and cockeyed sense of humor. As Burke said in a 2002 interview with Philadelphia Weekly, he never met the singer, though he did call him on the phone to request a change to the line, "Zerelda Samuels said she ain't never prayed."
"I don't care how big of a sinner you are: If someone cuts off your arm, you are going to pray to God," Burke said. "They said, 'With all due respect, Dr. Burke, you do not change the words to a Tom Waits song.' I told them, 'With all due respect, as a man of God, I am telling you this song is religiously incorrect.' We stopped the whole session until we got a call back from him, and he said, 'Okay.'"
Elsewhere, Burke grooves through "Soul Searchin"—a breezy doo-wop-by-numbers written by Brian Wilson and Andy Paley for a stalled mid-'90s record—and has a gas growling through Dylan's "Stepchild," a bluesy lament Bob had been doing live for years.
In the homestretch, Burke turns on the gospel-grade righteousness for "None Of Us Are Free," originally recorded by Ray Charles in 1993, and ends with "Sit This One Out," a weary love song credited to "Pick Purnell." Speaking with Soul Express, Burke described this mystery scribe as "a gentleman that came into the studio and said 'you gotta do this song,'" but recent internet sleuthing suggests Kaulkin might've authored the tune. Another possibility: Dylan, as "Sit This One Out" sounds a bit like "Mississippi" and some of the other songs he'd written for the previous year's Love And Theft.
Regardless, it's a terrific end to a successful experiment that let Burke do what he did best: find his way to the heart of songs. Had he been an edgier artist, he might have done like Detroit soul survivor Andre Williams and collaborated with young garage rockers willing to risk charges of exploitation by encouraging an old dirty bastard. Another option would've been dueting with his famous admirers on new versions of his '60s favorites, like so many vintage artists have done. But Burke had always resisted what he called the "oldies but goodies" circuit, and because he never scored any giant Top 10 hits, that kind of retread album probably wouldn't have worked anyway.
That left him free to put his faith in Fat Possum and the man upstairs and let the miracles unfold. "I think the hand of God was over the whole session and when it's right what is for you will be," Burke told Elsewhere magazine in 2002. "And now I have the chance to talk to people all over the world about not giving up on themselves and not giving up on me. Every one of these songs has a positive message. We have to have that in our lives."