Here's what's up in the world of TV for Friday, August 19, and Saturday, August 20. All times are Eastern.
Top picks
Superstore (NBC, 10:30 p.m., Friday): With the Olympics wrapping up (closing ceremonies are on Sunday), NBC is doing some of that programming synergy that Jack Donaghy would heartily approve of, bringing out an Olympics-themed Superstore episode in advance of its actual September 22 premiere. America Ferrera's Amy is excited to meet former Olympic hero Missy Jones, played by Saturday Night Live's Cecily Strong. Meanwhile, Mark McKinney's ever-overenthusiastic store manager Glenn goes comically overboard with his corporate-mandated Olympic fever and, no doubt, Ben Feldman's Jonah is endearingly misguided in trying to make sense of it all. Look for "acting" cameos by real-life former Olympians Apolo Anton Ohno, Tara Lipinski, and McKayla Maroney, who aren't hanging out in Rio for various reasons. The A.V. Club's Pilot Viruet said that the first season finale capped off a season that "got better and more confident as it went on." And, speaking of competition-based Superstore episodes, check out Kayla Kumari Upadhyaya's Watch This feature about the time the Cloud 9 gang took a friendly employee contest way, way too far.
Summer Love (Hallmark, 9 p.m., Saturday): Rachel Leigh Cook stars in this TV movie as a widowed single mom who goes to work as an intern for a group of people who call themselves "app-trepreneurs." At which point she presumably storms out yelling, "You can't just make up nonsense words and pretend it's a thing! So long, dumb-trepreneurs. That's a word I just made up. It's what you are now. Lots of luck."
Premieres and finales
Bottersnikes And Gumbles (Netflix, 3:01 a.m., Friday): With that name, we're going to go ahead and guess that this new children's series about feuding animated animals with odd names is based on books from… Australia! Nailed it.
G/O Media may get a commission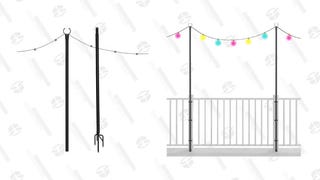 Up To 49% Off
Holiday Styling String Light Poles
Fearless (Netflix, 3:01 a.m., Friday): You don't have to be crazy to strap yourself on the back of a rampaging bull—but it helps! Bam. Nailed it again. This six-part Netflix documentary about the competitors in the Professional Bull Riders competition is your binge-watching stop for gasping, "Oh, no no no no, not the face!" this weekend.
I'll Sleep When I'm Dead (Netflix, 3:01 a.m., Friday): Musical documentary about successful DJ Steve Aoki's attempts to both succeed in his music career and live up to the improbable legacy of his father Rocky, who, in addition to founding Benihana, routinely threw himself into dangerous daredeviltry.
Rush Hour (CBS, 9 p.m., Saturday): Way back when people were marginally interested in a TV adaptation of the noisy, successful 1998 Jackie Chan-Chris Tucker buddy cop flick, LaToya Ferguson said the whole enterprise was pretty limp. Most damningly, newcomers Jon Foo and Justin Hires, according to LaToya "may be aware they're in a buddy cop show, but lack any of the chemistry that such a pairing should entail." Ouch. Well, this medium-concept procedural series is finally being burned off with its series finale tonight.
Regular coverage
The Get Down (Netflix, Friday): Dan Caffrey's been up-and-down on this series, but says when it works, it really works—as in the sequence in episode 2 set to this deep-cut disco classic from Machine.
Streaming pick
"Louis C.K./Sam Smith" Saturday Night Live (season 39, episode 16) (NBC, Hulu): Someone out there must be upset over the cancellation of Rush Hour, but we've got just the prescription for your buddy-cop withdrawal. That's right, people—it's "Dyke & Fats." If there is anything good and wise and just in this world, Kate McKinnon and Aidy Bryant (who wrote this '70s cop show parody with newly named SNL head writers Chris Kelly and Sara Schneider) will be reversing the Rush Hour formula and coming soon to a theater near you.